What is an elevator pitch
The elevator pitch or how to get your message across in a few seconds
Entrepreneurship Professional skills Leadership
Being brief and making an immediate impact are increasingly important values in communication due to the influence of the social networks and, let's be honest, the daily hustle and bustle. An elevator pitch allows you, in the time it takes to ride in a lift, to plant the seed of an idea in someone's mind, as the first step towards success.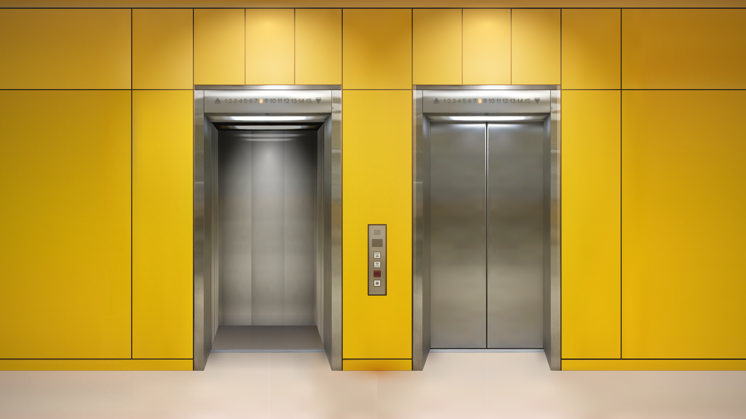 During an elevator pitch, time is of the essence and the what is as important as the how.
A man once changed the future of architecture and the development of cities in just half a minute. In 1854, Elisha Otis went to the New York International Fair to promote his latest invention. The what and the how have gone down in history. Our protagonist installed a lift in full public view, got into it surrounded by barrels and took it up four floors. Once at that height, he asked his assistant to cut the rope holding the platform. Horror filled the Crystal Palace when the apparatus began its violent descent and then, only a few seconds later, turned into astonishment. As if by magic, the device stopped and Otis reassured the onlookers: "All safe, gentlemen. All safe". For many communication experts, these words were the first, and most effective, elevator pitch.
The man who invented safety brakes for lifts had two goals: to demonstrate the reliability of his invention and to make an impact on his audience. Checking it twice. Firstly, the device dispelled the fears the public had about the old elevators. Secondly, he made sure that none of those present forgot that moment and that, even today, people still talk about his spectacular presentation. Otis is a good example of the Voltaire quote: "Luck is what happens when preparation meets opportunity". And this is exactly what an elevator pitch consists of.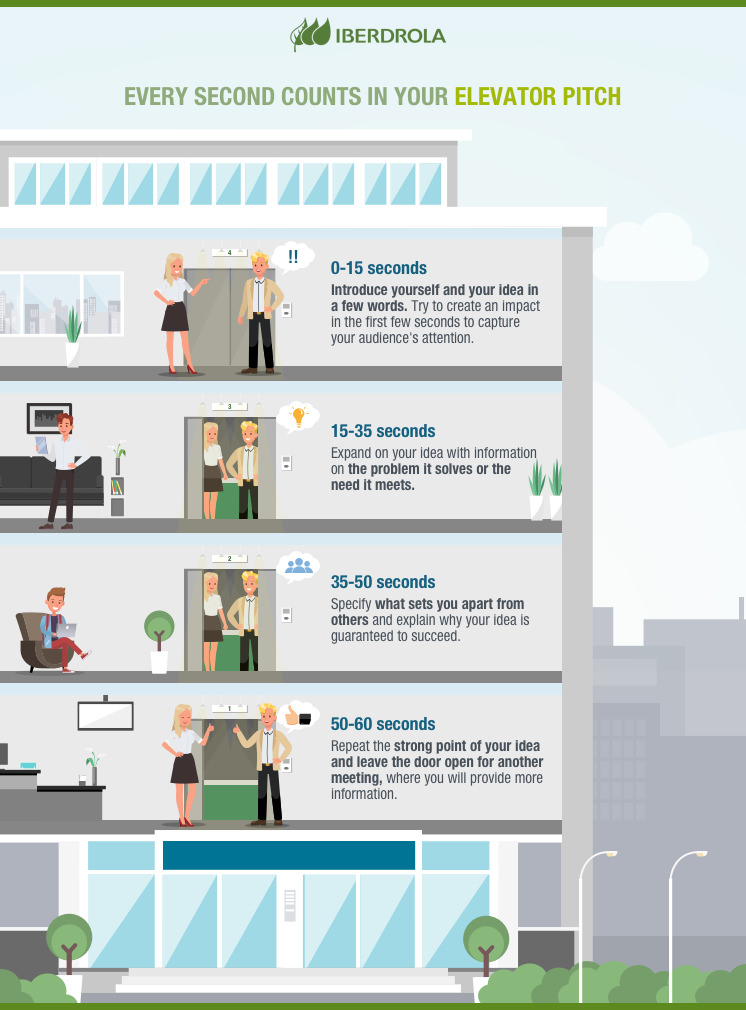 Every second counts in your elevator pitch.
How to make an elevator pitch?
An elevator pitch is a short presentation — between 30 seconds and two minutes — that seeks to persuade someone. If you want to convince a partner to join your company, a board of directors to approve your project or a banker to finance it, this technique — also called an elevator speech — could be your best ally. Nowadays, everyone is going a thousand miles an hour and a chance meeting may be the perfect occasion to explain your business idea to the right person. This is why it is important to always have the motivational speech in your head. Before starting to shape it, you must be clear that it is not an accelerated demonstration of your ideas but a business card that must answer the following questions:
1. Who are you? Introduce yourself and highlight your previous experience with the project/product you are offering. Transmit self-confidence.
2. What is your idea? Describe what your project/product consists of and specify the audience it is aimed at and the need it will meet.
3. What sets me apart from others? Make it clear why your project/product is attractive and the reasons why your idea is the one to invest in and not any other. This is the best way to get someone's attention.
4. How am I going to do it? An idea can be quite brilliant, but you have to be able to communicate how you are going to make it profitable and the factors that will ensure its success.
Elevator pitch tips and an example
The short duration of a elevator speech suggests it should be easy to prepare, but nothing could be further from the truth. Being direct, brief and convincing when trying to persuade someone requires a lot of effort both before and during the pitch. Here are some ideas to help you succeed:

Rehearse your speech over and over again until you feel comfortable with it.

Take care with your appearance. From your clothes to your gestures and intonation.

Every second counts. Get to the point and present the essential information.

Spark your audience's curiosity to generate interest.

Be open and flexible. It is a first contact and you must not close the doors.

Leave your audience wanting to know more. In a television series it is called a cliffhanger.
After these tips, you are now ready to prepare your own elevator pitch. If it looks anything like this, you are on the right track:
Hello, my name is Juan Sacristán. I am working on a project that will be a turning point in sustainable urban planning. Have you noticed that more and more buildings have vertical gardens on their facades? They purify the air, reduce the temperature of buildings, minimize noise pollution, etc. The drawbacks are their high maintenance costs and that the results can only be seen in the long-term, but my team and I have solved these problems. After years of research, we have developed pre-cultivated panels that offer immediate benefits and reduce maintenance costs thanks to an integrated mechanism. Your plants will look green and lush!
Over to you!
 
Disruptive talent: think differently and make an impact
Tips for improving your LinkedIn profile
Mindfulness: a technique to boost your performance