Inbound Recruiting: a new way to attract talent
Employment Business Digital talent
Going out in search of talent or attracting it like a magnet? More and more companies are opting for the latter, a strategy known as Inbound Recruiting, and they do so not only through attractive job vacancies, but also by attracting professionals with a value proposition that makes them irresistible. To do this, it is essential to develop Employer Branding and other talent attraction techniques.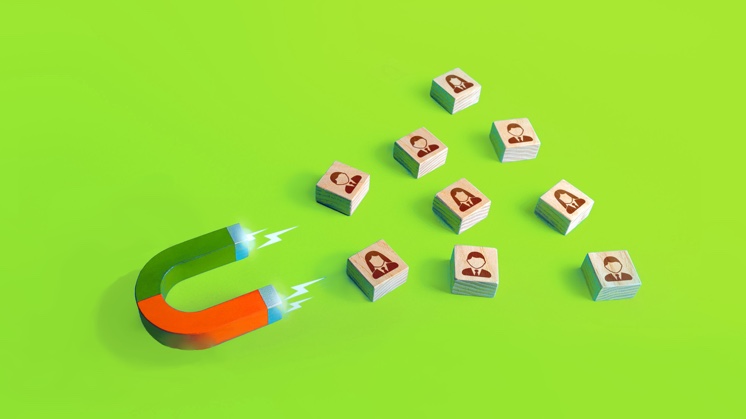 Inbound Recruiting: a new way to attract talent
Recruiting professionals to companies has taken a 180 degree turn in recent years thanks to the new technologies and the parallel development of marketing techniques that have swapped the roles. In fact, now also the companies that display all their virtues to the applicants in order to make themselves more attractive. Their objective? To attract talent.
What is Inbound Recruiting? Differences with Outbound Recruiting
Inbound Recruiting is a novel personnel selection technique, used by the human resources departments of companies, that seeks to attract, seduce and recruit the most talented professionals. Unlike Outbound Recruiting, which uses traditional job offers to attract staff, this seeks to create the ideal conditions to ensure that professionals are attracted to the company and feel identified with its brand image, its proposal and its values.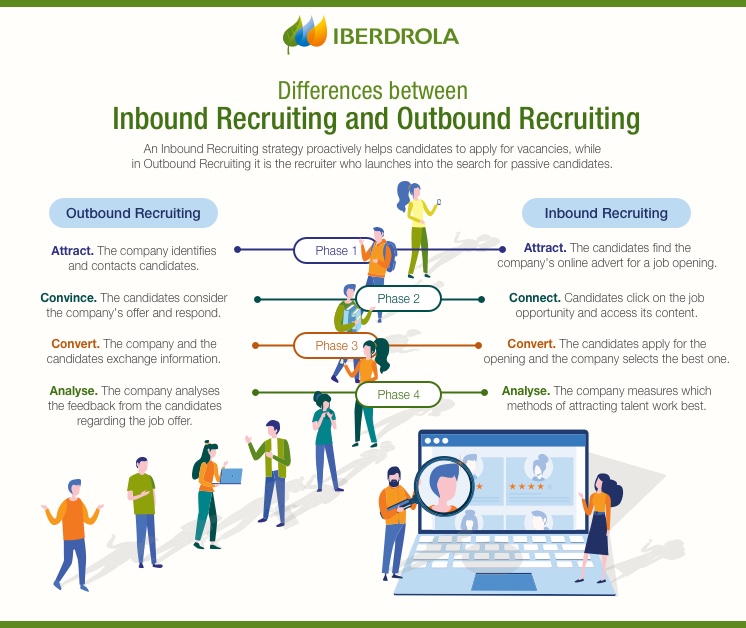 Differences between Inbound Recruiting and Outbound Recruiting.
SEE INFOGRAPHIC: Differences between Inbound Recruiting and Outbound Recruiting [PDF] External link, opens in new window.
How to implement an Inbound Recruiting strategy
According to the consultancy Randstad, an Inbound Recruiting strategy is based on five keys:
Define a corporate policy
The company must establish corporate principles, commitments and values with the ability to attract and retain candidates.
Set a target and know it
By defining a candidate profile it becomes easier to determine where to find them and to get to know their personality and motivations before embarking on a new professional adventure.
Identify and optimise tools
The company's digital channels, such as its social media or the website, should be used to post vacancies, convey values and provide useful information to candidates.
Be constant and patient
Inbound Recruiting is not a strategy that can be implemented overnight, but is the result of medium and long-term planning.
Pay attention to talent retention
Once the person becomes part of the company, there is still work to be done and to this end, it is vital to promote talent retention policies. So, it is possible for this incorporation to become an intrapreneur.
Attracting talent. Inbound Recruiting techniques
How do you attract talent? Although there are numerous techniques, below we review the most important ones:
Employer Branding. This is about projecting the best image of a company as an employer. In fact, according to a LinkedIn study,

66% of professionals find out about a company's values

and culture before making a job application.
Social Recruiting. Just as candidates strive to look after their personal brand on social networks (Facebook, LinkedIn, Instagram, Twitter, etc.), companies also do the same to present their

value proposition

and generate engagement with talent.
Content Marketing and SEO. Having

original and high-quality content

on the website, social networks and blogs contributes to attracting talent. SEO techniques, on the other hand, help to optimise this content.
Candidate Experience. This is an increasingly used recruitment and selection technique whose objective is to ensure that the

experience of candidates

during the process is the best possible, regardless of whether they are finally hired or not.
At the same time, it is also important to have recruitment and selection software that optimises the company's career site and makes the processes more effective and less expensive. According to a study

External link, opens in new window. conducted by HubSpot for the University of Southern California (USC), this educational institution managed to reduce its recruitment costs by 85% after implementing Inbound Recruiting techniques to attract graduate students.
Advantages of Inbound Recruiting
Implementing an Inbound Recruiting strategy has a number of benefits for companies. We highlight some of them:
The

value proposition

highlighting the company as an ideal place to work is strengthened.

Bonds of empathy, friendliness and affinity

are created between the company and the candidates.
The percentage

success in recruitment

significantly increased.
It reduces both the time and

costs of recruitment processes.

There is no need to

use external employment channels

or outsource the service.