Intrapreneurs and the importance of talent support
Labour productivity Entrepreneurship Collaborative work
When companies are seeking talent, they tend to look outside. But what if it was already there, in their own offices? Owing to a lack of mechanisms for identifying talent, a mistrust of internal structures or a reluctance to rearrange the hierarchy, many companies do not encourage their employees to develop ideas.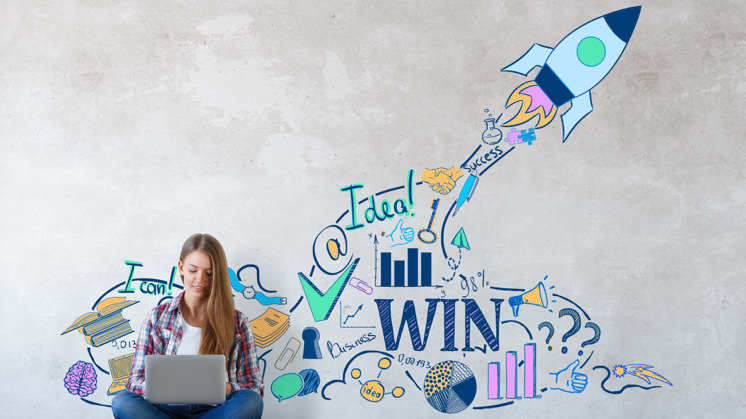 Intrapreneurs look for new business opportunities with the backing of their company.
Van der Sar, Reiziger, Seedorf, Litmanen, Overmars, the De Boer brothers... if you like football I am sure that some of these names are familiar. On 24 May 1995, Ajax took to the field in the Ernst Happel Stadium in Vienna for the final of the Champions League with all bets against it. Facing it, all-powerful Milan. The ajacied had two things in their favour, the arrogant youth of the players — the average age of the players on the field that day was only 24 — and the fact that most of them came from its youth academy, better known as La Academia. In the 85th minute, a young man aged only 18 with the name of Patrick Kluivert scored the decisive goal. The Dutch team had bet on youth and internal talent, and the result was a resounding success.
These days, more and more companies are following the model of that now mythical squad and looking for the youth academy when boosting their innovation, creativity and entrepreneurship. As a result, they are opting for intrapreneurs or corporate entrepreneurs. This is demonstrated, for example, in the study entitled Corporate Venturing Shifts Gears by the US consultancy, Boston Consulting Group. The report shows that some 40% of the top 30 US companies are already involved in intrapreneurship programs.
Intrapreneur definition
In 1985, Gifford Pinchot, the father of the term intrapreneur, defined it in his book Intrapreneuring as "someone capable of acting like an entrepreneur with the backing of their company by discovering, evaluating and exploiting new business opportunities". The lesson was that, when properly empowered and recognised, home-grown talent can come up with disruptive ideas. This is the difference between entrepreneurs and intrapreneurs: the latter launch projects under the umbrella of the company for which they work. The main advantage for intrapreneurs is that they have an infrastructure that they can count on and, therefore, they never start from scratch, which reduces both the costs and the risks.
The profile of an intrapreneur
What is an intrapreneur like? In general, they are employees who are very involved in their work, in other words, people who channel their enthusiasm into the company and feel happy when their efforts are recognised. They also tend to be generous with their efforts and in their relationships with the teams, helping to encourage them exponentially. You will recognise them by their characteristics, some of which are listed below:

Passion. Their motivation and commitment help them to keep up a high level of performance..

Initiative. They do not just do their work, they try to take it one step further. They also take on responsibility when making decisions and leading teams.

Perseverance. They do not give up easily and they always find a way to keep going.

Security. They are determined and confident about in their own abilities and skills to achieve success.

Creativity. They are flexible, which leads them to try out new things and, as a result, they find innovative solutions.
How can intrapreneurship be encouraged?
After identifying talent, the first step is to encourage it and make it clear to any intrapreneurs that the company is going to make use of their potential so that both can grow. Quid pro quo. In other words, thank them with something other than a pat on the back and a few nice words. This includes entrusting them with new responsibilities, giving them room for manoeuvre and an appropriate salary and position. It is also important to allow them to make mistakes, as people learn from their mistakes.
The main areas of corporate innovation that companies support have to do with developing new products, processes or business models. A report on corporate entrepreneurship produced by the Deusto Business School lays out a series of recommendations for implementing corporate entrepreneurship programs in companies:
Involve top management in the corporate innovation strategy.
Include the goals of the corporate entrepreneurship policy in the strategic plans.
Accept that corporate innovation only becomes a safe bet in the long term.
Design programs that fit the company and avoid standard formulae.
Make use of people with a knowledge of entrepreneurship to evaluate, support and integrate the intrapreneurs properly.
Create a corporate culture that encourages talent and the emergence of intrapreneurs.
Make it easy for staff to take part in intrapreneurship programs.
The MIT Sloan Management Review, published by the Massachusetts Institute of Technology, outlined four models of corporate entrepreneurship for companies depending on their attitude to this type of initiative:
Enabler. The company provides funds to a senior executive and tracks his or her forward-looking projects.
Producer. The company creates and supports a team exclusively dedicated to developing projects related with corporate entrepreneurism.
Opportunist. The company does not have a particular approach to corporate entrepreneurship. Occasionally, it sets up internal or external networks to which it allocates resources.
Advocate. The company evangelises strongly in favour of corporate entrepreneurship and provides funding from the very beginning.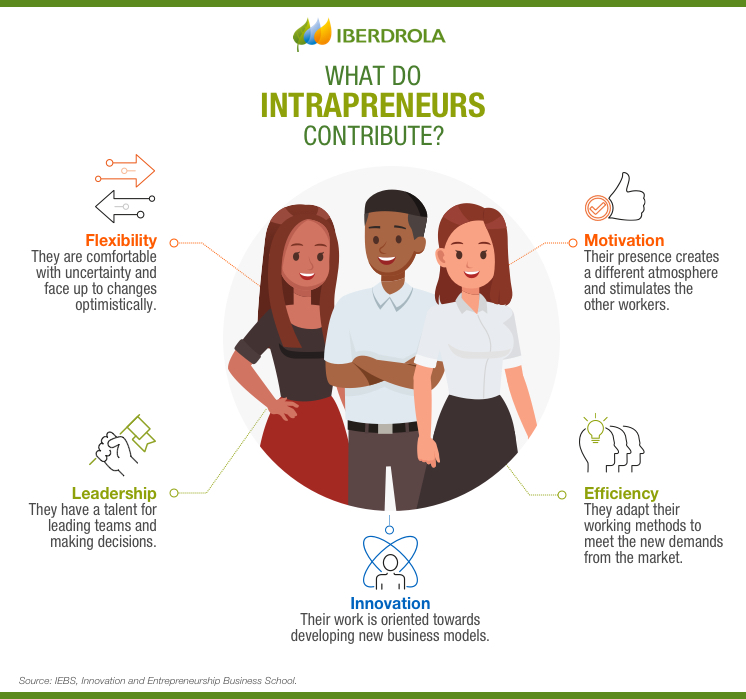 What do intrapreneurs contribute?
SEE INFOGRAPHIC: What do intrapreneurs contribute? [PDF]
BARRIERS TO INTRAPRENEURSHIP
It is not an easy task to implement a corporate entrepreneurship strategy in a big company. In addition to the difficulties associated with any project — a lack of entrepreneurial talent, uncertain and changing scenarios, asymmetrical information, etc. — there is a series of internal barriers that can hamper the efforts being made in that direction. Barriers at the strategic level, when there is a lack of alignment between the various departments; at the cultural level, when those who make the decisions have an aversion to risk; at the procedural level, when any process seems to take forever; and at the structural level, when the hierarchy is rigid and impedes the promotion of new talent. The survival and growth of companies depend to a large extent on their ability to identify new opportunities and it is here that intrapreneurs have a great deal to contribute.

Elevator pitch
Grit