Interview with Daniel Canogar
"Art is an emotional barometer that measures where we are now"
Daniel Canogar's work captures the public's imagination and stimulates reflection. Because, as he says, "we are distracted all the time". The raw materials for his art are our everyday experiences with technology, from information overload to obsolescence.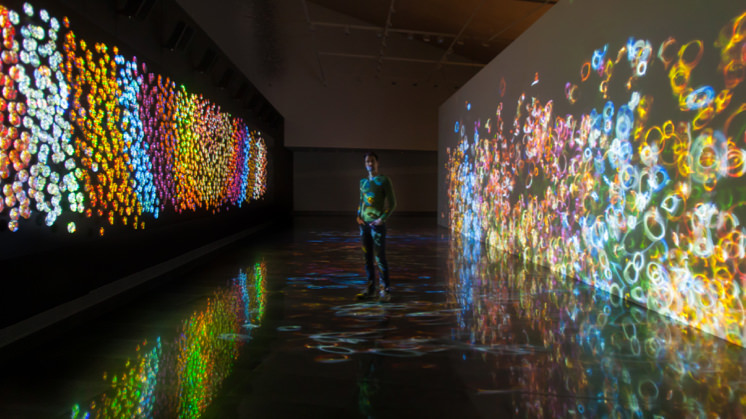 Daniel Canogar at the Museum of the University of Navarre (© Manuel Castells).
Daniel Canogar (Madrid, 1964) is obsessed with technology's impact on humans and the way it manifests itself in the world. He acknowledges that his own relationship with it is contradictory: "In my everyday life I'm a technophile, but when I think about how society is changing, I feel technophobic". Perhaps that's why this multidisciplinary artist — photography, video, installations — uses his works to process the dizzying changes affecting today's society.
Renowned as one of the best international technology artists — he has exhibited at the Reina Sofía in Madrid and the Natural History Museum in New York — he encourages us to think deeply about where we are headed.
Technology is changing the world at blistering speed. How does this influence your work?
My work is like a tool that helps me to process these high-speed changes. My artistic process helps me to understand these changes and know how to address them.
In this context, what's new today is obsolete tomorrow. Does the fleeting nature of things explain the times we live in? What impact does this have on art?
Accelerated obsolescence is the great economic paradigm of our times. It is indicative of our fear of ageing and death. The environmental toll is enormous, and we are reaching a point where we must think deeply about where we are headed. In this sense, art is an emotional barometer that measures where we are now.
Should there be more thought, dilemmas and debates on the evolution of technology? Ought we stop and think about where we are going?
We need to change the way we think about technology, consume less and do more technological make-do-and-mend, recycling what we already have.
What about your daily experience with technology? Are you more of a technophile or to technophobe?
In my everyday life, I'm a technophile. But when I think about technology and how society is changing, I feel technophobic. I'm a contradiction, it's clear.
You once said in an interview: "We are not made for the world we've created". Would you explain that?
Technology is out of control. That's why we need to get a grip of it and make it part of our human dimension. If not, it will turn against us.
These days, we are battered by stimuli and art demands we stop and think. How do you go about attracting public attention and what kind of reactions do you set out to provoke?
Being aware of our surroundings is one of the greatest pleasures we can experience. Unfortunately, the world we live in is flooded with distractions. My art aims to capture public attention and make people think.
We spend far too much time looking at screens, but in your work, for example in Fluctuaciones, you use them. What makes you opt for this media?
Rather than avoiding screens, I prefer to use them, to stimulate reflection on this overexposure in our daily lives. The art world is reticent about technological art, but opportunities are arising in public art for artists working with technology.
Your work Ráfagas consists of words drawn from the main international agreements on climate change. Do you see art as a good vehicle for raising awareness of the fragility and sustainably of our planet?
As well as raising awareness, I believe art can bring complexity to the way we think about different things. In Ráfagas

External link, opens in new window., for example, as well as my environmental concerns I think about the weight of words and the law, and where the political winds of the moment are blowing.
How does being bombarded with so much information affect our collective and individual memories?
Well, there's no question that mine has been seriously damaged! Shutting out the noise so as not to forget who we are is one of the greatest challenges of the moment.
Madrid and New York have influenced you more than any other cities. Have any of their idiosyncrasies made their way into your work, or has globalisation destroyed that?
Both cities have shaped me as an artist, but I find it difficult to pinpoint their impact on my work.
What are your sources of inspiration?
Sociologist Zigmunt Bauman, Japanese artist Rioji Ikeda and practically all filmmakers.
Can machines create art?
Discover the temples of art of the 21st Century