Interview with Lucía Agirre, curator of 'Yayoi Kusama: 1945 to now' exhibition
"Through art, Yayoi Kusama has sought her own healing and that of all humanity"
Yayoi Kusama (1929) is over 90 years old and has been living in a psychiatric institution since the 1970s. But none of this has stopped her from creating. Since she was a child, she has suffered from hallucinations and panic attacks, which she has learned to transform into creativity through obsession and repetition. She has built a career based on painting, sculpture, performance and installations, and is considered a pioneer of counterculture and one of the most sought-after artists in the world. Now, her eccentric gaze comes to the Guggenheim Museum Bilbao through the exhibition Yayoi Kusama: 1945 to now, and Lucía Agirre, curator of the show, rediscovers Japan's most prestigious contemporary artist.
Renowned artist Yayoi Kusama has worked throughout her career in a variety of media including painting, sculpture, performance art and installations. Photo courtesy of Ota Fine Arts, Victoria Miro and David Zwirner.
The exhibition Yayoi Kusama: 1945 to Now will be at the Guggenheim Museum Bilbao from 27 June to 8 October 2023. What will visitors find there?
A complete journey through the career of one of the most singular figures on the contemporary art scene. An artist and writer who, over more than seven decades of work, has sought through art her own healing and that of all humanity, working in the most diverse artistic disciplines to achieve this.
This is the largest retrospective of the artist held in the last decade in Spain, with nearly 200 works. How did the idea for this exhibition come about?
Yayoi Kusama has been in our exhibition desiderata for some time, and through a recent contact with her studio and the M+ Museum in Hong Kong, this collaboration came about, which has allowed us to fulfil that wish.
Kusama has been a pioneer in numerous media and practices throughout her long career, cultivating an avant-garde experimentation that is at the core of all her work
Art history has recovered Yayoi Kusama and placed her in a relevant place as a global cultural icon. What should the public know about her before seeing the exhibition?

Kusama is a tremendously solid artist, with an articulated and consistent career that goes far beyond the brilliant infinite rooms known to the general public, which are ultimately a result of or a solution to her interest in a universe without hierarchies, without beginning or end. Kusama has been a pioneer in numerous media and practices throughout her long career, cultivating an avant-garde experimentation that is the substratum of all her work.
After spending her childhood and adolescence in Japan, she moved to the United States in the 1950s and, as she herself has stated on several occasions, it was in New York that she became a "top star" of the art movement. How did her work influence artistic and cultural production in both countries?

When Kusama arrived in the United States, she knew very few people and barely spoke the language. Nevertheless, she lived in New York between 1958 and 1973, where she developed an artistic practice that some have sought to classify within movements such as Pop, Minimalism, or performance art. Although her unique work was an obvious source of inspiration for some of the artists who formed part of these currents, it was perhaps her public actions in support of civil rights and against the Vietnam War that had the greatest media repercussions.
Her return to Japan in the 1970s, however, was marked by the conservative media's censorship of her "scandalous" public actions. Gradually, however, her work gained long-deserved recognition, making Kusama a benchmark in Japanese avant-garde art.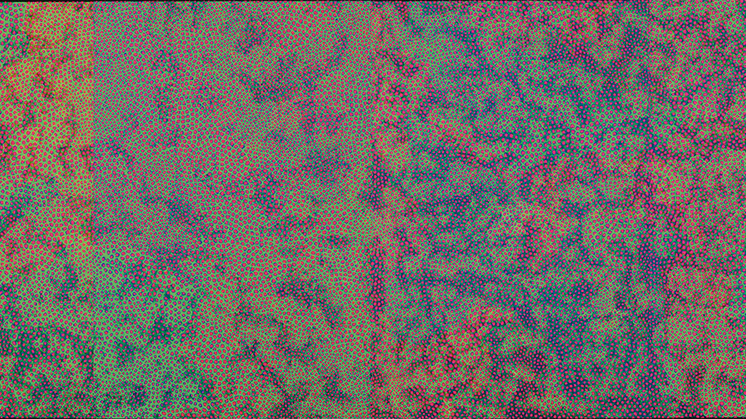 Transmigration, 2011. Yayoi Kusama.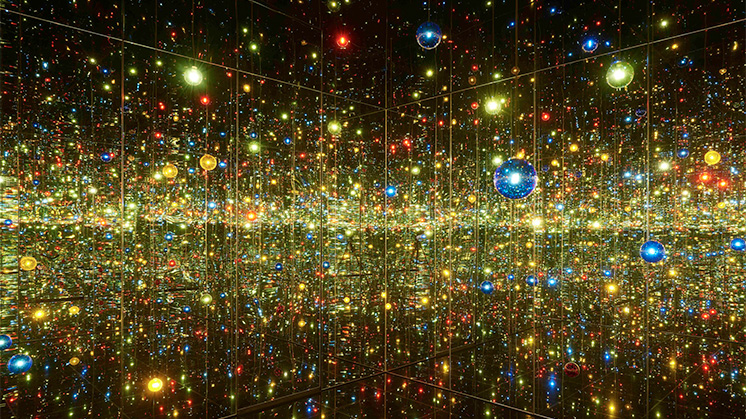 Infinity Mirrored Room - A Wish for Human Happiness Calling from Beyond the Universe, 2020. Yayoi Kusama.
Death of a Nerve, 1976. Yayoi Kusama.
Pumpkins, 1998-2000. Yayoi Kusama.
The exhibition chronologically traces Kusama's prolific work. What parallels can be found in the evolution of her art and the different contexts in which she lives?

The exhibition traces her career from a chronological perspective, but also thematically, through the main themes that have defined Kusama's artistic career: Infinity, Accumulation, Radical Connectivity, The Biocosmic, Death and The Energy of Life. This retrospective examines Kusama's practice in relation to the context and historical events she lived and is living through, such as the Second World War, the atomic bombs of Hiroshima and Nagasaki, her stay in New York in the middle of the Vietnam War and the civil rights movement, as well as numerous cultural and political events, natural disasters or catastrophes caused by human beings.
Her life has been marked by various psychological problems. How does her mental health reveal itself in her work? Is this an important source of her work?

For Kusama, art is a form of therapy, a way of channelling her emotions and expressing her obsessions. But her work has also led her to exhaustion at times in her life when the artist worked in marathon sessions of up to 50 hours at a time, which often worsened her health.
Kusama's work reflects us as human beings and prompts us to reflect on our relationship to the self, to each other and to the world around us
Obliteration is a key pillar in Kusama's work, as is the concept of ad infinitum. How do they translate into her art and what meaning do they have?

Self-obliteration is a fundamental concept in Kusama's philosophy, the idea that we need to dissolve the boundaries of the self and empty ourselves in order to establish radical connections with other human beings and also with everything around us. Kusama herself, who is a great writer, describes this eloquently when she explains one of the recurring motifs in her work, polka dots: "Polka dots cannot be left alone. When we cover nature and our bodies with polka dots, we become part of the environment". The infinite room that we can see in the Museum is an invitation to disappear, to "self-obliterate" in a vibrant play of coloured lights that multiply without limits on its mirror-covered walls.
What other themes underpin the artist's work and are present in the exhibition?

All the themes addressed in the exhibition are interrelated, like a web that Kusama weaves around these concepts, such as infinity; or the accumulation in the search for it; the artistic strategy of radical connectivity, for which she turned to the media and which is based on the questioning of the ego; the biocosmic, which refers to a deep connection that the artist feels with organic life and with the cosmos; death, which may not be the end; to end with the celebration of existence itself in The Energy of Life.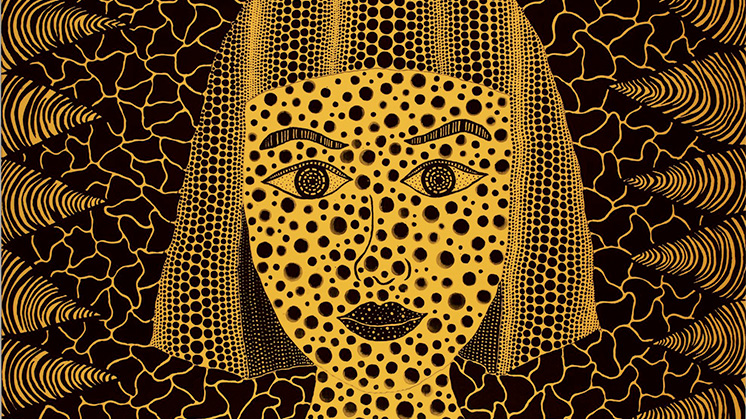 Portrait, 2015. Yayoi Kusama.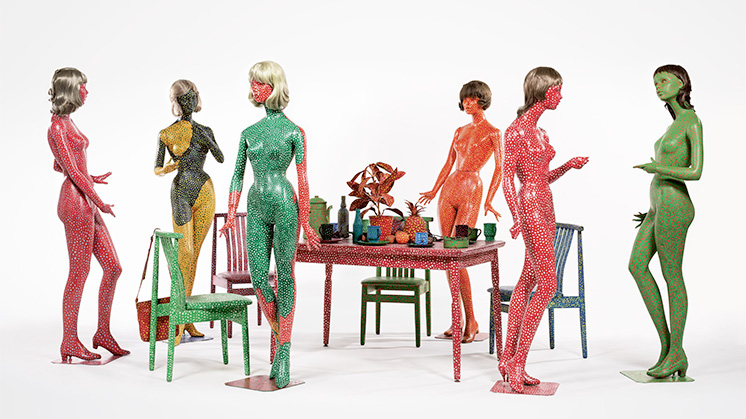 Self-Obliteration, 1966-1974. Yayoi Kusama.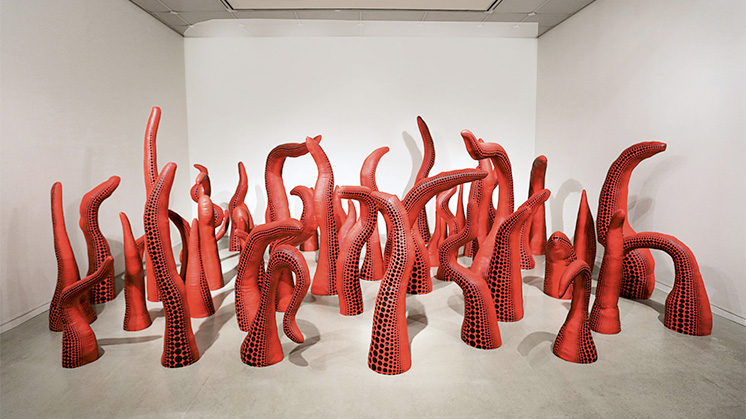 The Moment of Regeneration, 2004. Yayoi Kusama.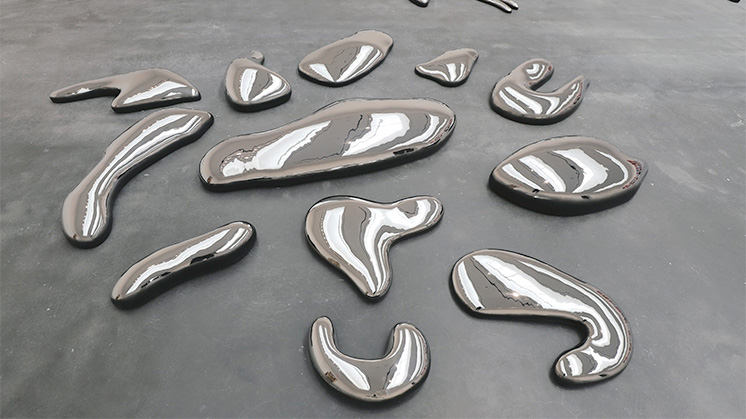 Clouds, 2019. Yayoi Kusama.
The Iberdrola Collection has recently incorporated one of Yayoi Kusama's works, Night bird (1981). This is just one of the artist's many creations. In the exhibition you curated, which works would you highlight in particular and why?
It is an exhibition with very significant works from Kusama's corpus, making it very difficult to choose between them. Personally, I am very attracted to her early paintings of Networks of Infinity, as well as all her performative work and her sculptures of accumulation. I also like how we are reflected and multiplied in her Clouds (2019).
Kusama herself has stated in several interviews that she makes her art to "heal herself" and to "heal all of humanity". How can art in general and hers in particular heal?

Kusama's work reflects us as human beings and encourages us to reflect on our relationship with the self, with the other and with the world around us, inviting us to disappear in order to better connect, not only with others, but with ourselves, with the cosmos, with nature, and with the cycles of life that make us both finite and infinite at the same time.