COLLECTIVE INTELLIGENCE
Discover the advantages of collective intelligence
Open innovation is an invitation for people within a corporation — employees — and also those from outside of it — suppliers, clients, entrepreneurs, start-ups, etc. — to provide their knowledge to drive new projects and generate value. The term isn't new, but self-managed team work is still in at a very early phase in the business sector.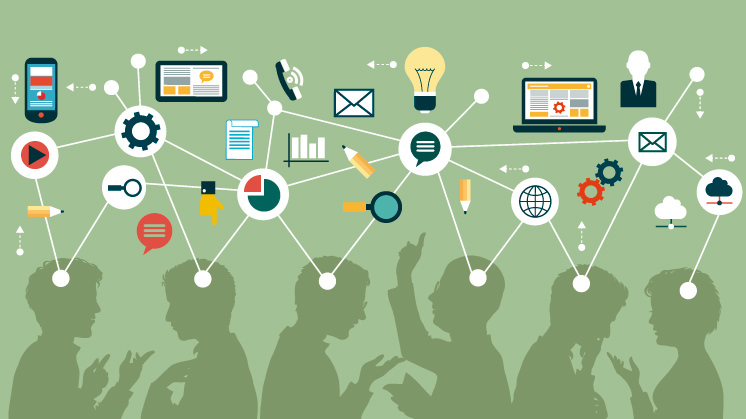 Collective intelligence creates synergy and it refines both thoughts and decisions.
WHAT IS COLLECTIVE INTELLIGENCE?
James Surowiecki, a renowned columnist at the New Yorker magazine, is one of the main drivers of the collective intelligence concept. The term was coined to refer to a series of smart behaviours stemming from interactions between a group's members.
Surowiecki turned the management sector upside down in 2004 with his publication Wisdom of Crowds. He champions the wisdom of crowds in his book: when it comes to dealing with resolving problems, boosting innovation or taking the right decisions, the bigger groups are more intelligent than the exclusive minorities, despite how brilliant they may be.
HOW TO ACTIVATE COLLECTIVE INTELLIGENCE IN COMPANIES
At least four basic principles need to be applied:

Diversity of opinion

Independence

Deconcentration

Aggregation capacity
In the wake of the industrial revolution 4.0, the wisdom of crowds faces a new challenge: How can we connect people and computers together to make people, groups and computers more intelligent as a group than they have ever been on their own? Mark Klein, one of the researchers at the Massachusetts Institute of Technology (MIT) Center for Collective Intelligence is clear: "Wikipedia, citizen science or participatory budgeting are just the start of a revolution that has only just begun."
Collective intelligence begins when the employees of a company raise a doubt and, by using artificial intelligence algorithms, the system understands the question and looks for the answer in its database. If it can't find it, it predicts which professionals in the company should be able to answer, it asks them about the issue and encourages them to input their responses into a database. The system will, of course, learn during this process and use that knowledge in the future, when required.
TECHNOLOGY AND COLLECTIVE INTELLIGENCE
The companies that use the right technological tools to enable collective intelligence are promoting creativity and innovation in employees. Therefore, they no longer spend 20% of their time looking for information they need for their work (a figure provided by the consulting firm, McKinsey). The return on investment for companies that apply collective intelligence initiatives (Knowledge Sharing) is remarkable: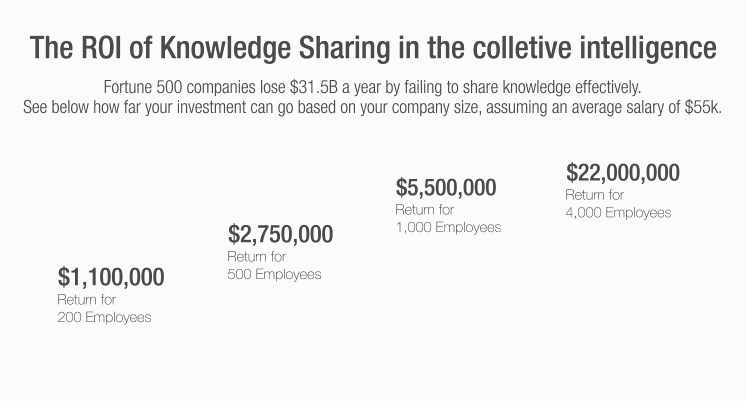 Source: Bloomfire (2017).
The wisdom of crowds helps the company to be more competitive, to generate more profit and, as a result, to be able to offer more to their employees. Further to this, it strengthens the commitment between the company and the worker, who feels part of the success.
Start-ups: endeavours by means of more innovative ideas
Challenges and main applications of Artificial Intelligence
Univerisity Program by the Iberdola Group