Start-ups: entrepreneurship through the most innovative ideas
Business Economy Entrepreneurship
Startups are emerging companies with a small but very agile and brilliant structure, the result of groundbreaking ideas with which entrepreneurs want to change the world. They have a scalable business model, adopting technology and innovation as the basis for their growth. The difference with respect to an SME lies not only in their capacity to innovate, but also in their flexibility to adapt to changes and in their customer focus.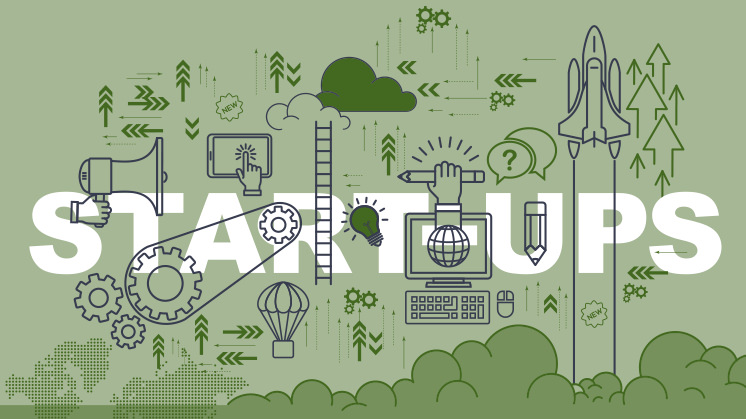 In 1996, two students from Stanford University joined forces to create the best Internet search engine. They developed it within the facilities of the university itself as well as in a neighbours' garage. And thus, Google was born. The project did not take long to find its first investor: the co-founder of Sun Microsystems, Andreas von Bechtolsheim, who gave them a cheque in the amount of 100,000 dollars.
Young entrepreneurs — such as Larry Page and Sergey Brin were in their day — are the origin of many small companies that have great potential for growth. Although they are developed in almost every sector, the vast majority arise from technology. Google, Twitter and Facebook were all born thanks to a start-up — or emerging company —.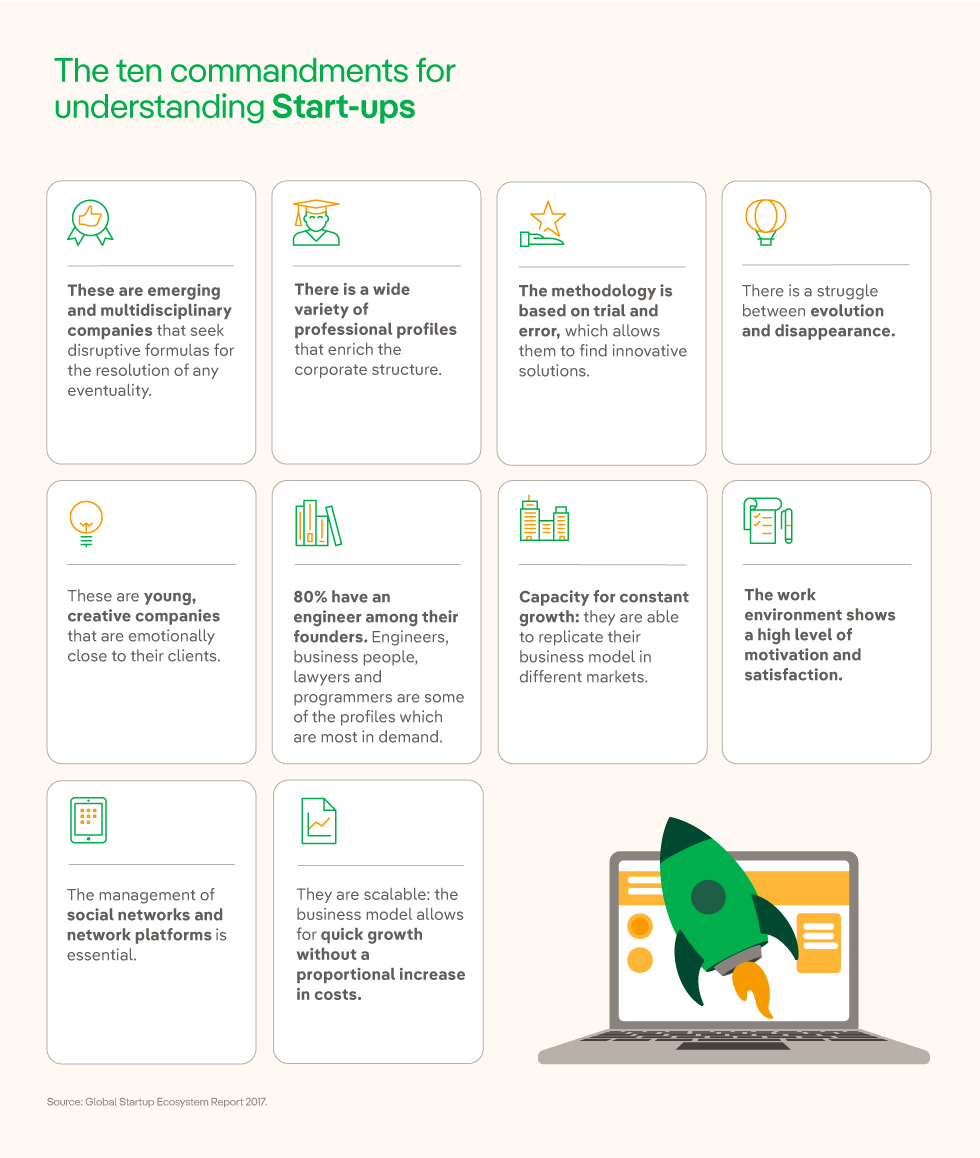 The ten commandments for understanding start-ups.
SEE INFOGRAPHIC: The ten commandments for understanding start-ups [PDF]
Financing of startups
The key to growth is to convert an idea into a profitable business model, and that involves obtaining the necessary financing. The good news is that there are many philanthropists, companies, institutions, foundations, etc. willing to help with advice and funding. The following stand out:
However, the truth of the matter is that growth doesn't come easy: according to Startup Genome the largest collaborative community supporting start-up ecosystems, about 90% of start-ups fail to thrive and eventually disappear, while only 1.5% - or about 15% of those that survive - achieve a successful launch of $50 million or more in the top eight ecosystems in the United States.
How do startups work?
Startups have to understand what the customer needs and be smart enough to convert this into a product that delivers the most suitable response. Starting from this base, startups also have some unique factors. Let's take a look at some of the most important:
They offer

practical, scalable and creative solutions

to everyday problems.
They rely on

technology

to innovate and deliver the best products and services. They use the Internet and social networks to achieve visibility.
They set very clear

short-, medium- and long-term objectives..

They define a budget to develop their business idea. If they need funding, they often turn to solutions such as crowdfunding.
They establish

young, multicultural and multidisciplinary teams

to enrich their perspectives.
The best startup cities
There are not many places in the world where there is a true culture of innovation and business creation that encourages entrepreneurial talent to turn their ideas into reality.
According to The Global Startups Ecosystem 2023 report by Startup Genome, the five best cities in the world for the development and growth of these gems of innovation are Silicon Valley (California, USA), New York, London, Los Angeles and Tel Aviv. In Europe, Berlin, Amsterdam, Paris, and Stockholm follow London at the top of the ranking. Silicon Valley holds the top position with figures that leave no room for doubt: it home to nearly 40,000 start-ups, of which more than 250 are considered unicorns.
For its part, without a doubt Barcelona stands out for Spain, and in the ranking of emerging ecosystems in 2023 it has risen five positions compared to 2022, reaching fourth place in the world behind Copenhagen, Hong Kong and Detroit. Its most powerful unicorn is the Paack platform, a transport and parcel delivery company valued at $1.6 billion, which contributed to Barcelona achieving an ecosystem value of $21 billion (91% more than in 2022).
Maintaining an ecosystem of strong and mature start-ups is essential to the promotion of innovation and entrepreneurship and is likewise a source of employment and wealth.
Iberdrola, the number one innovative utility in Spain
Supporting young entrepreneurship
Unicorn companies
Machine Learning