WHAT IS A START-UP?
Start-ups: entrepreneurship through the most innovative ideas
These are small, but very brilliant companies, emerged thanks to breakthrough ideas that entrepreneurs want to use to change the world.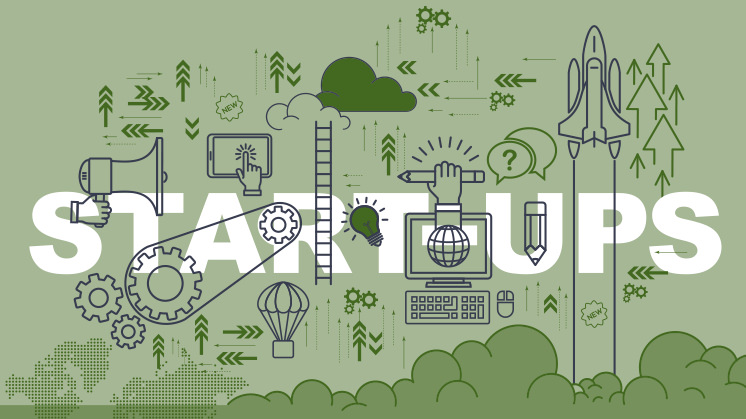 In 1996, two students from Stanford University joined forces to create the best Internet search engine. They developed it within the facilities of the university itself as well as in a neighbours' garage. And thus, Google was born. The project did not take long to find its first investor: the co-founder of Sun Microsystems, Andreas von Bechtolsheim, who gave them a cheque in the amount of 100,000 dollars.
Young entrepreneurs — such as Larry Page and Sergey Brin were in their day — are the origin of many small companies that have great potential for growth. Although they are developed in almost every sector, the vast majority arise from technology. Google, Twitter and Facebook were all born thanks to a start-up.
The ten commandments for understanding start-ups.
SEE INFOGRAPHIC: The ten commandments for understanding start-ups [PDF]
The key to growth is to convert an idea into a profitable business model, and that involves obtaining the necessary financing. The good news is that there are many philanthropists, companies, institutions, foundations, etc. willing to help with advice and funding. The following stand out:
Business angels:

private investors who are personally involved with contributing not only financial support, but also their experience in strategy and business development.

Venture Capital:

investment funds that take chances on start-ups with a disruptive business model in sectors with great potential for growth. One such example is the International Startup program, an Iberdrola corporate venture capital program endowed with 70 million euros for investment in disruptive technologies and businesses that ensure the sustainability of the energy model.

Business incubators:

facilities that are made available to enterprising people by private investors, large companies or public institutions under very advantageous conditions in order to help them grow. They also offer advice as well as legal, marketing and logistical support. The European Union has its own network of incubators.

Accelerators:

these offer fixed-term programs, as the relationship concludes with the presentation of the project to the public in search of financing for its growth. The main difference between an incubator and an accelerator is that while the former try to protect start-up companies in order to reduce the risk of failure, the latter seek to accelerate the companies's process of interacting with the market so that they can adapt quickly and become agile companies.
However, the truth of the matter is that growth doesn't come easy: according to the rankings The services provided by business incubators in Spain 2016/2017 [PDF], prepared by the Rey Juan Carlos University (Madrid), together with Fundación de las Cajas de Ahorro (Funcas), more than 20% of start-ups do not survive their first year, 15% disappear in the second and 10% perish in their third year of activity.
The best start-up cities
There are not many places in the world where there is a true culture of innovation and business creation that encourages entrepreneurial talent to turn their ideas into reality.
According to Startup Genome, the largest collaborative community for the support of start-up ecosystems, the five best cities/areas in the world for the development and growth of these innovation jewels are the Silicon Valley (California, United States), New York, London, Beijing and Boston. In Europe, Berlin, Paris, Stockholm and Amsterdam follow London at the top of the rankings. Silicon Valley holds the top position with figures that leave no room for doubt: it hosts between 12,000 to 15,000 start-ups that provide employment to more than two million people.
For its part, without a doubt Barcelona stands out for Spain, where between 900 to 1,100 new technology companies have been developed. In April 2016, Barcelona Tech City was born. This is a non-profit organisation that houses nearly one hundred organisations, including start-ups, incubators, accelerators and innovation laboratories.
Maintaining an ecosystem of strong and mature start-ups is essential to the promotion of innovation and entrepreneurship and is likewise a source of employment and wealth.
Iberdrola, the number one innovative utility in Spain
Supporting young entrepreneurship
Unicorn companies
Machine Learning