News Back
29/10/2019
Today and tomorrow the company is holding its fifth Digital Summit, at its San Agustín del Guadalix training campus (Madrid)
Iberdrola is promoting its digital transformation during the Digital Summit 2019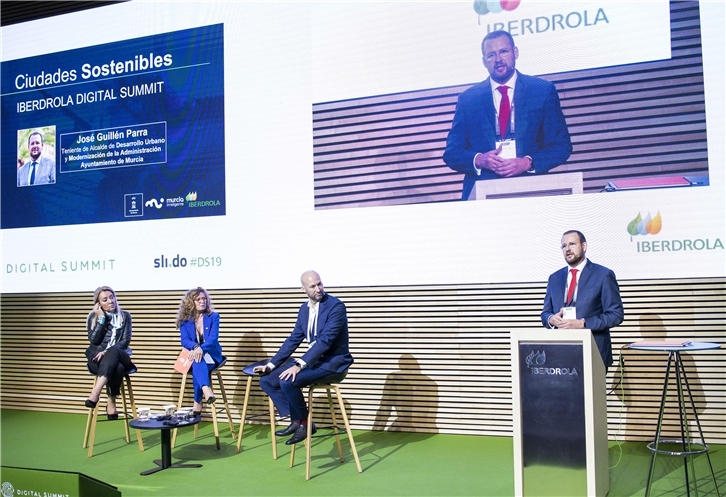 Group chairman, Ignacio Galán, has said that "being more digital is an obligation for Iberdrola", given that digitalisation "is a great opportunity to create value" and it "will play an essential role in the energy transformation"
This year's digital summit will see the return of executives and top-level companies including Chuck Ames (Amazon), Tiffani Bova (Salesforce), Ricardo Klatovsky (IBM), Alicia Asín (Libelium), Rodrigo González (Spotify ) and Gabriel Perdiguero (Iberia)
This week, Iberdrola is once again demonstrating its firm commitment to the digital transformation, a process to which it plans to allocate 4.8 billion euros between 2018 and 2022, by holding the fifth company Digital Summit in its Training Campus, in San Agustín del Guadalix (Madrid).
In relation to this meeting, which will be attended by 320 employees from eight countries, the group's chairman, Ignacio Galán, has assured that "being more digital is an obligation for Iberdrola. Digitalisation is not only a great opportunity to create value, but it will play an essential role in the energy transformation, through the electrification of the economy, and it will help us strengthen our leadership and commitment to the fight against climate change".
Similarly, Galán has pointed out that the relationship between the digital process and the energy sector "is a two-way street, given that the advantages of digitalisation will not be possible without a really reliable energy infrastructure to provide the electricity required". This is the reason, he explained, why "all the Iberdrola generation facilities are now being managed through automated systems". In addition, the chairman stressed that "in the field of networks we are now able to operate the lines remotely and in real time and the use of Big Data is allowing us to offer customers new and innovative services".
It should be noted that, within its digitalisation plan, Iberdrola has set itself the goal of carrying out 75 innovation projects per year, with the aim of continuing to lead this process. Currently, the company ranks as the most innovative Spanish utility and the third most innovative in the world, according to a European Commission ranking.
The company will also continue to support disruptive ideas in the energy sector through its 70 million euro PERSEO - Startups Program. The aim of this initiative — into which 60 million euros has been invested for over more than a decade — is to facilitate Iberdrola's access to the technologies of the future and to promote the creation and development of a global and dynamic ecosystem of technology companies and entrepreneurs in the electricity sector.
Also this year, and in order to continue to capture the best ideas on the market, Iberdrola has launched two Startups Challenges on its website. In the first, Resilience to natural disasters, 131 startups from 24 countries submitted 148 proposals. The second, Cleaning photovoltaic panels, has received 74 proposals from 70 startups from 25 countries.



First level speakers: Amazon, Spotify, Libelium, IBM, etc.
In addition to Iberdrola executives, headed by Chief Information Officer (CIO), Fernando Lucero, the fifth company Digital Summit will see directors from other leading technology companies taking part, who will share the best digitalisation practices in their respective fields of action.
They will include Tiffani Bova, Growth and Innovation Evangelist with Salesforce; Spotify Sales Director for Spain, Rodrigo González; Jaime del Valle, Chief Marketing Officer (CMO) at L'Oréal; the CEO and founder of Libelium, Alicia Asín; Chuck Ames, the user experience manager at Amazon; the chief transformation officer with Iberia, Gabriel Perdiguero; and Ricardo Klatovsky, IBM's global vice president for sales and loyalty for the energy, environmental and utilities industry.
Iberdrola has, for the second time as part of a Digital Summit, issued a Call for Ideas, which has had twice as many submissions as the previous call: 207 proposals related to sustainability, process efficiency and improving the customer experience, in which disruptive technologies are applied in some way. It is planned that the best of these ideas will be chosen during the meeting.
In addition, the company's digital summit will host two round tables, one on Sustainable Cities and Communities and the other called Tech4Good, which will address issues related to the UN Sustainable Development Goals (SDGs), such as air quality and technology as a tool for social transformation.
It is worth recalling Iberdrola's firm commitment to compliance with the SDGs. The company focuses its efforts on the supply of affordable and clean energy (Goal 7) and on climate action (Goal 13) whilst also contributing directly to ensuring clean water and sanitation (Goal 6), increasing its investment in R&D activities (Goal 9), promoting respect for the life of terrestrial ecosystems (Goal 15) and working to establish partnerships to achieve the goals (Goal 17).