Commitment to the environment
Young people rise up against climate change
Social transformation Solidarity
Greta Thunberg is a global phenomenon who is inspiring young people to protest against climate change. And she isn't alone. Thousands of young men and women around the world are worried about their future and have joined the Fridays for Future initiative, which consists of Friday meetings to raise awareness about this global concern.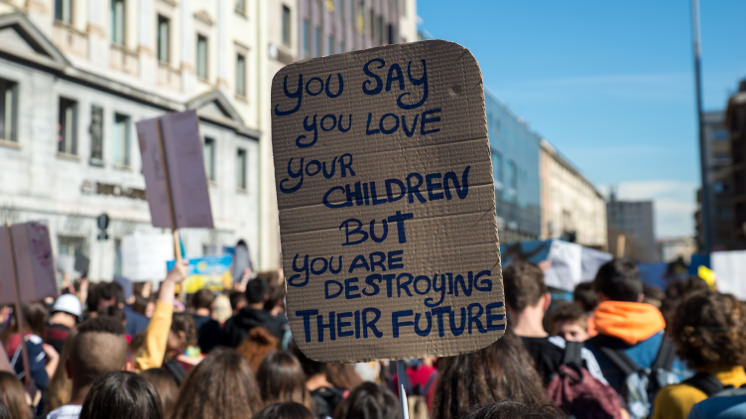 Greta Thunberg's speech at the COP24 in Katowice has inspired young people all over the planet
Greta Thunberg, ecology icon
There's no generation with as much at stake when it comes to the negative effects of climate change as Generation Z. Their future is tied to the planet and they are up to the task of protecting it. They know that ignoring the issue, whose consequences are increasingly tangible, is not an option. Keeping your eyes open and raising global awareness were aspects discussed by leader of this movement, Greta Thunberg, during her speech at the COP24 in December 2018 in Katowice (Poland).
"I will be 75 years old in 2078. If I have children, they might spend the day with me and ask me about you, and why you didn't do anything while there was still time to act. You say you love your children, but you are still robbing them of the future". This was the tough stance taken by this 15-year-old Swedish girl during her speech to politicians and entrepreneurs from all over the world. Her words inspired young people around the world and were the spark that lit the flame of Fridays For Future

External link, opens in new window..
On 15 March 2018, Youth for the Climate, the digital platform created to coordinate these student protects, called a strike and meetings that united more than a million young people in 2,083 cities in 125 countries. The objective: To raise awareness of climate change in society and demand that governments act to counteract the effects.
United Nations warnings
Just two days before the strike called by the Youth for Climate Action, the United Nations Organisations issued an dire warning about the environmental crisis that humans are causing on the planet. A growing emergency situation, whose most obvious effect is global warning, is melting the polar ice caps and changing climate cycles. The crisis is already threatening other spheres of life, increasing the number of migrations for climate reasons and causing unprecedented damage to plant and animal life.
The sixth Global Environment Outlook, or GEO-6 report, was presented during the 4th United Nations Environment Assembly in Nairobi (Kenya). It was written by 250 scientists and experts from more than 70 countries and includes statements like these:
Air pollution now causes between

6 and 7 million premature deaths

every year.
The temperature in the Arctic will increase by between

3 and 5 degrees centigrade

between 2019 and 2050
Mitigating the effects of climate change will cost

22 billion dollars

and the saving for health will total around 54.
Youth for climate action
Generation Z has a mantra: it's time to act, and it has to be now. Young people's commitment to the environment is nothing new, and it has never been restricted solely and exclusively to organising marches and strikes. All you need to do is look back to see important projects and initiatives led by children and young people that have marked the beginning of a new stage in their communities:
In 2005, several hurricanes damaged the dunes on the beaches of the Bahamas and students from the Hope Town School mobilised their community to plant sand-resistant bushes. This was the birth of the Sandwatch movement. In 2011, when the hurricanes returned, the roots of these bushes anchored the dunes in place.
Students from the Lester Vaughan secondary school in Barbados produced 3,153 litres of biodiesel between 2005 and 2007 by collecting used vegetable oil in their communities. As well as raising awareness of biodiesel as an alternative fuel, they stopped the oil being disposed of in ways that would have harmed the environment.
The Ghana Bamboo Bikes project won an award from The United Nations Environment Programme (UNEP) to encourage bike production with bamboo instead of steel. This initiative, as well as encouraging a non-contaminating method of transport, has succeeded in reducing the rate of unemployment among young people.
Amina Mohammed is the current Deputy Secretary-General of the United Nations and is certain that youngsters will lead the fight against climate change. "I am asking young people to join this effort because we need them to defend and guide global climate change action and sustainable practices. Don't take this planet for granted. It's the only one we've got", she said during her visit to the Tshinghua University in Beijing (China) in November 2018.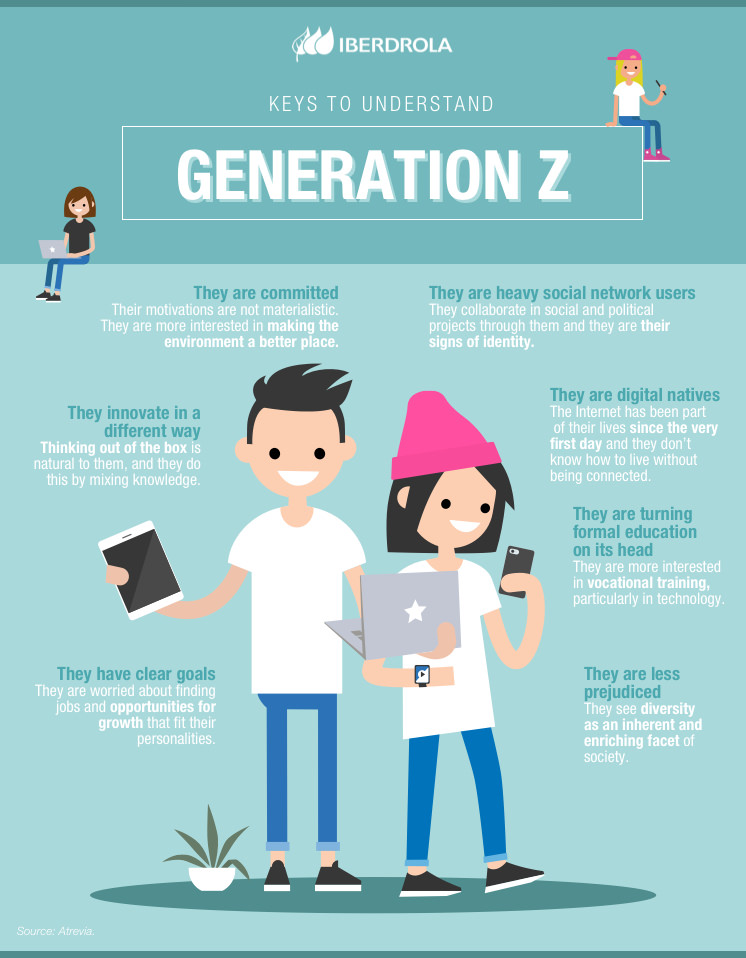 Keys to understand Generation Z.
SEE INFOGRAPHIC: Keys to understand Generation Z [PDF] External link, opens in new window.
Environmental education for children
Youngsters are the present of this movement, but the children are the future. When children become aware of the importance of reducing contaminating emissions, when they grow up their will be capable of helping to make this planet a better world. To make it happen, we need to explain what climate change is and educate them to mitigate its consequences. How can we do it?

Make up a story: It's easier for children to understand information when it is part of a story. Write an interesting bedtime story to tell the kids before they go to sleep.

Reward recycling: Recycling is simple, but it's difficult to get children accustomed to doing it. Think up a system whereby you reward them for doing it correctly.

Transforming waste into toys: Playing is an excellent way of learning. Create an activity that consists of building toys with unused packaging and give things a second life.
The best known example is that of Greta Thunberg, but she's not the only one. Numerous children and youngsters around the world are showing their commitment to protecting the environment every day thanks, in part, to the presence of educators who are teaching more about climate change in schools. That's how we heard about EducaClima twelve-year-old Diana Monteiro, a pupil at the Colegio Ciudad Escuela Muchachos de Madrid (Spain).