We are the energy sector's sole representative in the Talanoa Dialogue
Thanks to the significant degree of alignment between our strategy and the objectives of the historic Paris Agreement and the documentation provided by the company, Iberdrola is one of the six companies selected by the United Nations to participate in the Talanoa Dialogue in Bonn.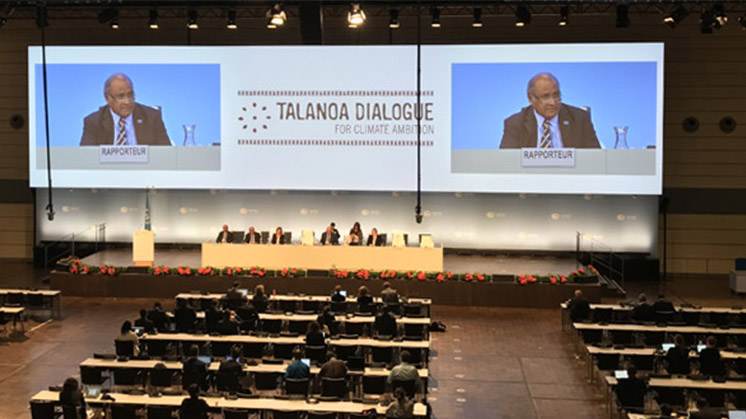 Climate negotiations in Bonn (Germany).
After a worldwide selection process based on the participants' climate leadership and the vision statements presented, Iberdrola was chosen to take part — together with IKEA, BT, Unilever, Mahindra Group and ThyssenKrupp —, to represent the private sector in the first working debate in the formal dialogue between civil society and governments on how to progress towards achieving the climate goals, a process known as the Talanoa Dialogue.
WHAT IS THE TALANOA DIALOGUE?
The Talanoa Dialogue, which was adopted at the Bonn Climate Summit in November 2017, is a global process of constructive debate and proposals for solutions involving governments and civil society — companies, NGOs, academic bodies, business groupings, etc. —. Coordinated by the UNFCCC, its findings will be taken into account during climate change negotiations and when adopting the decisions taken in this context.
As the sole representative from the energy sector, the Iberdrola group focused its message to the Climate Champions [PDF] External link, opens in new window. on the viability of a decarbonised business model based on clean energy and the opportunities this represents in terms of climate change, air quality and economic growth and the need for long-term climate strategies with ambitious goals for 2030 and 2050. These strategies, on the other hand, must include robust climate policy frameworks where environmental taxation measures, based on the "polluter pays" principle, will play a key role.

[PDF] External link, opens in new window.


External link, opens in new window.
Iberdrola's presence at this event formed part of its participation in the session on climate negotiations that took place in Bonn from 30 April to 10 May 2018, at which the central points for implementing the guidelines on the Paris Agreement were drawn up ready for the climate summit to be held in December in Katowice, Poland (COP24).
Iberdrola Group's Environmental Commitment
Committed to the Sustainable Development Goals
Sustainability indices
Our Climate Action Policy