Mobile learning: welcome to new learning initiatives in classrooms
High performance Training Digital talent
Data supplied by GSMA — an organisation that represents mobile network operators — shows that there are already over 5 billion mobile phone users worldwide. And rising. This is why the education and training sector cannot turn a blind eye to these new initiatives. The response is mobile learning, which transforms these devices into teaching aids.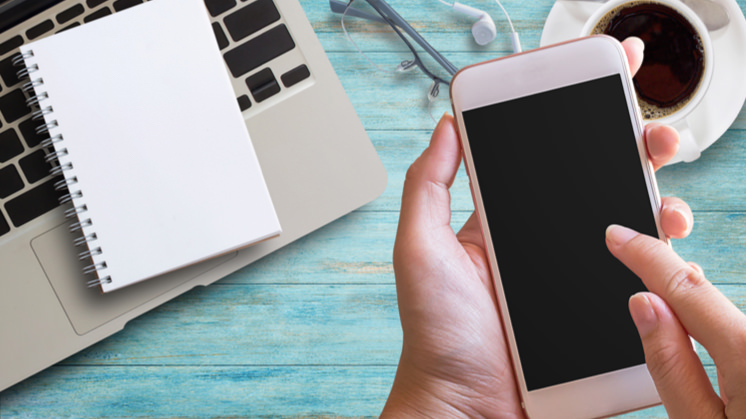 'Mobile learning' is an educational trend that offers numerous advantages and can be adapted to present-day education.
Mobile devices are becoming ever more popular and they are increasingly influencing our day-to-day lives. Education, immersed in a debate on the need of an educational change in order to adapt it to the demands of the twenty-first century, cannot therefore turn its back on reality. Mobile learning, which transforms mobile devices into learning aids for teachers in classrooms, is considered to be one of the best alternatives.
What is m-learning (features)
Mobile learning or m-learning is a type of learning in which any mobile device with a wireless connection — smartphone, PDA, tablet, PocketPC, etc. — can be adapted to learning methods and used as a teaching aid. Its main features include multifunctionality, connectivity, personalisation, diversity, flexibility and accessibility — 24x7x365 —. However, motivation is undoubtedly its strong point, since new generations of students are more familiar with these devices.
Mobile learning is a reality arising from a staggering pace of modern-day technology and nobody in the education sector can disregard it. One fact: according to GSMA — an organisation representing mobile network operators —, the number of mobile phone users now exceeds 5 billion — 7.5 billion people live in the world — and is increasing every day. This is why the education sector, as also happened with e-learning, has seen these devices as effective teaching aids that can be adapted to present-day education.
M-learning is a derivative of e-learning, but there are similarities between both of them. The basic difference lies in the mobility that mobile learning offers — e-learning uses a fixed device. This influences content, which is lighter in m-learning — educational mini-sessions with images, videos and checklists that are easy to remember - while e-learning offers more extensive and detailed information. Consequently, another difference is evident from the fact that mobile learning sessions are designed to last a few minutes, while e-learning ones can last up to an hour.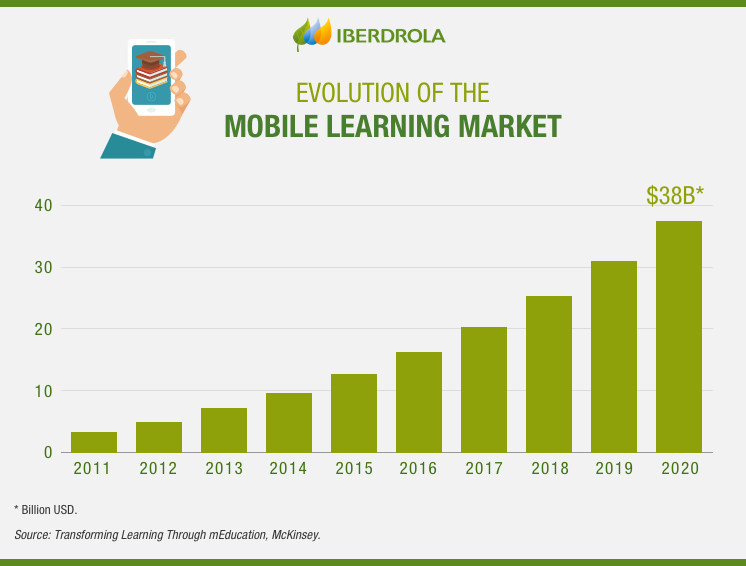 Evolution of the mobile learning market.
How to introduce mobile learning into the classroom
The mobile learning market, driven by the rise of software development and the evolution of mobile devices, has shown a dramatic increase in the last decade — the study Transforming Learning Through mEducation by the consulting firm, McKinsey, points out that by 2020 it will reach 38 billion dollars — due to its growing presence in the classroom. Students can benefit from the advantages that mobile devices have to offer by introducing this trend into classrooms in an organised and managed way that suits all students.
The stance of the United Nations Educational, Scientific and Cultural Organization (UNESCO) on this matter is clear: "Yes to the use of mobiles in the classroom, if it is an appropriate use". For this organization that it is not about constantly using this device in the classroom, but about taking advantage of the possibilities it offers, which are designed, programmed and defined in advance by teachers. In this sense, UNESCO itself establish a series of Guidelines for Mobile Learning Policies, in which it set out some general ideas on adapting the school space to mobile learning. These include:
Creating mobile learning policies or update those already existing.
Training teachers to encourage mobile learning.
Creating learning content for use on devices and to optimise that already existing.
Ensuring student gender equality.
Expanding and improving connectivity options to ensure equality.
Designing strategies to provide access in equal conditions for everyone.
Promoting the safe, responsible and healthy use of mobile technologies.
Using mobile technology to improve communications and educational management.
Increasing awareness regarding mobile learning through promotional activities.
In addition, to introduce mobile learning in the classroom is advisable to rely on the use of appropriate apps. For example, apps to create lists of students and tasks, such as Wunderlist or Google Talk; apps to create the class agenda, such as Google Calendar; apps for taking notes, such as Evernote, Penultimate or Colomote, etc. There are also numerous apps to create content — presentations, photography, podcasts, etc. — such as Socrative, Movenote, Soundcloud or DownCast.
Advantages of mobile learning
'Mobile learning' is an educational trend that adapts to to present-day education and that, if the UNESCO's guidelines are complied, offers evidents advantages. The main ones include:
Increasing the scope of education and improving equal opportunities.
Facilitating personalised learning anywhere and at any time.
Permite la respuesta y evaluación inmediata por parte de los docentes.
Encouraging the creation of new student communities and collaborative learning.
Favouring continuous learning, which is much needed in an ever-changing world.
Aiding students with disabilities due to its easy accessibility.
Maximising educational efficiency in relation to costs.
Like any other change in education, mobile learning leads to debate. In 2018, for example, the ban on the use of mobile phones in classrooms in France caused great controversy. For that reason, experts warn about the need to educate people in the correct use of these technologies and to establish clear behaviour patterns, to bridge the digital knowledge gap and adapt the classroom infrastructure to face possible disadvantages of mobile learning.