Classroom-based education versus online education
Remote training or classroom-based training? Which is best for you?
Training Professional skills Digital talent Professional career
In years gone by, remote learning was the ugly duckling of higher education, being less prestigious method than classroom-based courses. Nowadays, online learning has become the method of choice for millions of people because it is flexible, has no geographic barriers and gives access to wider range of courses.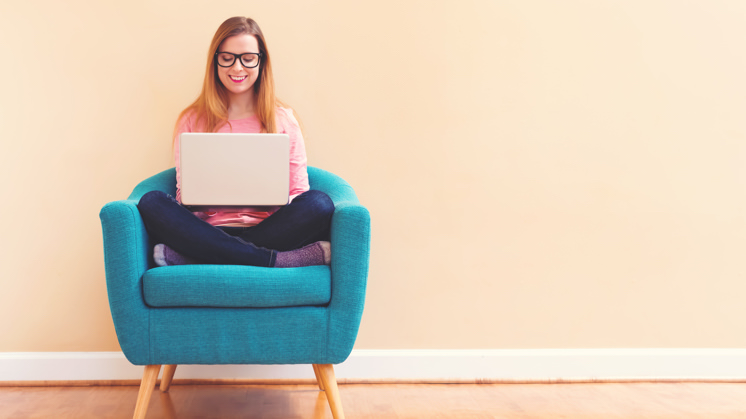 Online training gives learners access to the world's best courses and educational institutions from the comfort of their own homes.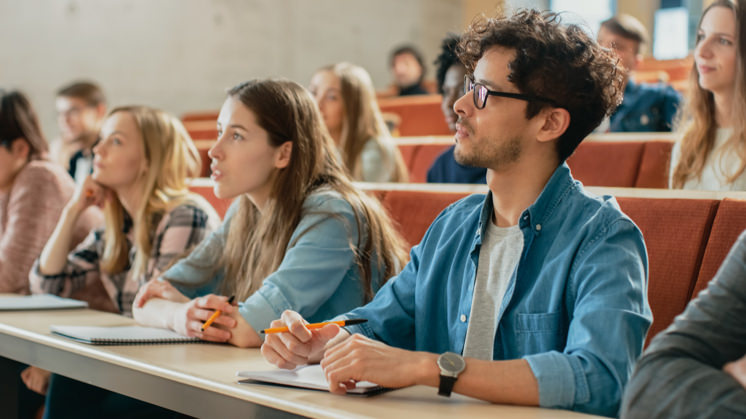 With classroom-based learning, students go to a physical classroom where the teaching and much of the learning takes place.
The gap between online education — also known as e-learning — and face-to-face courses is closing. In fact, most students have tried this type of learning. The Global Shapers survey published by the World Economic Forum (WEF) reveals that 77% of young people have some type of online course on their curriculum, a trend expected to grow.
Further proof of the global boom in distance learning is the number of online course platform users. The five most popular of these at a global level had almost 90 million students in 2018 and more than 900 universities added MOOC — massive open online courses— to their range of study options, according to seminar search engine Class Central.
According to the Global Online Education Market forecasts for 2018 to 2023, North America and the Asia-Pacific region are leading the online training industry and will achieve yearly growth of 10.26% in the next four years, with a market value exceeding 286 billion dollars in 2023.
Differences between online education and classroom-based education
Online and classroom-based education are two different types of learning. Although both offer high-quality learning, each has its own teaching method and establishes its own channels and guidelines for learning.
Online education uses the Internet and information and communications technology (ITC) to provide students with tools like chats, blogs, video conferences and shared documents, making courses dynamic, intuitive and easy to follow. This asynchronous system enables students to attend classes, work, communicate, take exams and access content wherever they may be. Another aspect of remote learning is that it stimulates students' independence and curiosity, collaborative work, critical thinking and self-directed learning. This system also diversifies sources of knowledge. With classroom-based learning, students go to a physical classroom where the teaching and much of the learning takes place. With this method, the students take a more passive role and adapt to the teacher's rhythm and teaching method. The teacher is the primary source of information.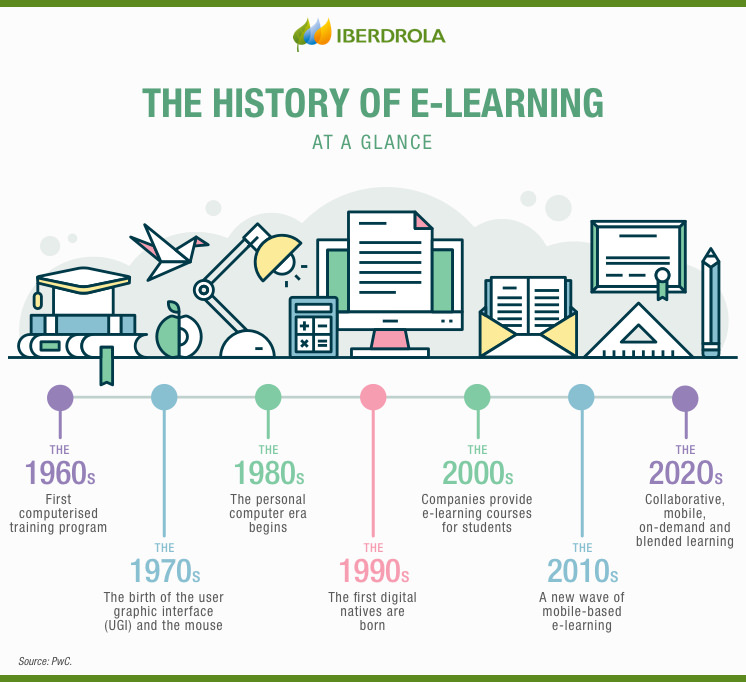 The story of e-learning at a glance.
SEE INFOGRAPHIC: The story of e-learning at a glance [PDF] External link, opens in new window.
Strengths and weaknesses of online training
Online education has pros and cons to take into consideration when choosing the ideal learning method:
Strengths
There are no geographical barriers. The best educational institutions in the world are

within reach

and can be accessed from anywhere.
Flexible timetables. Content is always available to access at

any time.

This makes it easier to study several subjects simultaneously.
Lower costs. Enrolment fees are cheaper because

infrastructure

and other costs are lower.
Content is updated. All materials are in

digital format,

which is easier to update.
Weaknesses
It requires organisation and willpower. This means that success is based on

establishing suitable routines.

The teacher is less accessible. Students only have

virtual access

to their teachers, which restricts opportunities to ask questions.
There are fewer opportunities for socialising. Because there is no physical meeting point,

students are unlikely to form personal relationships.
Strengths and weaknesses of classroom-based training
Classroom-based training also has several positives and negatives to consider:
Strengths
Students have a closer relationships with their teachers. Students have

personal access to their tutors

and can ask questions and seek guidance.
An opportunity to socialise. Meeting up with others is

an opportunity to network

and even make contacts that could be useful to your career.
Self-discipline as a virtue. Sticking to a timetable teaches students to exercise

self-discipline

to avoid getting 'ticked off' by the teacher.
Weaknesses
It is more expensive. Maintaining infrastructures, facilities, services and supplies, not to mention

travel costs,

makes these courses more expensive.
Rigid timetables. People who combine

studying and working

can find this difficult.
It takes time to update content. Teachers tend to rely on

analogue materials

for their classes, which is difficult to update.
Lifelong learning: the value of ongoing training
Nanodegrees, online courses that will change your life
Design Thinking: a different way of thinking and acting
Iberdrola, with training and talent development