LIGHTING PROJECTS IN THE UNITED STATES
We are updating the lighting for various museums in the United States
Through the Avangrid Foundation, Iberdrola group is undertaking a number of projects to improve the lighting in museums and unique buildings in the United States. So far, the work of this institution has led to the successful updating of the lighting of the Barnum Museum (Bridgeport, Connecticut) and the Wadsworth Atheneum Museum of Art (Hartford, Connecticut).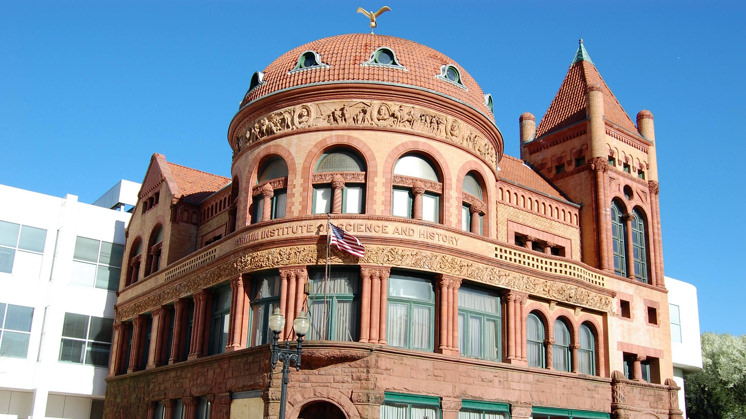 Exterior illumination of the Barnum Museum (US).
Barnum Museum
The Barnum Museum features the life and work of the businessman, politician and showman Phineas Taylor Barnum (1810-1891) and contains over 60,000 artefacts relating to the man himself, Bridgeport and the 19th Century United States.
Built in an eclectic style and dating from 1893, the building housing the museum, in the heart of Bridgeport, is the last one attributed to this visionary and appears in the National Register of Historic Places. Between 2010 and 2012 its structure suffered damage as a result of various natural disasters, so in 2019 the museum commenced a project to restore its emblematic terracotta and sandstone façade.
The Avangrid Foundation, in collaboration with United Illuminating and Southern Connecticut Gas, has been working with the institution on this restoration project, implementing a state-of-the-art lighting system to highlight the extraordinary architectural details of the building and improve its energy efficiency. This operation seeks not only to emphasise the historical importance of the museum but also to acknowledge the urban and modern character of Bridgeport's main street.
Wadsworth Atheneum Museum of Art
The Avangrid Foundation is also working with the Wadsworth Atheneum Museum of Art, which, founded in 1842, is one of the oldest in the country. It hosts an important collection from artists including Caravaggio, Francisco Zurbarán, Giovanni Paolo Pannini, Frederic Edwin Church, Pierre-Auguste Renoir, Claude Monet, Paul Gauguin and Andy Warhol.
In 2018, the Foundation updated the lighting for a number of the museum's rooms, replacing 2,000 halogen bulbs with new LED ones. This not only improves the presentation of the works of art but also significantly reduces the energy costs.