Reskilling and upskilling
Reskilling and upskilling: work training in the digital transformation era
High performance Training Professional skills
On the back of the digital revolution, new professions specialising in technologies like Big Data and Artificial Intelligence are flourishing at a rate the job market can't keep pace with. In an attempt to fill this gap, companies are offering staff training to optimise their performance (upskilling) or to "recycle" them for a different post (reskilling). Let's take a look at the benefits of these trends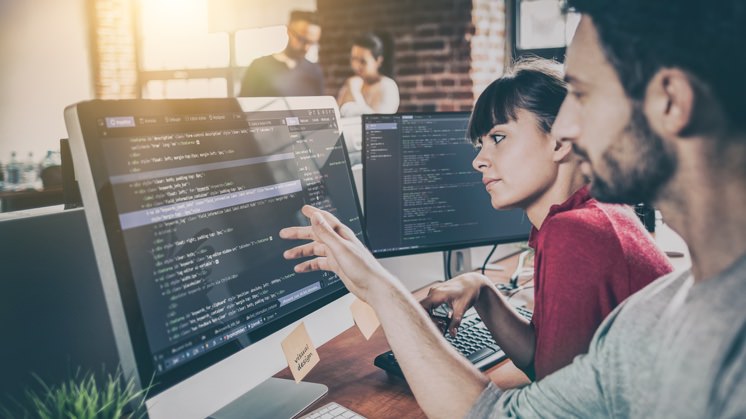 Training through modalities such as reskilling or upskilling becomes key in a changing work environment.
According to strategy consultants like McKinsey & Company, the job market is failing to match the pace of the digital revolution. This means that over the next few years we will find ourselves — in fact it's already happening — with a shortfall of professionals to fill some posts that call for individuals with specialised technological skills.
Having been taken by surprise by the Fourth Industrial Revolution, companies have undergone huge internal changes over the past few years, updating their corporate culture, computerising, and encouraging creativity and innovation amongst their staff. Employees, for their part, have felt obliged to embrace (lifelong learning) to avoid getting left behind in the job market. Clearly, the digital revolution is moving at a pace that is asking too much, continually creating new professions and roles for which there aren't enough candidates with the right training.
What are reskilling and upskilling. Differences
Technologies like Big Data, which allow experts in this field to analyse massive amounts of data in the search for novel solutions, are becoming increasingly important to businesses. But there aren't yet enough data analysts to meet market demand. It's the same scenario for other disruptive technologies like Artificial Intelligence and the Internet of Things. This is where reskilling and upskilling come into play for companies by equipping their staff with new skills to meet business needs.
The difference between these two concepts lies in the objective of the training: whereas upskilling aims to teach employees new skills to optimise their performance; reskilling — also known as professional recycling — sets out to train employees to adapt to a different post within the company. In general terms, the former is said to create more specialised workers and the latter more versatile ones.
The objectives of reskilling and upskilling
The benefits of these two types of training include:
They bridge the digital divide at the heart of the company and make it more competitive.
They mean less selection procedures and, therefore, shorter adaptation periods.
They help to create loyalty and talent retention. Staff are aware that the company is investing in them to improve their professional profile.
Offering continuous training enhances the corporate reputation.
They contribute towards the achievement of the UN Sustainable Development Goals (SDGs), specifically numbers 8, 9 and 10.
They encourage a dynamic business culture adapted to an environment in constant evolution.
From soft skills to hard skills
When it comes to staff training, firms need to pay equal attention to both hard and soft skills. Hard skills are the technical skills of workers that allow them to do a particular task, like working with specific computer programs, whilst soft skills refer to emotional intelligence, communication ability, change management and other personal and interpersonal skills that help workers to develop efficiently within a modern company.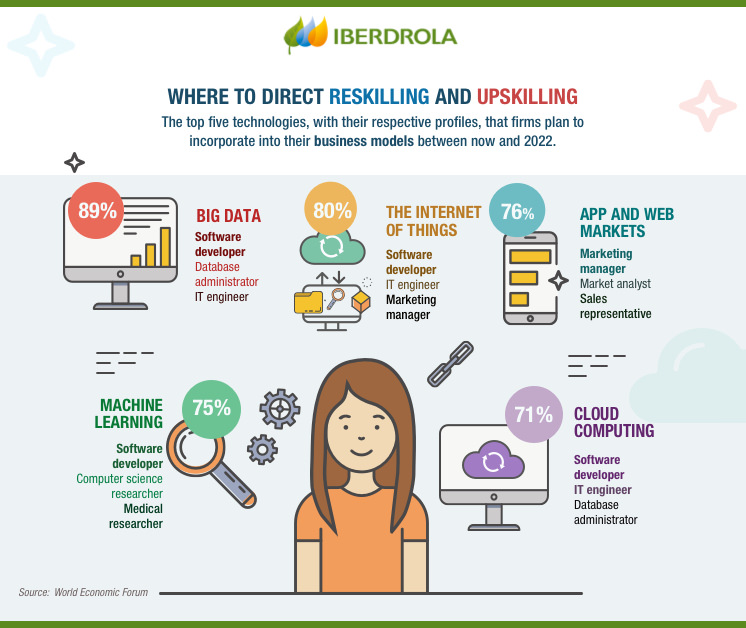 Where to direct reskilling and upskilling.

According to the report entitled The future of Jobs 2023 by the World Economic Forum in 2023, the soft skills most sought after by today's companies include:
Creativity,

originality and initiative.

Knowledge in artificial inteligence and big data

Leadership and social influence.
Resilience, flexibility and agility
Conversely, among the soft skills least in demand in the labour market since in the future they are destined to be relegated to the robotisation and automation.
How to implement a reskilling or upskilling plan
Although every organisation has its own methods, in general terms the steps for implementing a reskilling and upskilling plan may be summarised as follows:
Study the requirements of the business to establish which new positions and skills the company needs.
Carry out an assessment of existing workforce skills so that, depending on business needs, you can work out who needs upskilling and who needs reskilling.
Design a training system for different profiles, making training easy through digital tools and favourable hours, preferably during the working day.
Carry out a continuous assessment to determine the level of progress and analyse the level of staff response.