New campaign 'Create', 2023 General Shareholders' Meeting
Creating
Business General Shareholders' Meeting
On the occasion of the 2023 General Shareholders' Meeting, we launched a campaign that highlighted our commitment to the environment and the positive impact we create as a result of our daily activities.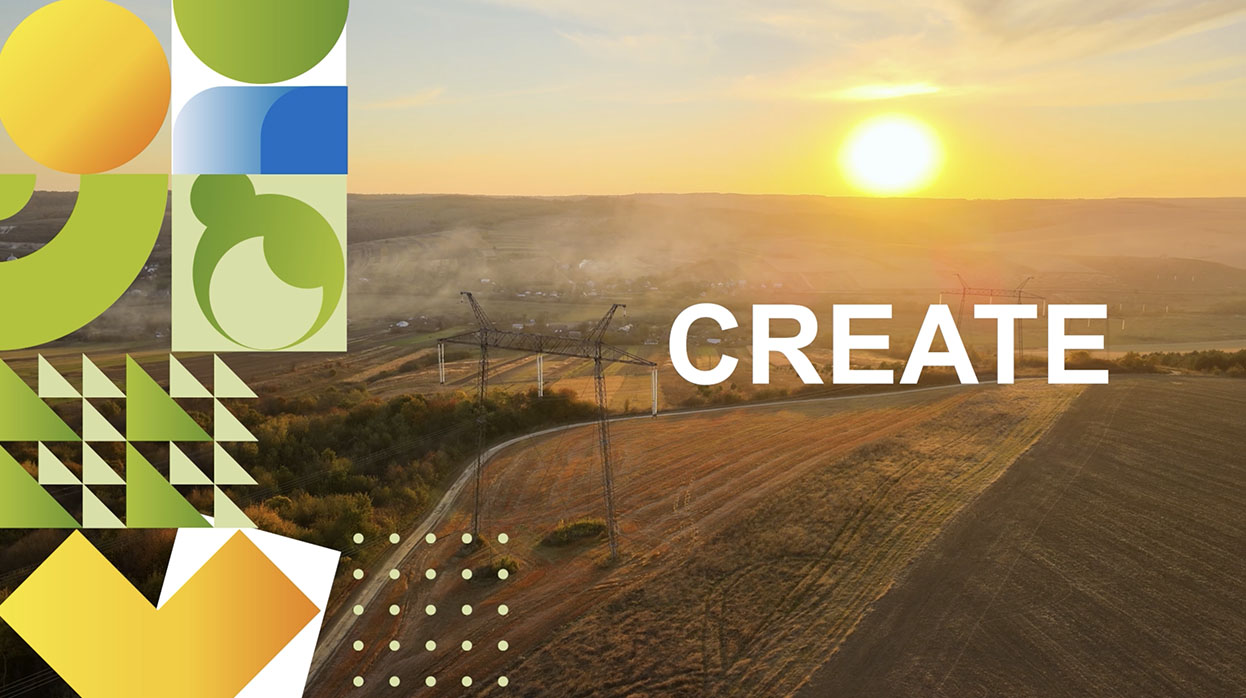 On the occasion of the 2023 General Shareholders' Meeting, we launch 'Create' a new campaign that highlights our commitment to the environment and the positive impact we create.
Iberdrola is a world leader in clean, renewable, safe and sustainable energy that improves the lives of millions of people.
Generating activity for 20,000 suppliers employing 400,000 people.
€7,5 billion of direct tax contribution, helping to support public services
Supporting training and employment: 30,000 young people employed in just 10 years.
Promoting diversity and inclusion and equal oportunities: continuous increase in the presence of women, 34% of them in senior positions.
"Electricity for All" program: Almost 11 million people have benefited from energy access assistance.
Mission 2030: all our electricity to be carbon neutral.
Creating. Making real what we imagine
We translated this concept into a new design for our 2023 General Shareholders' Meeting based on the windmill. A symbol of sustainabilty that we used to create our visual universe, made up of geometric pieces like a Tangram. These pieces can be combined in search of new innovative ways... until we discover new ways of doing things.
More than two decades with a focus on sustainability
Leading the energy transition
Thanks to our pioneering commitment to clean energy, we are 20 years ahead of the current energy transition, a process in which we have already invested 120 billion euros and in which a further 47 billion euros will be invested between 2023 and 2025. We intend to remain at the forefront of the energy revolution facing the world's leading economies and to continue to lead the transition to a low-carbon economy.
Ignacio Galán, Iberdrola Group chairman
After 20 years anticipating the energy transition, our business model positions us as a key driving player in the transformation of the industrial fabric, using our experience, social commitment and financial capacity to promote a long-term sustainable economic growth model capable of meeting the current challenges facing society
Our historic investment plan will allow us to consolidate a clean, reliable and smart business model, focusing on more renewables, more grids, more storage and more smart solutions for customers.
Committed to ambitious and urgent climate action
Thanks to the efforts made over the last two decades, Iberdrola's emissions in Europe are 36 g/kWh by the first quarter of 2023. We are currently an international benchmark in climate action and have set ourselves the goal of achieving carbon neutrality for scopes 1 and 2 in 2030 and zero net emissions by 2040 for all scopes, including scope 3 (expressed in CO2eq)
Leaders in driving the SDGs
We have incorporated the Sustainable Development Goals (SDGs) adopted by the United Nations in 2015 into our business strategy, especially SDG 7 (affordable and clean energy) and SDG 13 (climate action). We also promote inclusive and sustainable industrialisation as a driver of jobs and growth, in line with SDG 9 (industry, innovation and infrastructure) and SDG 8 (decent work and economic growth).