Video mapping, light that turns buildings into art
It is almost impossible not to fall in love with the spectacle of light, sound and movement of video mapping. Many feel that this technique exists somewhere between technology and fantasy, and is a new striking way of making art. Meanwhile, industries such as the advertising sector already use it to promote their products.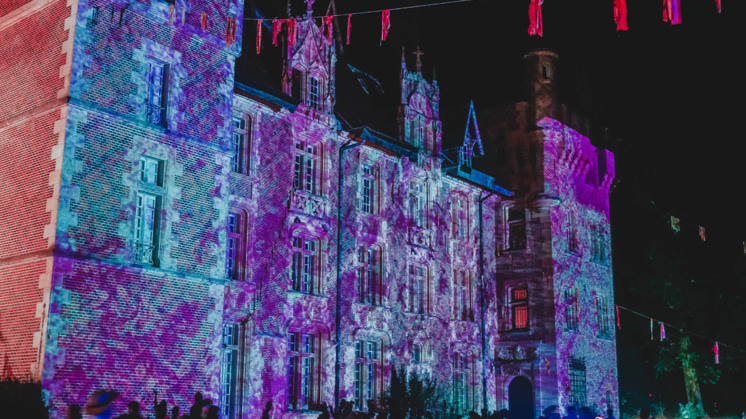 Video mapping is a visual technique that projects images onto real surfaces to create startling effects and animations.
Although video mapping has become popular in the world of culture, entertainment and advertising, it is still relatively unknown to the general public, except in Bucharest. For years, the Romanian capital has been holding iMapp, a festival that attracts tens of thousands of people to witness the biggest video mapping contest in the world, in the Piata Constitutiei. Some of the most prominent video artists on the international scene project their creations there on the Parliament Palace's 22,000 m2 façade. This initiative shows this new artform's true potential.
WHAT IS VIDEO MAPPING?
Video mapping is a visual technique that projects images on surfaces, mainly buildings, creating impressive effects and animations that appear to come to life. In addition to buildings, video mapping can be done on any object, hence its popularity for advertising on vehicles, window displays, sculptures, curtains and people.
What do you need to know to create video mapping? This artform requires mastery of 2D and 3D graphic design, image generation programmes, mapping and animation software such as Mad Mapper, which adapts graphics for projection on different surfaces, Resolume Arena, perhaps the best known for this type of creative work; or Visution Mapio, which is the easiest to use.
There are three pieces of essential equipment: a surface, one or more suitable projectors, depending on the power necessary for the type of show, and a computer program to create it, like those mentioned previously. Mastery of light, perspective and sound is also essential, to trick spectators' senses and achieve complete immersion.
TYPES OF VIDEO MAPPING
The number of these is as endless as their creators' imaginations, but the most common are the following:
Architectural
The most popular This involves projecting fantasies in light and movement on any type of building. This version can also be projective on city structures.
Advertising
One of the audiovisual trends in the advertising sector, because an increasing number of companies demand it for spectacular ways to launch their new products and services.
Artistic
Used to recreate historic scenes or create abstract shapes and volumes on geometric objects like cubes or pyramids.
Table mapping
This is used to animate items commonly found on tables, like plates, bottles or foodstuffs, to create a gourmet experience through high impact staging.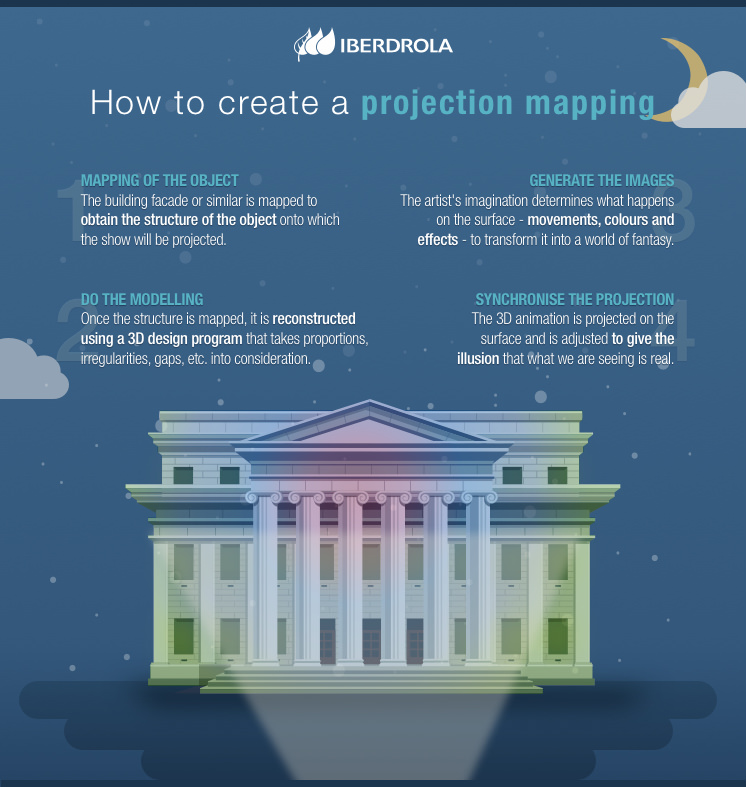 How to create video mapping.
SEE INFOGRAPHIC: How to create video mapping [PDF] External link, opens in new window.
THE WORLD'S MOST SPECTACULAR VIDEO MAPPINGS
Although there is not an official classification, these are the five most spectacular video mappings in the world by popular/professional acclaim:
1. Sydney Opera House (Australia)
Every year artists from all over the world project their animations onto this buildings unique shapes, enhancing the spectacular nature of their video mappings.
2. Oaxaca Cathedral (Mexico)
This temple's façade turns in to an real show of light, colour and movement, where art, culture, history and innovation are combined.
3. Odaiba digital art museum (Japan)
Japanese art collective TeamLab created a video mapping to bring to the real world a dream that spanned 10,000 m2 using 470 projectors and 520 computers.
4. Rochester Castle (England)
This fortress became the ideal place to promote the release of Iron Man 2. All accompanied by the music of AC/DC.
5. Edinburgh International Festival (Scotland)
St. Andrews Square in the city became a magical garden by night to celebrate the blossoming.
As a side note... Since 2013 the ruins of Breda castle, a fortress near the Eastern border with Hungary, dating from the beginning of the 19th century, has become the first permanent video mapping in Europe.