FOOD WASTE
A new diet to combat the climate crisis
#environmental sustainability #society #climate change
Our food habits contribute to global warming, a phenomenon that is threatening to cause serious harm to the planet. The United Nations (UN) warns that food waste alone causes 10% of greenhouse gases and urges us to change our diet to reverse the situation.
We have made the Earth into a bottomless larder out of which we very often eat more than we need. The experts say: our diet has too much meat, fish, processed foods, fats, sugars and dairy products; and it is short on essential ingredients such as fruit and vegetables. This imbalance, together with an unsustainable production model, poses a threat to our health and to that of the planet, which is subject to unprecedented food stress.
FOOD WASTE AND THE CLIMATE CRISIS: THE IPCC REPORT
Not only are we producing too much but we are wasting a great deal of food. The UN estimates that 1.3 billion tons a year of food — one third of world production — ends up as rubbish before it even gets to the table. Meanwhile, 10.5% of humanity is suffering from malnutrition, 26% are obese and the greenhouse gases (GHG) from the food industry account for 25 to 30% of the total emissions that have led to today's climate crisis.
These data come from the latest report from the lntergovernmental Panel on Climate Change (IPCC), which estimates that loss and waste of food caused between 8 and 10% of the emissions of the gases responsible for global warming in the period 2010-2016. According to this international study — known as Climate Change and Land — the reasons for food waste differ according to the country and its level of development.
For example, in 2018 the Food and Agriculture Organisation (FAO) revealed that food waste in the United States, Europe, China, Japan and Australia occurs above all during distribution and in the consumer's refrigerator. In contrast, in less-developed countries losses occur at almost all the links in the food chain as they generally have poorer infrastructure, archaic technologies and fewer production resources.
CONSEQUENCES OF FOOD WASTE
The negative effects on the climate of food waste in turn compromise our ability to feed ourselves, in a kind of vicious circle. In this sense, the IPCC report highlights the fact that climate change affects the four principles of food security:
Availability
Having an adequate supply of food nationally, regionally or locally.
Access
Having the economic, physical or cultural capability to obtain the most basic foods.
Consumption
Purchasing hygienic, quality foods that can satisfy nutritional needs.
Stability
The ability to confront cyclical or seasonal food shortages.
Professor Priyadarshi Shukla, co-chair of IPCC Work Group III, states that problems in the future resulting from climate change — such as lower yields (especially in the tropics), higher prices, a loss of nutritional value and supply chain disruptions — will increasingly affect food security. The effects will differ by country, but the consequences will be most dramatic in the low-income countries of Africa, Asia, Latin America and the Caribbean.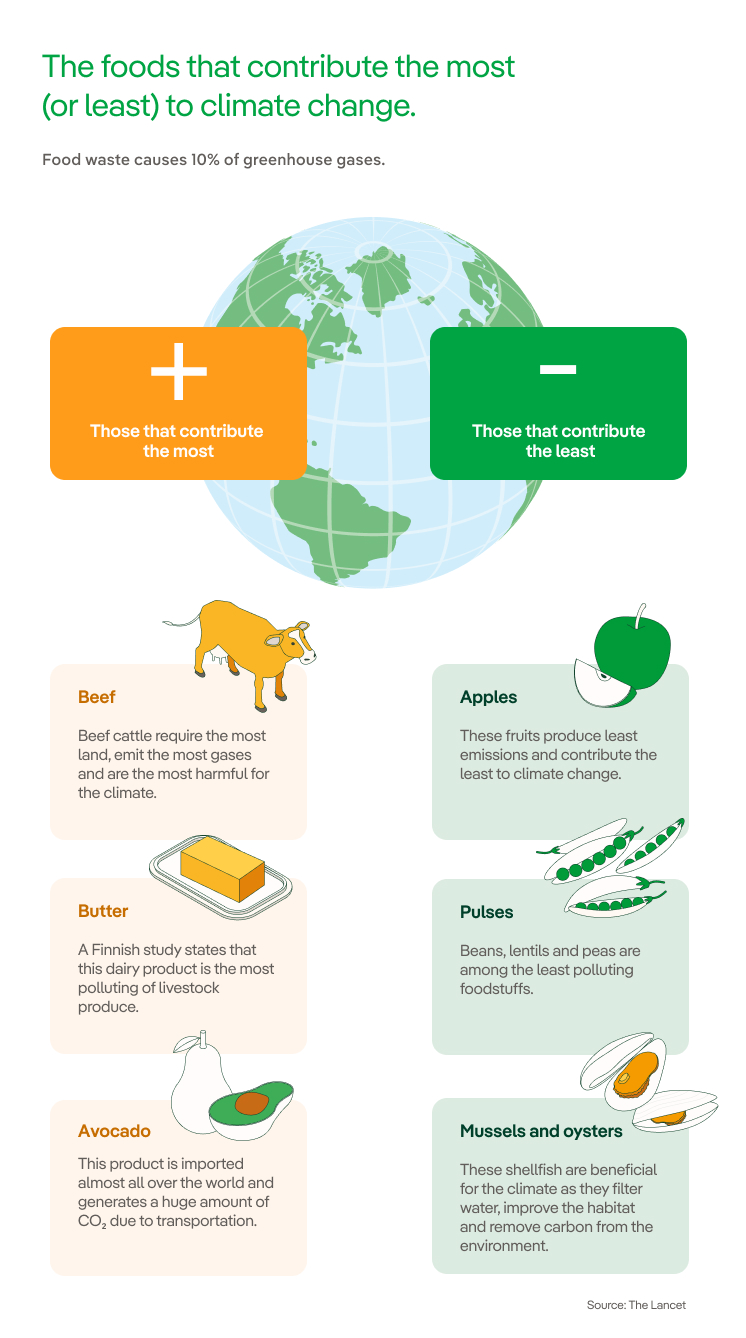 The foods that contribute the most (or least) to climate change.
SEE INFOGRAPHIC: The foods that contribute the most (or least) to climate change [PDF]
HOW TO LESSEN THE ENVIRONMENTAL IMPACT OF FOOD WASTE
Faced with the impact of our diet on global warming, the IPCC report on climate change concludes that reducing food loss and waste would lower greenhouse gas emissions and contribute to improving food security. This could be done by changing what we eat or growing more sustainable and hardy crops — rotating crops, cover crops, low maintenance crops, crops interspersed with pasture, etc. — that can cope with extreme or variable weather events.
Dr. Debra Roberts, co-chair of IPCC Working Group II, maintains that a balanced diet based on foodstuffs such as secondary cereals, pulses, fruits, vegetables and animal foodstuffs obtained with low CO2 emissions has more chance of adapting to climate change and of lessening its effects.
As a result, the UN is committed to a more sustainable global approach and the implementation of early measures as a strategy for confronting climate change. It also recommends complementary policies that promote reducing demographic growth and inequality, and better nutrition and less food waste.