The power of fundraising for social development
Social transformation Solidarity Volunteering
Emergency situations require urgent action, which in turn requires human and material resources. Fundraising plays a fundamental role in obtaining these resources. Food and water, medicines, clothing, money... It doesn't really matter what it is, what really matters is where it's going.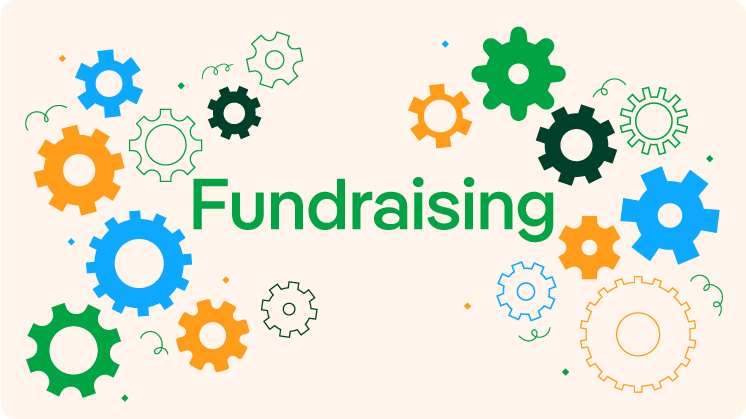 Fundraising converts solidarity into a powerful driving force behind social development
Fundraising is the process of gathering voluntary contributions of money or other resources carried out by non-profit making organisations — NGOs, foundations, associations, collectives, etc. — in order to be able to implement their projects. Different types of resources can be gathered depending on the situation and the organisation: food and water, medicines, toys, clothing — but primarily money. Even the recruitment of volunteers can be considered as fundraising.
One example of fundraising is the UN's World Food Program (WFP). It is the largest humanitarian organisation currently dedicated to combating hunger — every year it provides food and water to around 160 million people, thanks to multiple voluntary donations-. These types of initiatives are gaining an increasingly strong foothold among the population, who find them to be an effective way of showing their commitment to society.
The professionalisation of fundraising
Over the last few years, fundraising has undergone a significant process of professionalisation. When it started out, this activity was very closely linked with the larger NGOs, but during the economic downturn many organisations began thinking about and planning the gathering of private funds as part of their strategy. At the same time, donors themselves are demanding increasingly more transparency about where their donations are going and what impact they are having.
This professionalisation can be seen in various fields. For example, having friendly fundraising volunteers is no longer enough; now it is increasingly necessary for organisations to employ people with knowledge in a wide range of areas: finance, legal, marketing, communications, etc. One result of these new requirements is that recent years have seen an upsurge of companies specialising in providing these types of services.
A fundraiser is a person whose job it is to act as mediator between a donor and the institution he/she wishes to help. Their main function is to establish a connection between the organisation and donors and to strengthen this connection over time. They are usually enthusiastic professionals with an extensive range of interpersonal skills and a working knowledge of marketing and communications.
Fundraising activities
Who hasn't received a call or been stopped in the street and asked to collaborate with a certain cause? Here is a description of these and a number of other fundraising activities: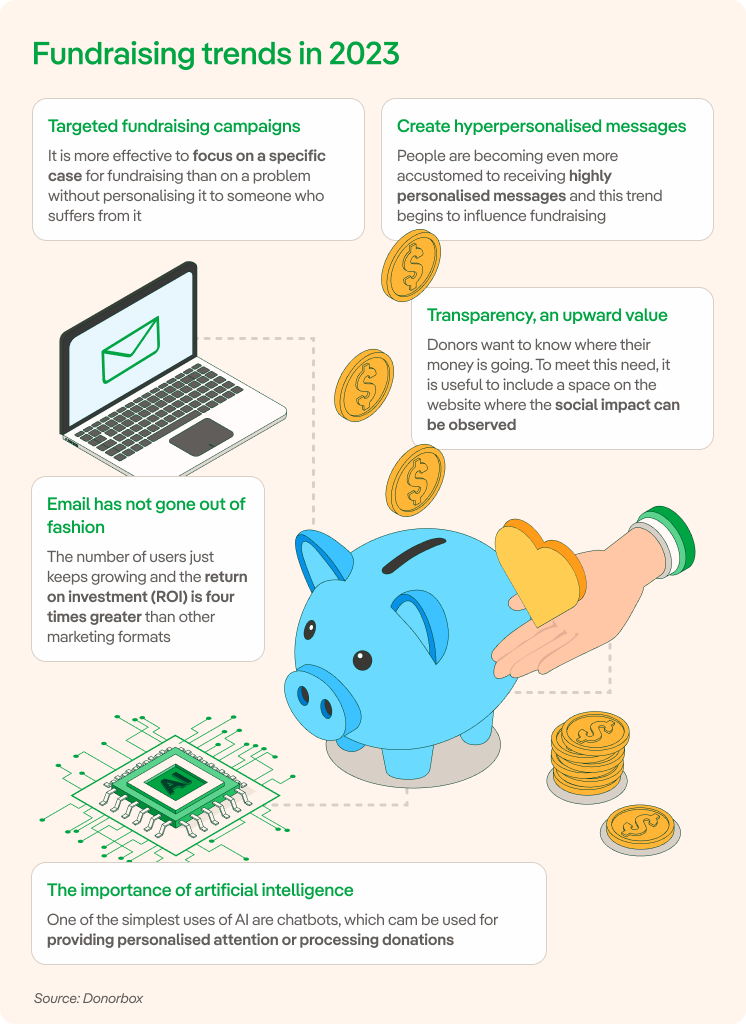 Fundraising trends in 2023.
SEE INFOGRAPHIC: Fundraising trends in 2023 [PDF]
An ally in technology
The rapid development fundraising is undergoing worldwide has a lot to do with the possibilities offered by technology, not only as regards the global reach of communications, but also in the immediacy of responses. The Global Trends in Giving Survey 2020, carried out by Nonprofit Tech for Good on more than 13,000 donors from 119 countries, reveals a number of interesting facts in this regard.
For 74% of donors it is digital communications that most inspire them to donate. From among this number, email is the most inspirational channel, followed by social media. Contrary to what is happening in other areas, the generational differences are minimal. According to the report, millennials, Generation Xers and baby boomers all prefer to make their donations online, whether by credit or debit card (55%) or using PayPal (9%).
 
Volunteering: You can change the world!
Young people rise up against climate change