UN climate action summit 2019
A common goal: to accelerate the fulfilment of the Paris Agreement
The UN Climate Action Summit 2019 took place on 23 September at the United Nations headquarters in New York and focused on nine priority action areas. Many countries and over 100 cities, including many of the largest in the world, announced significant new and concrete commitments to combat the climate crisis.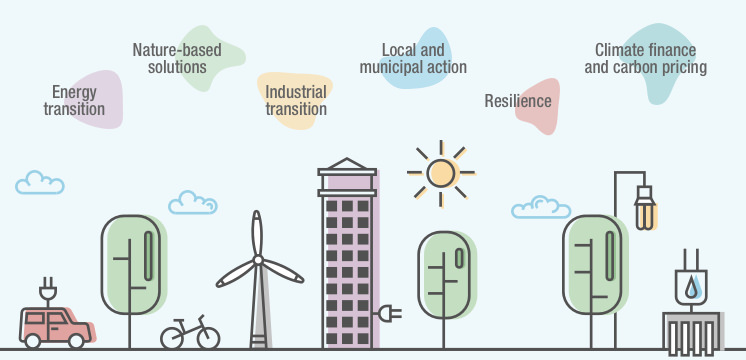 Main action plans to curb greenhouse gas emissions (UN).
Carbon emissions worldwide are reaching unprecedented levels and the impacts and consequences of climate change are already being suffered on a global scale due mainly to global warming. However, the latest reports and scientific analyses open a small door to hope. They indicate that, if we act now, we could reduce emissions over the next 12 years and curb the rise of the average annual temperature below 2 °C, or even to 1.5 °C above pre-industrial levels.
The regulatory framework that sets out in detail the measures necessary to stop climate change is the Paris Agreement, but in order to hasten its fulfilment, global action as ambitious as the objective to be achieved is required: reduce greenhouse gas (GHG) emissions by 45% over the next ten years and to zero in 2050.
The UN Climate Action Summit 2019, which kicked off Climate Week in New York, developed concrete and realistic solutions and plans in the following areas:
Global transition towards renewable energies
Sustainable and resilient infrastructure and cities
Sustainable agriculture and management of oceans and forests
Resilience and adaptation to climate impacts
Convergence of public and private financing with a net zero emissions economy
Results in the priority action areas
Mitigation
The working area led by the UNFCCC, UN Global Compact and Chile presented two large alliances:
Climate Ambition Alliance: Enhanced National Climate Plans.

70 countries committed to producing ambitious climate action plans in 2020.

Climate Ambition Alliance: Net Zero 2050.

279 organisations, including governments and companies, committed to achieving the goal of zero net emissions by 2050.
Social and political drivers
Three initiatives have been presented to align climate action with air quality, gender equality and a just transition. The first two are mainly linked to governments.
Energy transition
A total of six initiatives have been promoted, mainly focused on government activity. The most noteworthy include:
The Three Percent Club, which aims to promote policy frameworks that allow improvements in energy efficiency of 3% per year.
The Climate Investment Platform is an instrument promoted by the Danish government to promote the mobilisation of financial resources towards climate solutions in developing countries.
The Getting to Zero Coalition to decarbonise maritime transport, which aims to reduce global greenhouse gas emissions from the maritime sector by 50% by 2050.
Industrial transition
Two initiatives were approved: thanks to the first one, companies committed to establishing science-based objectives that are aligned with the 1.5 degree scenario and with the goal of zero net emissions by 2050. The second, focused on energy-intensive industrial sectors, also revolves around achieving a goal of zero net emissions by 2050 in the sectors involved.
Infrastructure, local action and action in cities
Four initiatives have been launched whose members are still to be specified. Noteworthy among these is the Action towards Climate-Friendly Transport initiative, which aims to accelerate the development and deployment of zero-emission vehicles by 2030 and establish regional platforms to promote electric transport.
Resilience and adaptation
Six initiatives have been announced, primarily aimed at helping developing countries to deploy adaptation measures and improve risk analysis and management systems in this area.
Climate finance and carbon pricing
An initiative aimed exclusively at the financial sector has been launched, in which adherent investors commit to aligning their investment portfolios with the objective of zero net emissions by 2050.
The UN 2019 Climate Action Summit has served to gain commitments and actions by political, business and financial and civil society leaders. Because combating climate change is a task that the whole of society must assume.