WHAT IS TECHNOLOGICAL WASTE?
Technological pollution, a 21st century problem
Mobile phones, tablets, laptops: the proliferation of digital devices is becoming a problem for the planet because once they come to the end of their useful lives — every year almost 50 million tons of technological scrap is generated — their recycle rate is poor. Improving it is vital to slowing climate change and avoiding harm to the environment.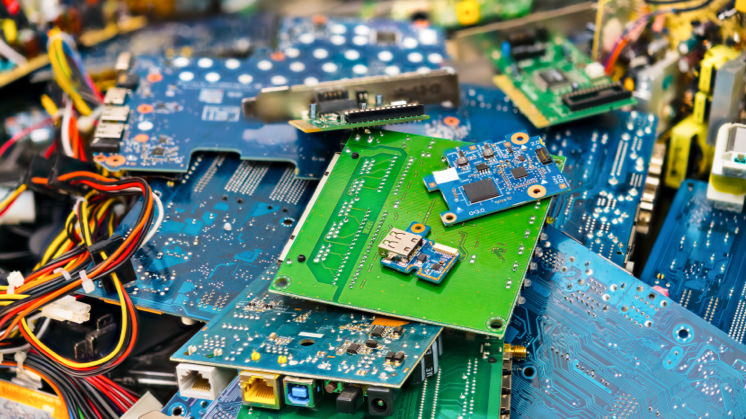 Electronic waste contains elements like cadmium, lead, antimony, nickel and mercury.
TYPES OF ELECTRONIC WASTE
How many mobile phones have you had in your life? The answer to this question will give you an idea of the impact that technological rubbish — or e-waste — has on the planet. According to MarketWatch, in 2018, consumers replaced their mobiles every 15 months. The Organisation for Economic Co-operation and Development (OECD) defines electronic waste as any device powered by electrical energy that has reached the end of its working life. So we're not just talking about mobiles. Let's have a look at some of the types of WEEE (Waste Electrical Electronic Equipment) that are around according to a European Union (EU) directive:
Fridges, freezers and other cooling equipment.
Computers and telecommunications equipment.
Consumer electronic devices and solar panels.
TVs, monitors and screens.
LED bulbs.
Vending machines.
THE PROBLEM OF TECHNOLOGICAL WASTE IN THE WORLD
According to a UN report, the world generated 48.5 million tons of electronic waste in 2018. This figure highlights the growing importance of recycling, which also throws up some worrying statistics: a mere 20% of this waste is recycled. If we carry on like this, the UN estimates that we could reach 120 million tons of electronic scrap by 2050.
The volume of e-waste produced worldwide and bad recycling management present a danger to the environment. Among the most common substances found in these discarded items are cadmium, lead, lead oxide, antimony, nickel and mercury. These toxic elements pollute rivers, lakes and seas, and release gases into the atmosphere that upset ecosystems. So reverting to a production and consumption model that reduces the amount of electronic waste cannot be put off any longer.
Responsible consumption, capable of lengthening useful life and slowing the growth of this refuse is one of the answers to the problem. "The reuse of technological devices has become the only option, in the face of an inefficient recycling system, to reduce the levels of electronic waste", points out Thibaud de Larauze, CEO of Back Market. In 2014 this French company opted for electronic refurbishment and was considered to be one of the most innovative in Europe.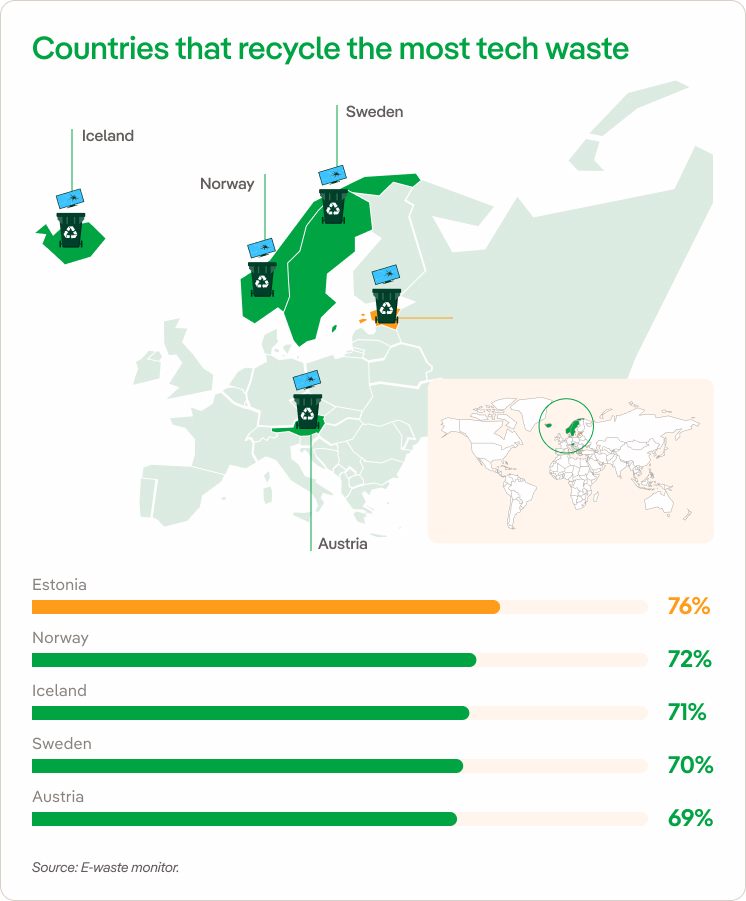 The countries that generate the most and the least e-waste.
SEE INFOGRAPHIC: The countries that generate the most and the least e-waste [PDF] External link, opens in new window.
HOW CAN WE REDUCE TECHNOLOGICAL GARBAGE?
"Global e-waste is the fastest growing waste stream", asserts Peter Bakker, president of the World Business Council for Sustainable Development (WBCSD). Faced with this, he is pressing for urgent measures. Let's take a look at some of them:
Reduce
We are using more and more devices and replacing them more often. Changing this habit depends as much on the consumer — who should be less susceptible to marketing strategies that encourage consumption — as on manufacturers who are increasingly adopting policies like ecodesign.
Reuse
The experts in electronic recycling recommend that friends or family inherit devices that still work, or that they be offered on the second hand market. There is also the possibility of donating them to specialised charities.
Recycle
When the item no longer works and there is no chance of it being used by someone close, recycling should be the option. One option for the consumer is to hand the old device in to the shop where the new one is being purchased, or to some company that specialises in electronic refurbishment.
UN Sustainable Development Goal (SDG) 12 talks of the necessity to "ensure sustainable consumption and production patterns". Referring to discarded electronic devices, this means achieving ecologically acceptable management throughout their life cycle, as well as reducing the release of poisons into the atmosphere, water and soil to minimise their negative impact on health and the environment.
THE BENEFITS OF RECYCLING TECHNOLOGICAL WASTE
According to a report published in 2019 by the magazine Environmental Science & Technology it is 13 times more costly to extract minerals from natural deposits than it is to recover them from technological waste for the manufacture of new devices. Obtaining minerals like platinum, copper and palladium does not just involve digging them up and processing them, it also requires the use of huge quantities of water and energy. This is where the concept of the circular economy comes in, based on the use of materials from recycled items and less dependence on the virgin resources extraction.
Recycling electronic gadgets doesn't just improve the quality of the environment, it also brings other benefits. The International Telecommunication Union (ITU) reckons that these items, correctly recycled, could generate opportunities worth over $62.5 billion annually and create millions of new jobs worldwide. With this in mind, both this organisation and the UN have set themselves a target to increase global recycling to 30% and to reach 50% in countries with legislation on e-waste.
Bad practices in the processing of e-waste are a handicap and, paradoxically, these abound in those countries that have the most of it. We are talking here about developing countries — SE Asia and Sub-Saharan Africa — which are generating a negative environmental impact through lack of the right infrastructures. Principal among the illegal methods is so-called "informal recycling", which consists of using toxic products in the open air and acid baths.