Paddle Surf
Stand up paddle surfing: surfing for everyone
Fancy trying something new this summer? Surfing in calm waters with a board and a paddle is relatively cheap and easy to learn. Let's have some fun!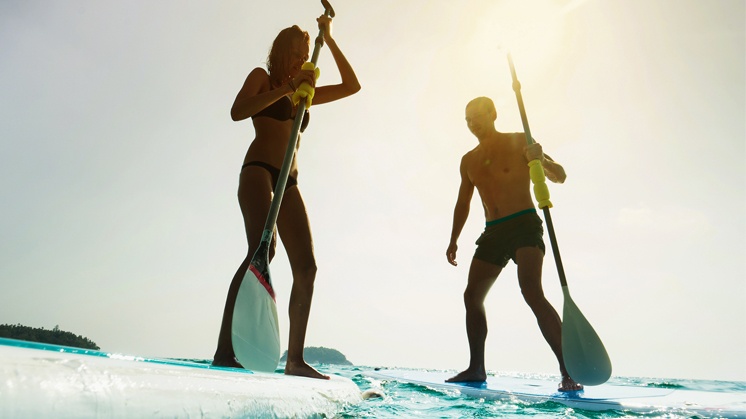 On your last visit to the beach, lake or marsh, did you catch a sight of someone standing on a board and rowing with a single paddle? We bet you did, because stand up paddle boarding and paddle surfing are becoming increasingly popular.
The sport originated on the shores of the Pacific Ocean: the people of Polynesia have relied on it for centuries to travel back and forth between the islands. In the 1960s, Hawaiian surf instructors started using it to monitor their pupils up-close and it is now one of the most trending water sports.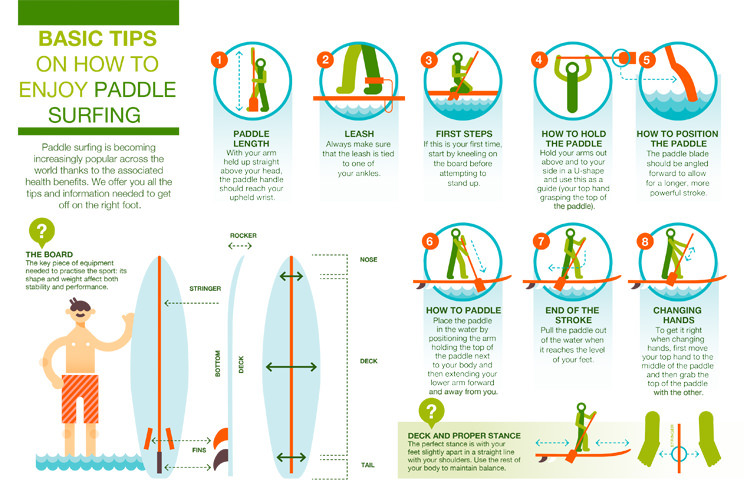 Basic tips on how to enjoy paddle surfing.
SEE INFOGRAPHIC: basic tips on how to enjoy paddle surfing [PDF] External link, opens in new window.
It is, in a nutshell:
Economical: all the equipment you need can be rented by the hour.
Fun for the whole family: you don't need to be super-fit to practise and, more importantly, enjoy the sport.
A few facts and figures:
- Board: between 3 and 4 metres long. Shorter, wider boards are best for beginners.
- Paddle: just one way to hold it.
- Stance: feet slightly apart, knees slightly bent, eyes forward level with the horizon and a whole lot of balance!
- Rowing: use your whole body, not just the arms.
Important information for paddlers:
- Local weather forecasts: make sure you know how strong the wind is blowing and how rough or calm the sea is.
- Get to know your chosen beach: winds, currents, underwater rock formations, etc.
- Start out paddling into the wind: that way things will be easier on the way back when you're already tired.
- Be careful close to the shore: crashing waves as you enter or leave the water can be dangerous.
- Life jacket and sun cream: absolutely essential.
Interested? Let's get paddling!