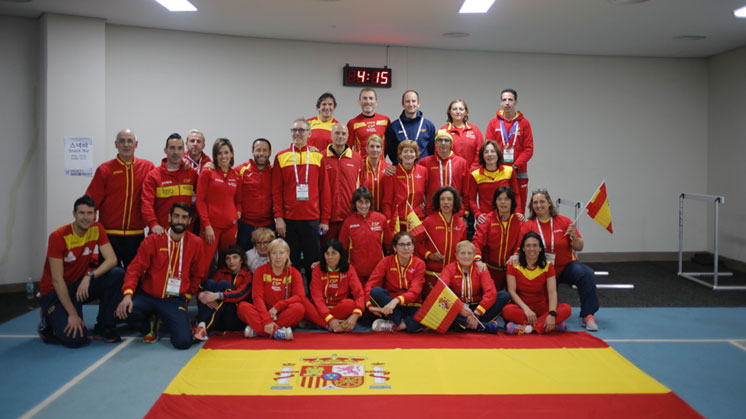 Master athletes of the Spanish team.
On 28 September 2008, the Ethiopian Haile Gebrselassie pulverised the marathon world record (2:03:58). So far, so good considering that — we are talking about one of the best long-distance runners in history — however, the extraordinary factor here is that he achieved this record at the age of 36. This athlete, with his perpetual smile, is not the only sportsman who has performed amazing feats despite now being labelled as a senior. In short, it is never too late to amaze the world.
In Spain, more and more people are looking at themselves through the mirror of these great athletes: the number of masters athletes (that is, those over 35 years of age) has doubled in only 15 years from 3,157 in 2003 to 6,128 in 2018. Women should be given a special mention, as they account for nearly 30% of the total: there were 17 women in 1995 and now the figure stands at 1,385. In fact, a woman called Aurora Pérez, whose track record started in 1977 and continues to this day, is the president of the RFEA Master Athletes Commission. She acknowledges that "in the past, athletics ended around the age of 35, when the capacity for improvement started to slow down." That changed, however, when RFEA took over the master category because "all of us who long for competition have found a motivation to continue training."
Why keep playing sports beyond the age of 35? Aurora is in no doubt that, beyond maintaining good physical form, athleticism "implies achievement and effort, which increases personal self-esteem and has positive effects on other areas of life." For the most awarded Spanish master athlete in history, "sport is the best medicine."
ATHLETICS TREND WORLDWIDE AND EUROPEAN
Those who run, compete. Against themselves and against others. And this competitive gene does not fizzle out over the years. This year Spain will become a pilgrimage centre for master athletes with the organisation of the indoor European Championships (19 to 24 March, Madrid), the European Championships Non Stadia (10 to 18 May, Alicante) and the outdoor World Championships (September 4 to 16, Málaga). Fernando Marquina, coordinator of the RFEA Masters Athletics, proudly notes that "it is the first time that a country is organising these events in a single year" and is welcoming more than 10,000 visiting competitors.
Although athletics is an individual sport, it stands out due to its 'socialising' aspect. In fact, this is one of the reasons which explains why masters athletics continue to thrive. All we need to do is look back at the European level to corroborate this fact: the first of the indoor European Championships was held in Birmingham (Great Britain) in 1997 with the participation of 1,260 athletes. The number of participants doubled to 3,124 at the last championships which were held in Ancona (Italy) in 2016. How many will register for Madrid? Spanish athletes will face fierce competition, but Fernando has faith in their excellent performance: "We are the third European power in the masters category. We are at the same level as France and Italy, and only behind Germany and Great Britain." Long live athletics, now longer than ever before!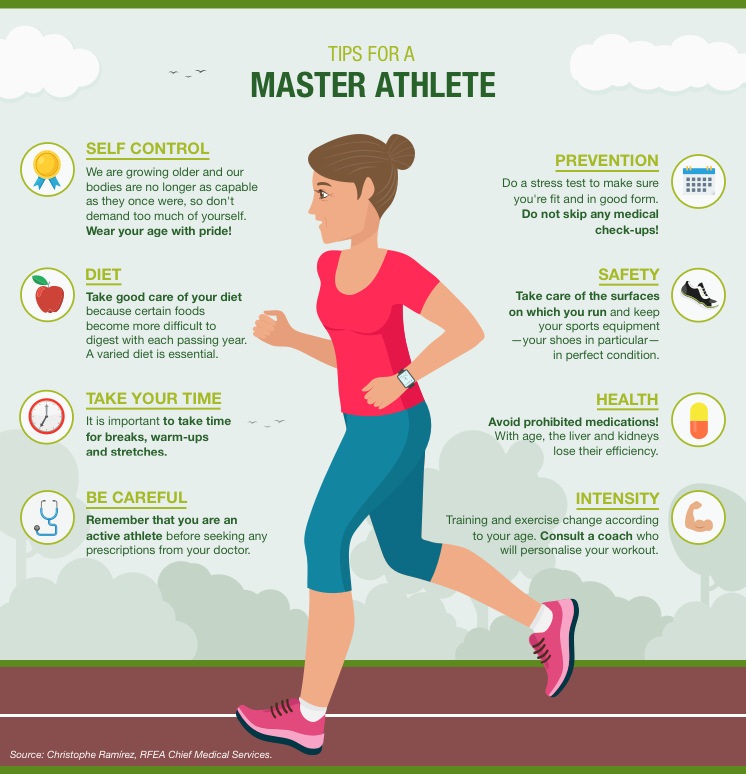 Tips for a master athlete.