New York Climate Week 2022
Making the green transition a reality
Events United States Climate action
New York City hosted the 14th edition of Climate Week 2022 (19-25 September), returning to its face-to-face format under the slogan Getting it done. As in previous editions, the event was presented as a platform for connection and dissemination, focusing on the fulfilment of climate goals and the need to increase the commitments made by companies, governments and organisations.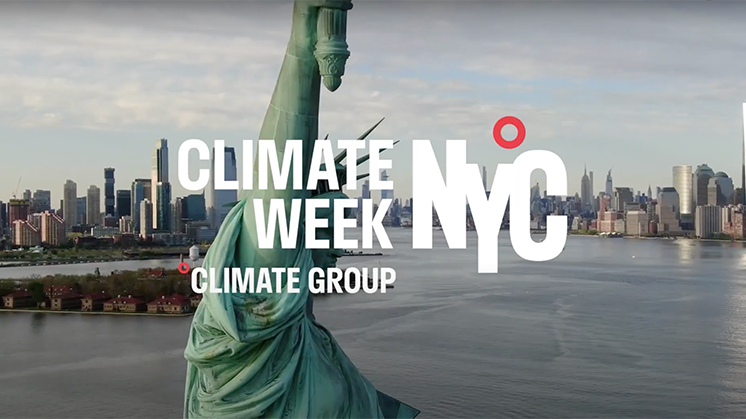 New York Climate Week is held from 17 to 25 September 2023.
Commitments announced during Climate Week
Announcements on climate finance and the transition away from fossil fuels, as well as pathways to a sustainable energy transition took centre stage during Climate Week 2022, which was marked by the energy crisis resulting from the war in Ukraine.
António Guterres, Secretary-General of the United Nations, has defended the need to boost renewables as the only path to real energy security. Guterres therefore argued that the share of clean energy in global electricity generation must increase from almost 30% today to more than 60 % by 2030, and to 90 % by 2050. "Business and government leaders must stop thinking of renewables as a distant blueprint for the future," the UN chief stressed. "Without renewables, there can be no future," he concluded.
Among the commitments announced, the following stand out:
The US

has committed $369 billion a year to climate change. This includes new investments in coastal wind and solar energy, doubling the effort to achieve zero-emission vehicles, increasing energy efficiency, supporting clean manufacturing. It is expected to reduce emissions by 1 gigatonne per year. The US government has announced that it will provide more than $11 billion a year in international climate finance to help low-income countries meet their climate goals.

Spain

has announced that at COP27 it will present, together with Senegal and the United Nations Convention to Combat Desertification, an International Drought Resilience Alliance to promote innovation, technology transfer and mobilise resources to address this threat.

Portugal

has committed to increase its share of renewables in electricity consumption from 60 % to 80 % by 2026.

The Climate Group

- co-organiser of Climate Week New York - has launched the report "Ambition on Renewables at the G20" together with the Carbon Disclosure Project (CDP) and the think tank and governance group REN21. Entitled "Ambition on Renewables at the G20", the document aims to boost efforts on renewables and climate policy.
Iberdrola, at the forefront of climate action
Iberdrola has invested 120 billion euros in renewable energies, electricity grids and storage over the last two decades. A pioneering commitment to clean energy that has placed it in a leading position in terms of climate action, with CO2 emissions that are already six times lower than those of its European competitors.
But the group's climate commitment does not end there: Iberdrola has pledged to invest an additional 150 billion euros by 2030 to continue to lead the energy transition facing the global economy. Its goal is to achieve carbon neutrality in Europe by 2030, 20 years before the horizon set by the Old Continent, and to be a carbon neutral company globally by 2050.
With its support for initiatives such as New York Climate Week, Iberdrola stresses the need to act urgently to keep global warming below 1.5 ºC and mitigate the effects of climate change on the planet. This will only be possible by joining efforts of all agents from all geographies and sectors to multiply the effectiveness of individual commitments and find new solutions.
In this respect, the electricity industry plays a key role. Renewable energies, smart grids and the electrification of energy uses will be the key vectors for the decarbonization of the economy. And Iberdrola group is working to remain at the forefront of this green transformation.