SMART GRIDS
Smart grids are a technological leap towards a decarbonised world
The decarbonising of the economy and digital innovation entails building innovative distribution grids to cope with new models of electricity consumption. Bidirectionality, flexibility, digitalisation and the automation of smart grids are creating new interconnected maps to cover users' and energy producers' needs. Smart grids also guarantee the incorporation of more renewables and are an essential component of the energy transition. With Iberdrola's new investment plan, announced until 2030, the value of regulated assets will amount to 60 billion, thereby consolidating and making the network more flexible.
Carousel of images and videos
WHAT ARE SMART GRIDS?
A smart grid is an electricity network that can intelligently integrate the behaviour and actions of all users connected to it — generators, consumers and those that do both — in order to ensure a sustainable and economically efficient energy system, with low losses and high levels of quality and security of supply.
Smart grids combine traditional design with digital technology to facilitate bidirectional exchanges of energy and information. They do this through the internet, information and communication technologies, control systems and by using highly innovative IT and home automation tools. Smart networks are able to meet consumer demand for electricity and deal with any incidents that might occur. Smart grids are capable of integrating different-sized renewable installations and, based on their bidirectional capability, users can be both consumers and producers: they can produce energy and sell it to industrial and commercial users.
Carousel of images and videos
IBERDROLA, WORLD BENCHMARK IN SMART GRIDS
The Iberdrola group sees networks as a key factor for the electrification of the economy and regional vitalization in the territories in which the company operates. Which is why it considers regulated assets — and renewable energies — keys factors of its strategy.
The company now operates one of the world's most extensive distribution systems, with over 1.2 million kilometers of distribution and transportation lines, more than 4,400 substations, and more than 1.5 million transformers, built and operated to provide a high quality and reliability service to 32.64 million electricity supply points.
Iberdrola continues working to modernise, digitalise and automate its networks, which it sees as a key element for improving the quality of the distribution system and guaranteeing the mass incorporation of renewables in the near future, and for promoting the electrification of transportation, buildings and industry. All this is set out in its investment plan for the 2020-2025 period. Iberdrola is investing more than €27 bn (40 % of its planned organic investment) in the networks business. This will bring the value of its regulated assets to €47 bn by 2025. But this investment further increases its vision and objectives. The group has increased its investment plan to €150 bn to 2030, doubling its asset base and reaching €60 bn at the end of this period.


The reason for all this investment is that Iberdrola believes strongly that the transition to a decarbonised, fully renewable system will be impossible without shaping modern, flexible distribution grids, capable of integrating new emissions-free power. Which is why, in recent years, the Iberdrola group have installed approximately 15 million smart meters worldwide, installing remote management, supervision and automation capacities in the grid. By the end of 2025, more than 21 million smart meters will have been installed.
This will allow the Iberdrola group to respond to the new trends in customer relations, offering more personalized products and services and giving end users a more active role in their electricity consumption. At the same time, the company is making enormous efforts to reduce the impact of its installations on the environment, while launching challenges through its International Startup Program - PERSEO, in search of innovative solutions to further reduce its impact.
All these initiatives have established the group as a global leader in the development and roll-out of smart grids.
FLAGSHIP PROJECTS OF THE IBERDROLA GROUP'S NETWORKS BUSINESS
Iberdrola is undertaking large-scale projects to transfer 100 % renewable energy over hundreds of kilometres. The new lines will be suspended from pylons or subterranean or even submarine.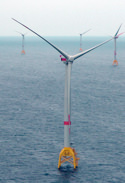 Eastern Link
Iberdrola participates in the construction of an underwater energy superhighway that will link Scotland with the north east of England.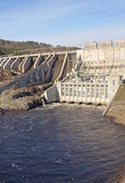 GLOBAL SMART GRIDS INNOVATION HUB
To stay at the forefront of the energy transition, Iberdrola creates its global smart grid innovation centre: the Global Smart Grids Innovation Hub, will be a platform for promoting innovation by combining its technological capacity with that of suppliers, partners and startups from around the world.
This initiative will bring together the innovative potential of more than 200 professionals in undertaking R&D&i projects related to the challenges of the electricity networks of the future, including greater digitalisation, the processing of the data generated by this infrastructure and the response of the electricity grid to new models of consumption, such as electric mobility and self-consumption.


IBERDROLA AND ITS NETWORK TECHNOLOGIES FOR THE DIGITAL TRANSFORMATION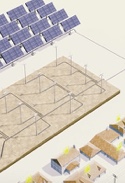 Blockchain in the energy market
Using this technology, the company has managed to link electricity production plants with specific points of consumption, making the energy source traceable. This increases transparency and ultimately encourages the use of renewable energy.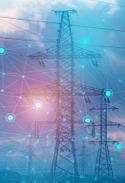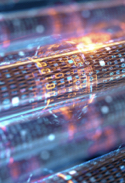 Distribution system operator (DSO)
The implementation of the DSO (Distribution System Operator) model will make it possible to maximise the integration of renewable energy sources and accelerate the decarbonisation of the economy, providing improved benefits to customers.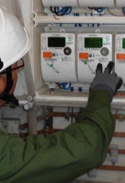 Smart meters
As building block for the digitisation of the grid, Iberdrola has installed and continues to install millions of these devices in all the countries in which it operates distribution networks.
HOW DO SMART GRIDS WORK?
Smart grids are more complex than traditional networks because they are managed remotely and incorporate automated information and control IT systems that manage fluctuations in energy production and demand. This gives real-time information about is available energy consumption at all times and enables more responsible use throughout the cycle (for both generation plants and home automation systems), as well as providing information on each node, segment and element to improve operational line efficiency and efficacy. In other words, smart grids encompass all the technological infrastructure required to generate, transport, and distribute energy, as well as electrical storage and consumption of the energy generated.
Because this is a smart grid, it integrates the behaviour and actions of all the users connected to it. How does it do this? By continuously exchanging data between the companies that generate the energy, transport it and the electricity distributors. It also shares and exchanges data with suppliers of new services and end users. End users are the main beneficiaries because they can use electricity more wisely by deciding on the type of tariff that best suits their profile and way of life.
What kind of data do smart grids provide?
Thanks to smart grids, we can pinpoint the places that use the most energy, and the ones that experience the most outages. They also show us which equipment has major faults and identify the type of incident in the grid. It can also detect fraud. To improve energy efficiency smart grids can predict demand for energy and generation, and, thanks to improved wave quality, the supply quality is higher. It also provides information regarding the maintenance needed by network assets.
Smart grid tasks and challenges:
The new energy model requires tackling numerous tasks:
Integrate a higher volume of renewable energy from clean sources (wind, sun, and water).
Electrify other uses, such as, for example, air conditioning and transport, the latter of which is responsible for more than 25 % of the CO2 emitted into the atmosphere.
Meet demand from better connected consumers who, empowered by technology, want to make decisions that will enable them to optimise and adapt their consumption to their daily routines and be able to produce the energy they consume at home using methods like self-consumption.
With these features alone, the smart grids we will build will create smarter cities without smog, with high-quality, emissions-free air.
INNOVATIONS THAT MAKE SMART GRIDS POSSIBLE
WHAT MAKES SMART GRIDS DIFFERENT FROM THE TRADITIONAL ELECTRICITY TRANSMISSION GRIDS?
For centuries, the energy system has been an analogue, unidirectional model: energy is produced in power plants and distributed to consumers in their homes, businesses, factories and for public use in towns and cities.
But trends in the energy transition toward a decarbonised economy and technology are creating endless possibilities, which can only reach maturity with a circular electricity system, with more robust, flexible and smart networks and infrastructure.
Traditional electricity grids are static and unidirectional while smart grids are bidirectional with communication between sources of supply and control centres to improve efficiency and efficiency and energy saving. Traditional networks barely interact with consumers, however, interaction is an intrinsic feature of smart grids. The electricity meters in conventional networks are electromechanical, while smart grids use digital meters. Maintenance methods are different. While traditional networks need manual inspections, smart grids can be monitored remotely.
MAIN ADVANTAGES OF SMART GRIDS
More efficient grids and high-quality supplies: remote management is a faster and more convenient way to manage every aspect of the supply point and services, such as detecting faults before they occur and reducing the number and duration of incidents. Likewise, an automated, digitalised grid can detect fraud and reduce losses, as well as improving security for employees and suppliers working on the grid.
Better connected consumers: digital grids give consumers the option to have real-time information about their consumption curves, maximum demand for power and a breakdown of their electricity user, giving them information on which to base their decisions and the option to choose a rate to suit their circumstances.
Key to the energy transition: smart grids streamline the shift to decarbonisation and the electrification of the economy, facilitating, among other things sustainable mobility (electric cars), smart cities and decentralised consumption (self-consumption).
SMART GRIDS, SUSTAINABLE AND RESPECTFUL TO THE ENVIRONMENT
Without renewables, there will be no green transition and no Green Recovery, and without grids to make management and integration possible, there can be no renewables. Nor will sustainable mobility with vehicles powered by green electricity be possible. The invisible threads of smart grids, that underpin the proper functioning of a reliable, sustainable energy system are essential for the change to a new green paradigm.
Smart grids help to reduce greenhouse gas emissions by, fighting global warming. Having an electrical system that optimises consumption and energy production encourages energy efficiency. Consumers can check their bills in real-time, helping them to save energy and reduce their bills and, therefore, their environmental impact since they don't waste energy. Smart grids are a solution to energy wastage because they optimise energy sources, applying daily measures to boost energy efficiency in homes, businesses and industries.
What's more smart grids can operate with energy from renewable sources. When you know how much power you are using and what you are using it for, you can predict how much you need to produce in the long term, opting specifically for renewable energies and rejecting non-renewables that are mainly used when supplies are short.