'Hacia un planeeta verde': the documentary
Energy transition, the solution that will curb climate change
We present the documentary Hacia un planeta verde in which experts analyse the causes of climate change and propose energy transition to a carbon-free model as a solution to mitigate its effects.
Iberdrola acted as the technical consultant on the documentary 'Hacia un planeta verde', made by the journalist Manuel Campo Vidal. Video voice transcription [PDF]
Causes and effects of climate change
Despite the fact that fossil fuels are behind the greatest economic, technological and social development in the history of humanity, the price has been too high. The burning of coal and oil has become the main cause of climate change. And its consequences are becoming increasingly evident: extreme weather conditions, a rise in the sea level, the shrinking ice at the poles and increasingly more intense and prolonged droughts.
This situation, predictably, will worsen if we consider that by 2050 it is estimated that the world population will have reached 9,7 billion people, which will increase the demand for energy and transport, the main causes of greenhouse gas emissions.
A new energy architecture
Faced with this prospect, the documentary Hacia un planeta verde — made by the journalist Manuel Campo with the technical advice of Iberdrola — draws attention to the urgent need to advance towards a new energy architecture: "The time for clean energy has come. An environmental model based on energy transition must necessarily involve decarbonisation and lead to a green economy".
The commitment to renewable energies in developed countries continues to grow. Increasingly more competitive sources of power generation are emerging: photovoltaic, hydroelectric and, particularly, wind power, onshore as well as offshore. These are technologies that are not only meeting the demand for electricity but also ensuring the industrial fabric by creating jobs.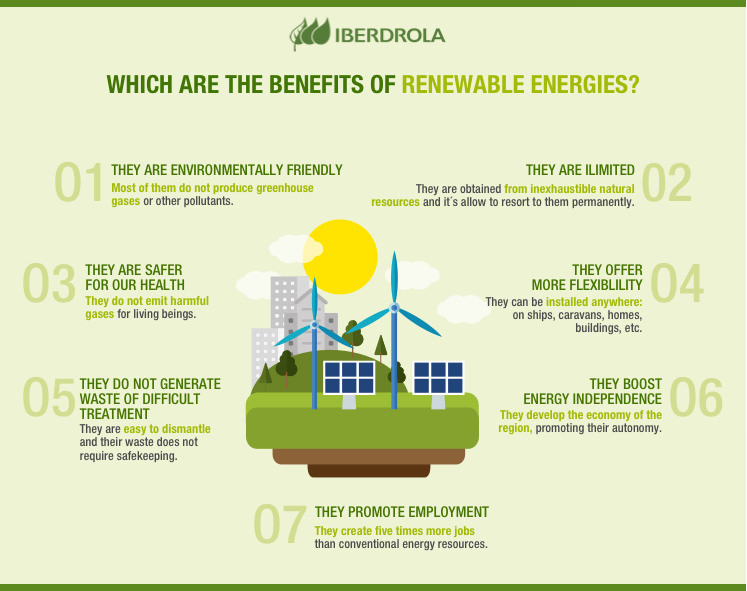 Which are the benefits of renewable energies?
SEE INFOGRAPHIC: Which are the benefits of renewable energies? [PDF] External link, opens in new window.
More than 20 countries, led by Canada and the United States, got together at the Bonn Climate Change Conference (COP23), held in November 2017 to speed up clean growth with an initiative to promote swiftly phasing out coal fired power stations. This alliance, dubbed Powering Past Coal, has been joined by regional governments, institutions and companies from around the world, including the Iberdrola group.
Support from investors and civil society
An increasing number of sectors want to see energy transition. For instance, investors are beginning to pressure companies to opt for decarbonisation by using sustainable financing. The World Bank, for example, ceased funding gas and oil extraction as of 2019, while an enormous group of investors has launched the Climate Action 100+ initiative to monitor the 100 biggest multinational greenhouse gas emitters. In addition green bonds, that promote investment in sustainable projects, are gaining importance.
Civil society is also organising itself into movements such as Europe Beyond Coal, a platform calling for the gradual phasing out of coal, and is working actively on closing down Europe's most polluting power stations by 2030. In addition, a climate litigation movement has emerged in recent years: thousands of citizens are filing actions against their governments for their passivity in the face of climate change, with the courts finding in their favour.
Iberdrola and decarbonisation
Iberdrola group has been firmly and decidedly committed to non-polluting renewable energies for 20 years now. During this time, it has closed both its oil and coal fired power stations and it has invested more than 100 billion euros to progress to the energy transition and the decarbonisation and electrification of the economy. Nowadays, the company is the world leader on renewables.
 
Acid rain, a true danger to living beings
The Iberdrola group commitment to the environment
The utility of the future