Bootcamps, express training to boost your professional career
Training Professional skills Digital talent Professional career
Transforming your professional outlook can be quick and easy thanks to bootcamps. We are talking about specialised intensive training that covers different branches of the digital sector. It lasts for around two months on average, has a practical focus, and seeks to cover employers' demand for labour. In addition, it does not require previous qualifications.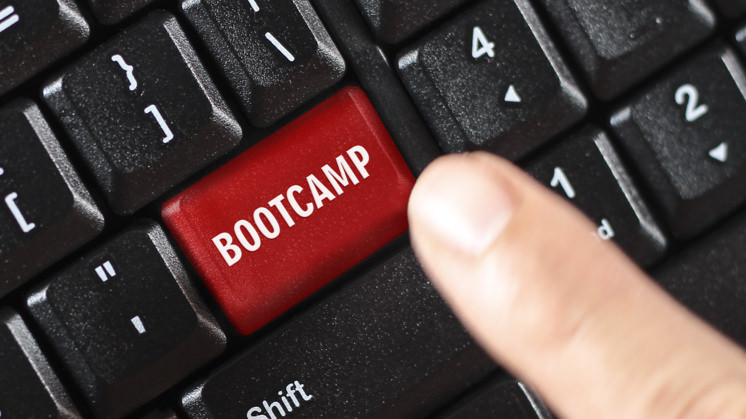 Bootcamps are an intensive way to obtain knowledge about a technological specialisation.
The growing demand for digital profiles has turned bootcamps into a trend. Their success lies in the fact that they allow rapid specialisation in the most popular branches of the technology sector, thus increasing the chances of finding or changing jobs. Like so many innovative ideas and developments, tech bootcamps originated in Silicon Valley. Their objective: to respond to the high demand for programmers from multinationals.
Today, the shortage of digital profiles is not confined only to Silicon Valley, but is worldwide on account of the Fourth Industrial Revolution. A report prepared by the European Commission estimated the number of jobs — between 500,000 and 750,000 — related to new technologies that would remain vacant due to the lack of qualified profiles in 2020. With that data on the table, the question is: How do we quickly and efficiently train thousands of people to meet the demand? The answer now lies, more than ever, in bootcamps.
What is a bootcamp. Types
The origin of the concept is in a method used by the American armed forces to train troops that relied on working at a high intensity to achieve the best performance in a short period. Returning to the technological aspect, this type of intensive training teaches the necessary knowledge about a specific technological specialisation widely demanded in the labour market. How do you achieve such optimal training in such a short time? The keys are small classes, a concentrated agenda and a total immersion based on practice.
There are numerous types of bootcamps related to the development of different digital skills. Let's take a look at some of them: UX/UI Design (user experience and interface design), Full Stack Developer (programming in back end and front end environments), Data Science (data analysis for decision making), Mobile Development (programming for mobile devices), Product Management (management of technological products), Digital Marketing (marketing in the digital ecosystem), etc.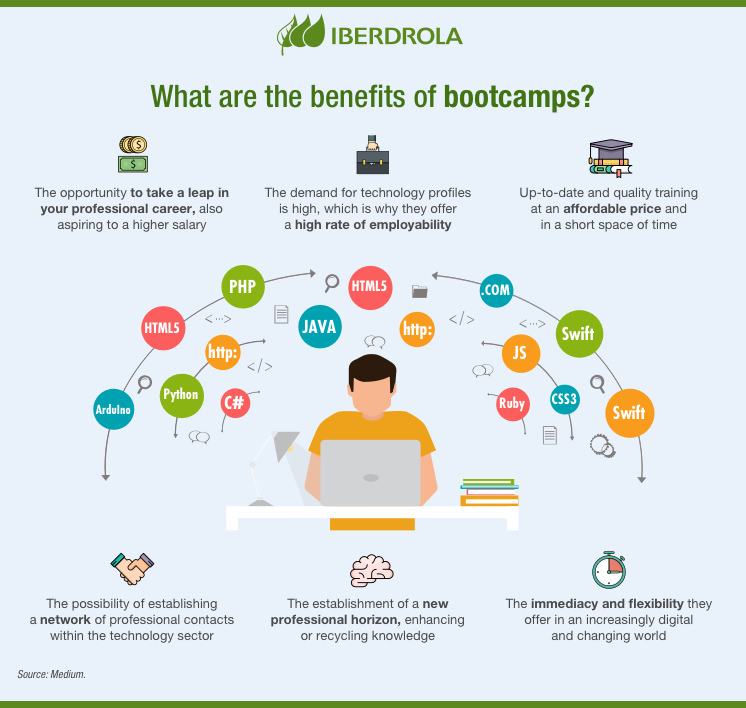 Bootcamps are an intensive way to obtain knowledge about a technological specialisation.
Characteristics and methodologies of bootcamps
Bootcamps can be characterised in three groups:
Time
Although there is no fixed duration or fixed limit, they usually last around twelve weeks. Many of them tend to be full-time.
Intensity
Whether online or face-to-face, bootcamps require many hours and a high level of commitment due to their powerful practical workload.
Subjects
With few exceptions, they focus on digital skills with a high demand in the job market. The most popular and most taught are those related to programming.
There are two types of student profiles: those who already have technological training, either recent graduates or professionals who want to enhance their skills within the sector; and those who do not know much about it but want to recycle and turn their career around. Generally, participating in a bootcamp does not require a previous qualification. As for its cost, it depends on the country and the school, but usually ranges between 5,000 and 20,000 dollars or euros. Although at first sight it may seem like a high outlay, schools suggest that the investment can be recovered in a few months.
The best bootcamps in the world
Programming has become essential in any field, sector or industry in this digital era and, therefore, it is the great star of bootcamps. SwitchUp, the leading American platform for computer programming and online coding, has published its ranking

External link, opens in new window. of the five best schools and courses for programming bootcamps for 2021:
1. Skylab Coders Academy (Barcelona). Web Development Bootcamp with Javascript.
2. La Capsule (Lion, Marseilles, Paris). Full Stack JavaScript Web Developer.
3. Academy Code Lab (Portland). Developer 101: Intro to Web Developer Tools and Technologies, Professional Software Development in Advanced Full Stack JavaScript.
4. Tech Elevator (Cleveland, Columbus, Cincinnati, Pittsburgh, Philadelphia, Detroit, Charlotte, Chicago and online). Java Coding Bootcamp, .NET Coding Bootcamp.
5. Codeworks (Barcelona, Berlin, London, Toronto and online). Software Engineering Immersive.