Innovation trends: ready for the 'great technological leap'?
Technological advances are occurring at a dizzying speed and 2020 is expected to be the year of the so-called great technological leap. Industry is fast preparing itself to embark on a new era in which robots, the Internet of Things (IoT) and other trends in innovation will dominate our lives.
2020 will see the arrival of some of the most eagerly-awaited innovations of the last decade.
Scarcely 5 years ago Cisco, one of the big US telecoms firms, predicted that by 2020 more people will have mobile telephones than access to electricity and drinking water. Today 67% of the world's population use these devices — according to data from GSMA Intelligence, organisers of the Mobile World Congress (MWC) — and the technology of the future, entwined with these objects, is just around the corner.
MAIN TECHNOLOGICAL (ICT) TRENDS
The technological calendar for the 21st century will have a key year: 2020. The Gartner consultancy, specialists in Information and Communication Technologies (ICT), has predicted for the next few months the arrival of some of the most eagerly-awaited innovations of the last decade, as detailed in its report Top 10 Strategic Technology Trends for 2020.
These Top 10 Strategic Technology Trends for 2020 are shown below:
Hyper automation
This branch of robotics is about automating business processes as far as possible to make them more precise, more efficient and up to 10 times faster by combining technologies like RPA (Robotic Process Automation), Artificial Intelligence (AI) and machine learning, amongst others.
Multiexperience
Virtual Reality (VR), Augmented Reality (AR) and Mixed Reality (MR) are transforming our way of perceiving the digital world and interacting with it. This change is bringing us closer to a future with applications that will offer the user multiple experiences.
Democratisation of the use of technology
Access by people to technical and business experience will take place without expensive requirements and will revolve around four big areas: data and analysis, development, design and know-how.
Human perfection
Technological trends also involve the use of innovation to improve our physical and cognitive abilities, from subcutaneous implants to greater access to information.
Transparency and traceability
Consumers are demanding greater control over their personal data. Transparency and traceability are fundamental in this sense to meet regulatory requirements, maintain ethics in the use of technology and halt the increase in mistrust of companies.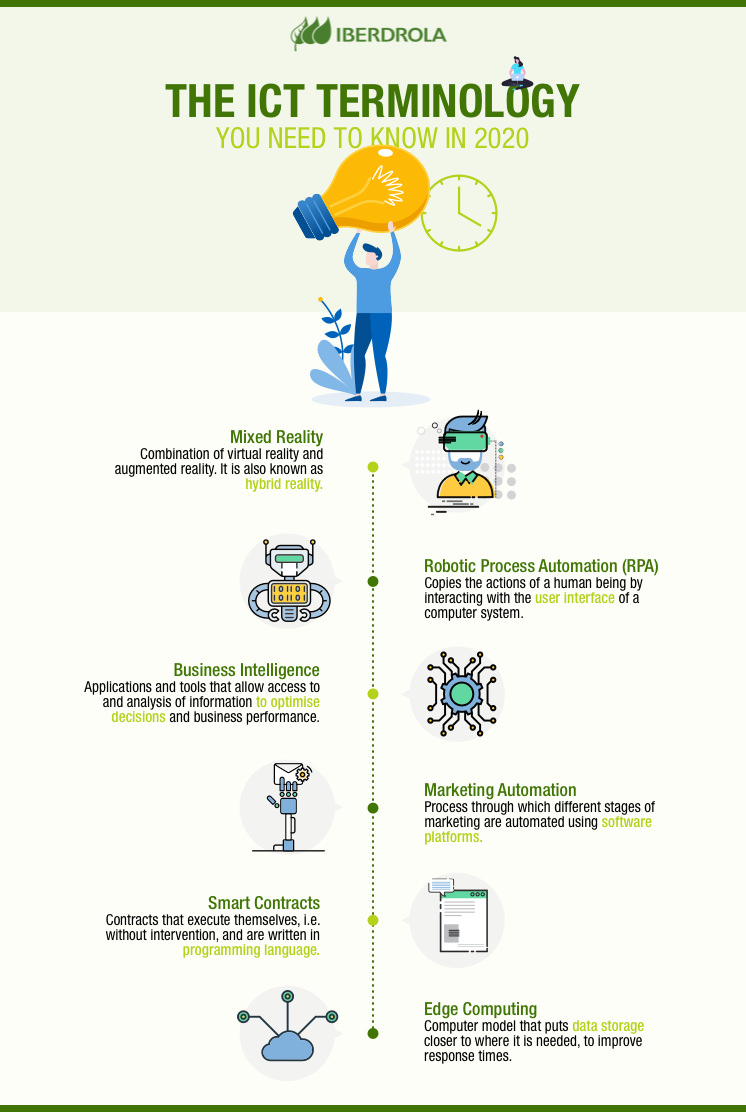 The ICT terminology you need to know in 2020.
SEE INFOGRAPHIC: The ICT terminology you need to know in 2020 [PDF] External link, opens in new window.
Edge computing
This branch of IT will have a big impact on the Internet of Things (IoT). Edge computing enables the data generated by devices to be processed locally, without it needing to be uploaded to the cloud or sent to an external data centre.
Hybrid clouds
We will be seeing the decentralisation of most cloud services. However, the provider of the source public cloud will retain responsibility for the operation, control, updating and evolution of the services.
Autonomy of things
As social acceptance grows, and so far as regulations and technological progress allow, we will be seeing more autonomous vehicles, drones, robots and the like on the streets.
Blockchain
Blockchain stands out for its ability to undertake secure Internet transactions without intermediaries, such as smart contracts that can be used in urban management.
Artificial Intelligence (AI) and Cybersecurity
The popularisation of AI and machine learning will bring new challenges to information security since they will considerably increase system vulnerability. This makes it essential to develop new technologies and profiles to strengthen cybersecurity.
EXAMPLES OF TECHNOLOGICAL INNOVATIONS
Aside from Gartner's predictions, other technologies and key elements will be of prime importance in 2020. For example:
The 5G network the fifth generation of the mobile telephone arrived in 2019 and its commercial use is expected to grow exponentially starting from 2020.
Wifi 6: this new standard for wireless connections is already at the test stage and will provide

greater coverage, security, speed and traffic density.

Data analysis and decision making: augmented analysis will be a determining factor for business intelligence, data platforms and machine learning.
IoT for industry, transport and town planning: the standardisation of IoT will transform industry towards

as a service

models, improve autonomous driving and vehicle connectivity, and contribute to the development of smart cities.
Voice search: more and more people are choosing to

ask their devices

rather than writing their questions in the search box.
Chatbot: these applications, thanks to the rise of AI, improve performance when it comes to holding personalised conversations in real time with users.
Video streaming: streamed audiovisual content will continue to dominate over other formats throughout 2020.