The EU and its Member States must strengthen their efforts to achieve equality between women and men
Employment Women Gender equality
Women already hold 60% of post-secondary qualifications in the European Union. However, many find themselves obligated to leave the labour market due to their responsibilities as mothers or family careers.
The gender employment gap is evident throughout Europe: at the end of 2016, the average employment rate for women aged 20-64 was 65.5%, compared to 77.4% for men, a difference that has been largely unchanged since 2014, according to data from the Report on equality between women and men in the EU
External link, opens in new window. prepared by the European Union.
The EU and its Member States must strengthen their efforts to achieve equality between women and men. According to the European Parliament, "at the current pace, it would take another 70 years for women to earn the same as men, 40 years until housework is equally shared, 30 years until the employment rate for women is 70% and 20 more years before gender balance in politics is reached".
"The economic loss due to the gender employment gap in the EU alone is estimated to be around 370 billion Euros per year", explains Marianne Thyssen, European Commissioner for Employment, Social Affairs, Skills, and Labour Mobility. "Increasing women's participation in the labour market is not only a question of fairness, it also presents a triple win. It is good for working parents and carers who will enjoy a better balance between their private and professional lives, it's good for businesses which will profit from attracting and keeping talent, and good for Member States that lose billions of euros every year due to the gender employment gap today".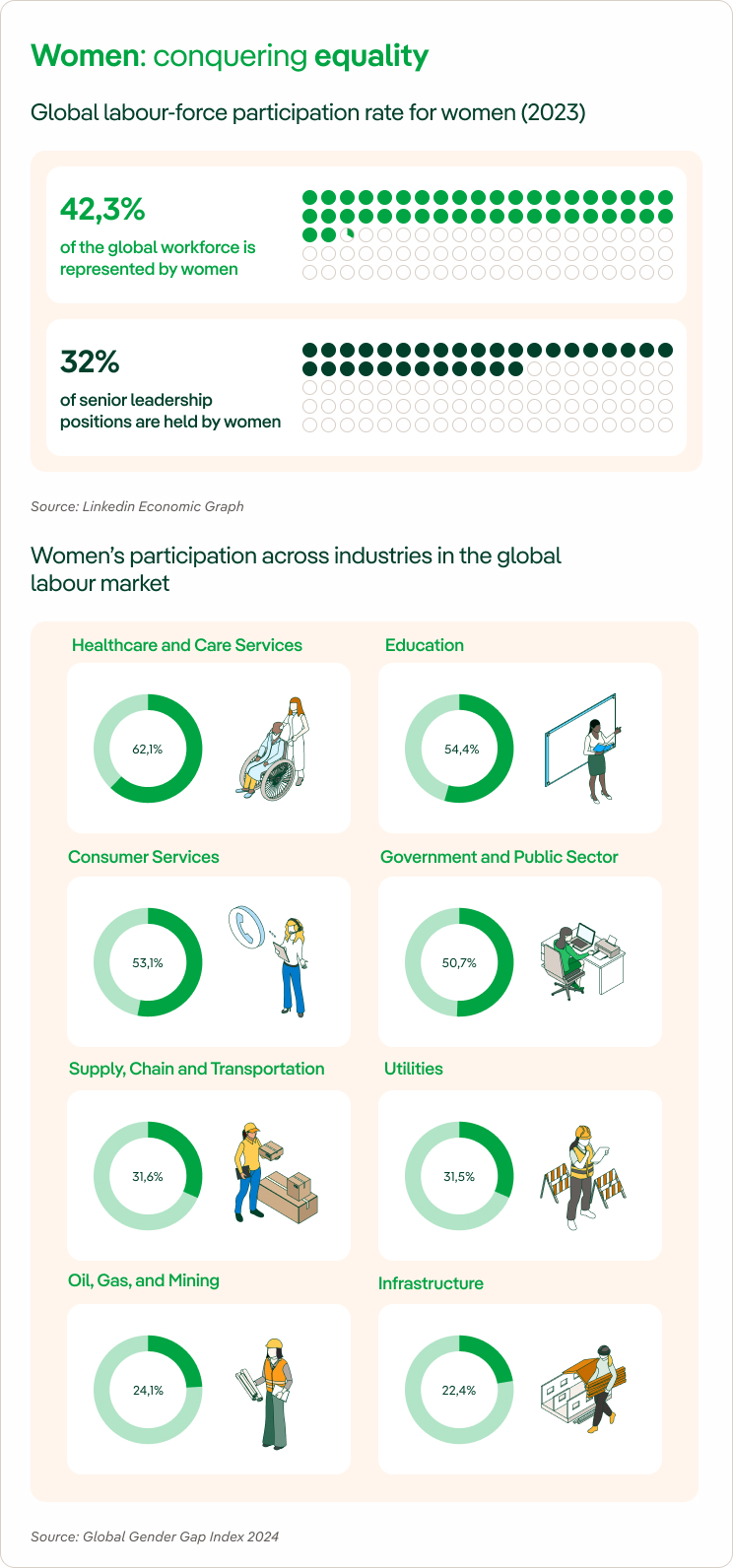 Women: Conquering equality.
SEE INFOGRAPHIC: Women, conquering equality [PDF]External link, opens in new window.
The labour participation rate for women in the Spanish labour market in 2017 is around 52.1%, compared to 64.2% for men. According to the World Employment and Social Outlook report
External link, opens in new window. prepared by the International Labour Organisation (ILO) in 2014, G20 leaders committed that year to achieve the 25 para 25 goal, which aims to reduce the employment gap between men and women by 25% by 2025. In the case of Spain, the ILO estimates that reducing that percentage would result in the Spanish economy gaining a total of 30.7 billion Euros.
This is not a foreign concept for Spanish companies. In 2007, Iberdrola became the first company in the Ibex-35 to implement the uninterrupted working day concept year-round. This unprecedented measure affects some 9,000 workers, and since its inception, the company has gained 500,000 hours annually in productivity.
Iberdrola, which has a steadfast commitment to work-life balance, has a Reconciliation Policy Manual that contains more than 70 practices, including, for example, the following major practices: