Acting for effective gender equality
Business Women Gender equality
Almost half of the contracts -37%- formalized in 2022 at Iberdrola were for women under 30 years of age. Although the progress made so far is significant, our goal is to continue moving forward to become an international benchmark in equality, both inside and outside the company.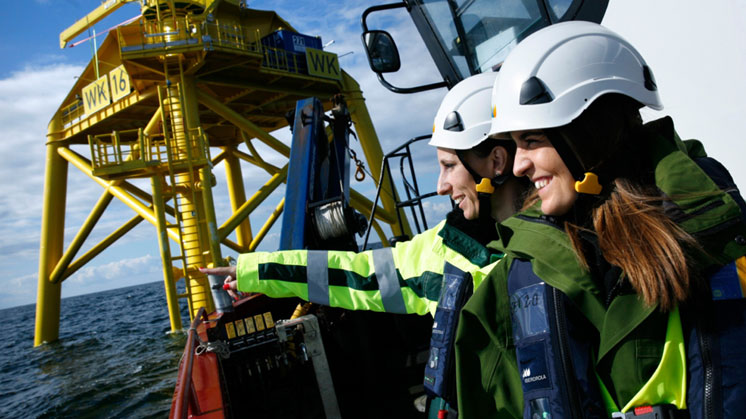 Two Iberdrola employees at the facilities of the Wikinger offshore wind farm.
Within Iberdrola group we maintain a firm commitment to our human capital as our best asset and the key to our success, and we are firmly behind a social model committed to professional excellence and a good quality of life for our employees. For all these reasons, our corporate policy focuses on creating a favourable framework for labour relations based on equal opportunities, non-discrimination and respect for diversity.
Ignacio Galán, Iberdrola Chairman
Equal opportunities are a reality in our company. We should be talking about abilities, not gender
Corporate initiatives promoting equality1
Nota
Effective equality between men and women forms part of Iberdrola's core values, as stated in our Equality, Diversity and Inclusion Policy. To implement this to its full extent, the company has launched different initiatives in all the countries in which it has a presence.
The Iberdrola Corporate Governance System expresses the company's firm commitment to equal opportunities, the basis of our commitment to gender equality in four areas of management: recruitment and selection, salary conditions, training and professional development and communication, which we divide into six areas of action:
Promoting equality within and beyond Iberdrola.
Introducing positive measures of action to correct inequalities.
Ensuring that women take part in all consultation and decision-making areas.
Removing obstacles to women's careers.
Strengthening mechanisms to correct under-representation of women with the necessary qualification.
Fostering work-life balance and flexibility measures from a gender perspective.
At the group level, Iberdrola is a member of the European Round Table, a community-wide initiative that brings together 50 presidents and CEOs of European multinational companies with the aim of designing and defending policies that create a strong, open and competitive European Union. Within this initiative, Iberdrola collaborates in the working group on Social Changes, which focuses on the issues related to the Union's most valuable resource, its people. One of its four action areas is to encourage the promotion of women to leadership positions.
In 2019, it also joined UN Women

External link, opens in new window., which supports the advancement of equality between women and men.
In 2020, the company also published the first Diversity and Inclusion Report, the latest version of which describes the initiatives that are being carried out to generate a diversified, just and equal work environment both within the company and in our relationships with stakeholders.
Spain
The 7th Collective Agreement incorporates the Labour Relations Equality Plan (selection, training, promotion, remuneration, etc.).
Membership of the

Alianza #CEOPorLaDiversidad

initiative, whereby 60 executives of large companies in Spain have committed to promoting diversity policies in their companies.
Volunteering activity "We all count in the fight against gender violence", based on the campaign that Iberdrola has carried out with the Ministry of the Interior: "Don't look the other way."
Sponsorship of the event

Commitment to Equality

with the UCM.
Collaboration with the Diversity Charter.
Sponsorship of women's sports.
The

Mujeres que Brillan

Awards.
United Kingdom
Publication of the

Gender Pay Gap,

a report describing the wage gap. In addition, ScottishPower has set itself the target of exceeding 40 % women in middle management and 30 % women in senior management by 2022.
The

Women Returner

program has been launched in collaboration with Equate Scotland to offer comprehensive support to female employees with STEM qualifications who have been inactive for two or more years.
A

coaching programme

is being developed for women who are about to take or are returning from maternity leave so that practical support can be combined with personal, emotional and professional support — both for the women and their managers — and for training to maximise the potential of participants in their own career progression.
Membership of a new coalition on gender diversity to increase the number of women at senior and middle management levels in the UK energy industry.
Balanced lists of candidates, gender interviews and gender de-coding in all job descriptions.
Collaboration with rugby in Scotland and Wales to support women in sports.
Founding partner of the

Energy Leaders Coalition,

composed of eight of the main executive directors of the UK energy sector, united in a public statement to improve gender diversity in their companies and in the sector as a whole.
ScottishPower is also a member of the

Women's Engineering Society (WES),

a professional network for women in technology and engineering that offers inspiration, support and development to future professionals in the field.
Organisation of an event in collaboration with two Scottish organisations to encourage girls to choose careers in science so as to attract young women to STEM courses at universities.
Member of

POWERful Women (PfW),

an organisation that promotes diversity in the energy sector.
United States
Collaboration with local universities and organisations to promote diversity, including the

WomENERGY

program, which focuses on discovering and empowering the talent of AVANGRID3's women through an action plan to train the company's future leaders. In 2020, more than 40 % of senior management positions of the US affiliate were held by women.
Brazil
Organisation of the

Empodere-se

conference on women's empowerment, which analysed the struggles and achievements of women today, and the

Estrelas

event to celebrate Women's Day, in which employees of Neoenergia4, in addition to taking part in the internal campaign, gave a talk on women's empowerment.
The

Escola de Eletricistas

aims to attract women to the electricity market in order to improve the gender balance. This initiative was recognised by

WeEmpower

— the UN programme to drive gender equality — in 2020 as a good business practice for empowering women.
Conversations with collaborators and guests to talk about female empowerment and racism on symbolic dates.
Mexico
Measures to combine maternity and a new edition of the Women with Energy forum, an event that tackles subjects like diversity and particularly the presence of women in management positions, as well as the communication initiatives, focused on the diversity existing in the organisation.

External link, opens in new window.
Iberdrola group's contribution to equal opportunities and non-discrimination has recently been recognised internationally. It has been included for the fifth year in a row in the Bloomberg Gender-Equality Index. The company is one of the honours companies committed to transparency in information on gender issues and progress in equality between women and men.
Corporate initiatives for balancing personal and work life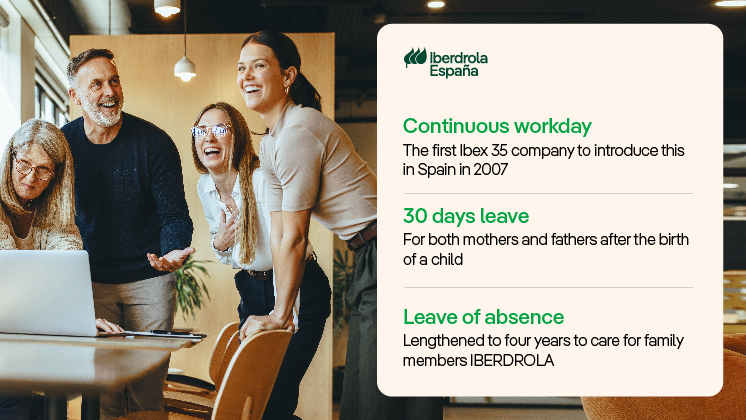 Iberdrola promotes the work-life balance in all group companies.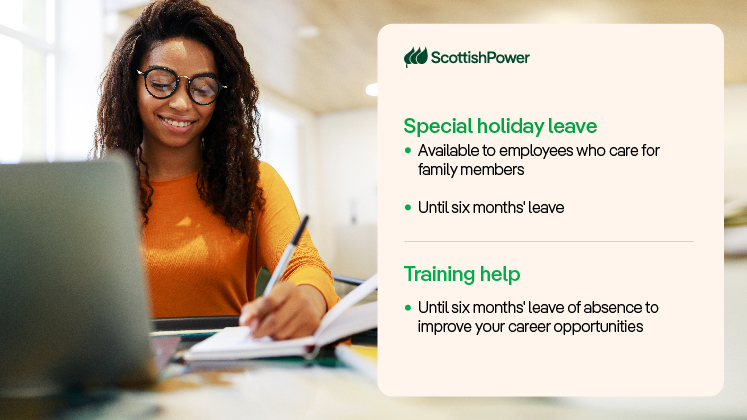 Iberdrola promotes the work-life balance in all group companies.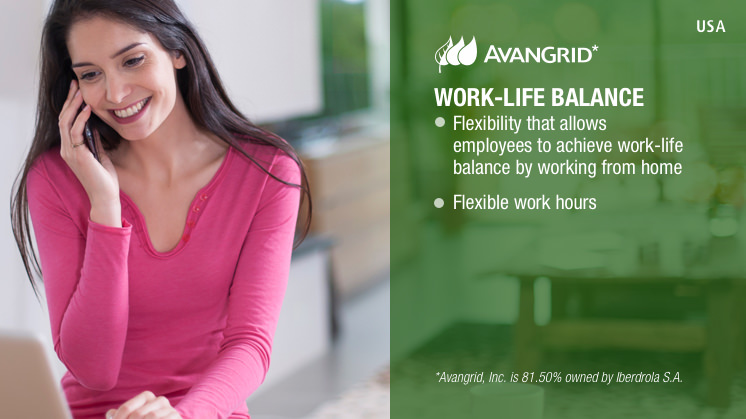 Iberdrola promotes the work-life balance in all group companies.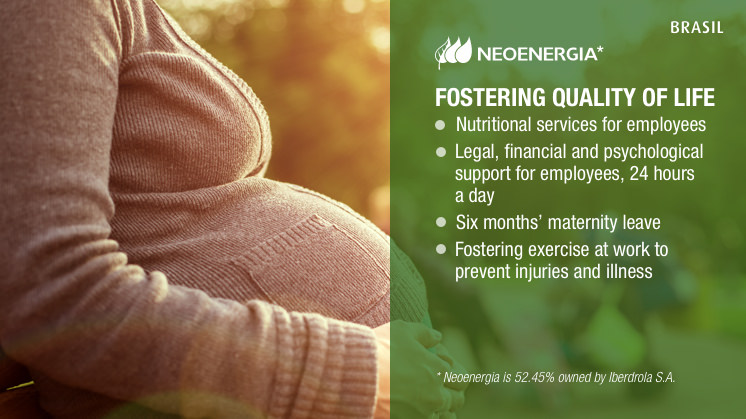 Iberdrola promotes the work-life balance in all group companies.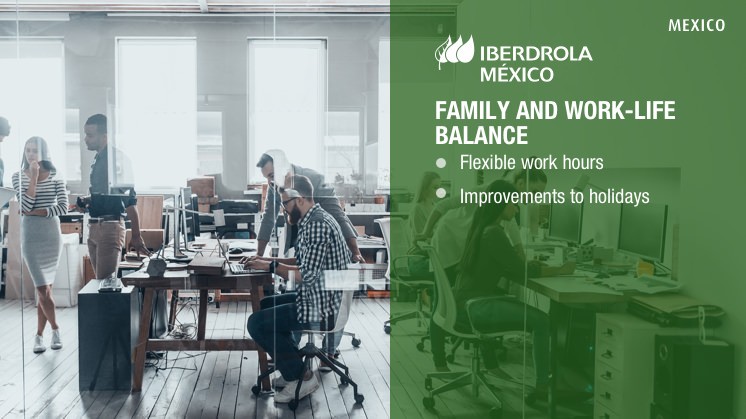 Iberdrola promotes the work-life balance in all group companies.
Iberdrola has more than 70 measures to promote balance between work and personal life, such as the payment of 100 % of the salary during maternity leave, paid leave of 15 days before childbirth, flexible reduction of working hours to five without wage reduction until the kid turns one and unpaid leave for up to four years, in which access to vocational training is allowed.
In addition, the intensive working day was universalised in Spain and options are offered for employees on non-study days, in addition to training courses for children. The 'Iberdrola Parent School' has also continued to offer employees the chance to take part in different programmes with their children, as well as summer camps for employees' children.
In the United Kingdom, ScottishPower has upgraded workspace design, providing a variety of ways of working. Workers are also free to choose the best place to work, inside or outside the office.
To control overtime in Brazil, a system has been established to alert employees after eight hours of daily work, turning off lights and air conditioning after a certain number of hours, among other measures. Some companies also have flexible timetables, and maternity leave has been extended to six months, two more than those guaranteed by law.
In Mexico, maternity leave lasts 84 days. At the end of this period, the workers are entitled to take leave and their jobs are held open for them, as well as special working hours for maternity.
1 Information extracted from the Sustainability Report 2020.
2 AVANGRID, Inc. is 81,50 % owned by Iberdrola, S. A.
3 Neoenergia, S. A. is 50 % + 1 share indirectly owned by Iberdrola, S. A.
 

Iberdrola and SDG 5: Gender equality