DIVERSITY AND INCLUSION
Diversity and inclusion, a strategic priority for sustainable growth
#social action #diversity #integration
Our society has changed enormously in recent years. We live in an increasingly global world, where different cultures, races, genders and identities are ever more closely connected. And everyone's needs should all be covered equally. Iberdrola has been carrying out strategic actions to ensure diversity and inclusion for its workers, customers and suppliers, and to progress toward being a more diverse and inclusive society in all the countries where we are present.
Carousel of images and videos
IBERDROLA'S COMMITMENT TO DIVERSITY AND INCLUSION
Iberdrola considers diversity and inclusion as a strategic priority for sustainable growth. That is why it works every day to achieve a more just and equal society, as reflected in its Diversity and Inclusion Report 2020 [PDF].
Ignacio Galán, Iberdrola group chairman
We are working to be a diverse, inclusive company, which reflects the diversity of the world around us as faithfully as possible. Everyone has a special, unique talent to contribute and strengthening this talent is enriching for everyone
OUR ACHIEVEMENTS IN 2020
In 2020, Iberdrola approved an innovative Equality, Diversity and Inclusion Policy that includes best international practices.
Among our greatest achievements are:
Parity board of directors. Almost half (42 %) of the group's external directors are women.
Multiculturality. There are workers of 72 nationalities on the Iberdrola workforce — six nationalities on the Board — and from more than four generations.
Promoting employment for women. The number of women has increased by 38 % in the last five years.
Inclusiveness and integration. The number of people with disabilities on our staff has increased by 38 % in the last three years.
Equal pay. The average total remuneration paid to women is higher than that paid to men.
Grants. Iberdrola has awarded a thousand grants for training for excellence in STEM subjects.
Electricity for everyone. More than eight million people have benefited from this programme.
Promotion of women's sports. Iberdrola sponsors 16 women's sports federations.
Sustainable suppliers. By 2022, 70 % of Iberdrola suppliers will be subject to sustainability policies and standards.
OUR OBJECTIVES
As part of this commitment to diversity and inclusion, the company has set itself a series of specific objectives to achieve an increasingly inclusive culture in all areas of the organisation:
To gradually increase the presence of women in managerial positions, to 30 % by 2025, throughout the whole group.
To create a committee responsible for promoting and monitoring progress on diversity and inclusion, led by a representative from the Board and participants from the different geographical areas.
To raise awareness among and train employees about the value that diversity brings to Iberdrola, to incorporate inclusion behaviours that foster better decision-making and a culture based on merit and equality of opportunities in their leadership programmes, in addition to continuing to work on actions that contribute to improving diversity in all its dimensions.
To reinforce aspects of inclusion and diversity in internal and external communications in order to reflect the plurality of the societies in which it operates.
To facilitate internal mobility in the organisation to create teams that embrace multiculturalism.
To constantly monitor and update talent management processes and procedures to ensure they are diversity neutral.
To raise awareness and strengthen the group's commitment to diversity and inclusion in society and guarantee that its products and services are accessible to different customers.
To do this, our first Global Diversity and Inclusion Committee has been created to define, approve and validate the company's positioning in matters relating to diversity and inclusion, and to foster its implementation in line with our Equality, Diversity and Inclusiveness Policy.
These commitments are in line with the United Nations Sustainable Development Goals and the 2030 Agenda, especially SDG 1 (no poverty), SDG 4 (quality education), SDG 5 (gender equality), SDG 7 (affordable and clean energy), SDG 10 (reduced inequalities) and SDG 12 (responsible production and consumption).
WORKERS: WE PROMOTE THE DIVERSITY AND INCLUSION OF OUR EMPLOYEES
Iberdrola group is firmly committed to our human capital as our best asset and the key to our success, and follows a social model that fosters professional excellence and quality of life. To achieve this, it has in place an Equality, Diversity and Inclusion Policy, which applies to all the countries in which it is present and which addresses, globally:
Quality in employment and communication of the individual employee value proposition (iEVP), which includes competitive remuneration, a work environment based on equal opportunities, the business project and work/life balance.
Respect for diversity: age, gender, culture, disability, thinking styles and experiences.
Equal opportunities in access to employment, promotion and professional development, remuneration, training and performance evaluation.
Promotion of gender equality: commitment to society, internal and external awareness, positive measures to correct inequalities, representation in decision-making bodies and levels, work/life balance, etc.
The company has also defined a Diversity Policy in the composition of the Board of Directors and in the selection of its members, which ensures that there is a diversity of skills, knowledge, experience, backgrounds, nationalities, age and gender on its Board.

CUSTOMERS: ENSURING THE ACCESSIBILITY OF PRODUCTS AND SERVICES
The company develops products and services aimed at the needs of everyone, constantly seeking to make them more accessible and in tune with the demands of an increasingly diverse society.
Commitment to groups with disabilities
The group's companies carry out various initiatives to make communication with customers with specific sensory or language difficulties more agile and simple, with the aim of guaranteeing accessibility, equal opportunities and non-discrimination. Some examples are:
ComunicA:

pioneering service of video interpretation in sign language for customer service.

Next Generation Text Service

(NGTS): this provides customers with tools and services for them to communicate via text using a smart phone, tablet or computer.
The

exclusive free telephone access

that Neoenergia1, Iberdrola's subsidiary in Brazil, provides to people with hearing or speech disabilities in the Customer Relationship Centre.
The

translation service

of ScottishPower, Iberdrola subsidiary in the United Kingdom, for customers with difficulty expressing themselves in English.
In

House Spanish Speaking Representatives

of AVANGRID2, its subsidiary in the United States, which offers services to Spanish-speaking clients.
Accessibility for vulnerable customers
Iberdrola has launched different initiatives and projects to facilitate access to energy for economically disadvantaged people and promote their social inclusion, among which the following stand out:
Electricity for all: the company has set itself the goal of supplying electricity to 16 million people who lack access to this energy source by 2030. As part of this programme, Iberdrola Mexico has launched Lights of Hope, a project which involves the installation of solar panels in homes, schools, health centres and community spaces to provide electricity to 60 rural communities in Huasteca Potosina.
Iberdrola España's Procedure for the Protection of Vulnerable Customers to ensure the supply of energy to economically vulnerable citizens.
SUPPLIERS: DIVERSITY AND SOCIAL INCLUSION TO MOVE TOWARDS SUSTAINABILITY
The company has the responsibility and ability to encourage its suppliers to improve their environmental, ethical and social performance through actions that promote excellence in sustainability management. To this end, it has set a target for at least 70 % of its main suppliers to be subject to sustainable development policies and standards by 2022. In addition, the group supports entrepreneurs and newly created companies.
AVANGRID's Supplier Diversity Program is of particular note, through which it is committed to incorporating and increasing purchases from suppliers with diverse workforces (minorities, LGTB, veterans, people with disabilities, marginalised groups, etc.).
SOCIETY: PROMOTING A MORE DIVERSE AND INCLUSIVE SOCIETY
Iberdrola carries out a multitude of initiatives worldwide to promote the professional development of women and to encourage their independence and empowerment, as well as to support groups at risk of social exclusion, among other purposes.
Talent and diversity in STEM
The company aims to increase the presence of women in the energy sector, the STEM disciplines and the society in general, with projects such as:
Independence and empowerment of women
Iberdrola organises self-defence workshops during International Women's Day and the International Day for the Elimination of Violence against Women, aimed at refugee women and women with intellectual disabilities. It also carried out the volunteer activity We're all united in the fight against gender violence, based on the campaign Don't look the other way carried out by Iberdrola together with the Spanish Ministry of the Interior.
Women and sport, a successful alliance
The company promotes women's sport as a way of contributing to the promotion of talent, effective equality and social development. The most important initiatives in this regard are:
Women's Universe

programme: Since 2016, Iberdrola has been the main driving force behind this programme by the Spanish High Sports Council, through which it supports 16 women's sports federations and promotes women's sport in all areas (school,

amateur

and professional).

Girls, sport makes us powerful!:

project in collaboration with Madrid City Council which aims to encourage more than 5,000 girls and young women between the ages of 12 and 24 to practice sport through talks and clinics given by sportsmen and women and sports professionals in different secondary schools.
Iberdrola SuperA Awards, to recognise and give visibility to the best initiatives launched in Spain to promote equality and the empowerment of women through the practice of sports.
Opportunities for vulnerable young people
Iberdrola also carries out different actions to support young people, especially those in vulnerable situations. Particularly of note is the work of its local foundations (Fundación Iberdrola España, ScottishPower Foundation, Avangrid Foundation, Fundación Iberdrola México and Instituto Neoenergia) to promote equal opportunities in access to education and volunteer activities such as:
Lights, Camera, Action:

carried out in collaboration with the Tomillo Foundation in Spain, this initiative aims to promote training in energy efficiency and promote the employability of young people in disadvantaged environments.
INVOLVE

(International Volunteering Vacation for Education)

: a global project, in which the company participates, that offers training to young people at risk of exclusion in Brazil and Mexico.
DIVERSITY AND INCLUSION IN THE COUNTRIES IN WHICH WE OPERATE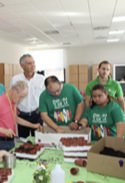 Spain
One of the aims of the Fundación Iberdrola España is to improve the quality of life of the most vulnerable people: children, young people and women. To this end, it has a Social Aid Programme in collaboration with non-profit organisations, mainly focused on education and training as useful tools for social inclusion.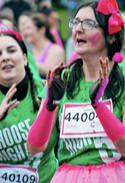 United Kingdom
ScottishPower is committed to creating an innovative and integrated organisation in which people feel valued and inspired to develop their full potential. It is also moving towards equal pay and work-life balance and is involved with the communities in which it operates through partnerships with different institutions.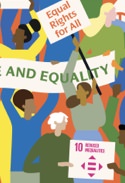 United States
AVANGRID focuses its efforts on creating and maintaining a diverse workforce and an inclusive culture. Its diversity and inclusion initiatives are fundamentally linked to three values: sustainability, agility and collaboration.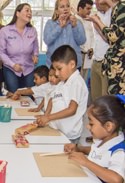 Mexico
The Fundación Iberdrola México develops programmes that contribute to human development, supporting the most vulnerable people and groups. It also seeks to improve the quality of life of the communities in which it operates.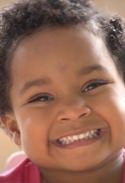 Brazil
The Neoenergia Institute promotes initiatives to contribute to improving the quality of life of the communities in which it is present, with a commitment to sustainable development. It therefore works to promote human development, inclusion and opportunities for vulnerable people and groups.
All the information about
DIVERSITY AND INCLUSION
What is diversity and inclusion?
Diversity is the set of characteristics that make people unique and singular, such as age, gender, culture, disability, thinking styles or experiences. Inclusion is about how these differences between individuals are valued and opportunities are created for everyone to fulfil their full potential.
How are inclusion and diversity related?
While the term diversity simply applies to a group made up of different people, inclusion requires that the necessary conditions are created for each person to contribute their uniqueness. In other words, diversity could be explained as being there and inclusion as being able to bring value.
Why are diversity and inclusion so important?
Diversity and inclusion are essential pillars in the culture of any organisation that wants to advance on the path of sustainability. A diverse and inclusive company is better at attracting and retaining talent and is more innovate, thereby becoming more productive and more open to the society it serves.
When is Diversity and Inclusion Day celebrated?
The United Nations established 21 May as the Diversity and Inclusion Day (officially World Day for Cultural Diversity for Dialogue and Development) with the aim of raising awareness of the importance of intercultural dialogue, diversity and inclusion; engaging all people in supporting diversity through real-life gestures on a daily basis; and combating polarisation and stereotypes to enhance understanding and cooperation between people of different cultures.
1 Iberdrola S.A. owns 50 % + 1 share of Neoenergia, S.A.
2 Avangrid, Inc. is 81.5 % owned by Iberdrola S.A.