You can change the world!
#social action #corporate social responsibility #volunteering #youth
25% of the people in Europe and in the United States collaborate as volunteers. In Spain, 260,000 people participate in international projects. They want to change the world, but it is this new world that changes them in many cases.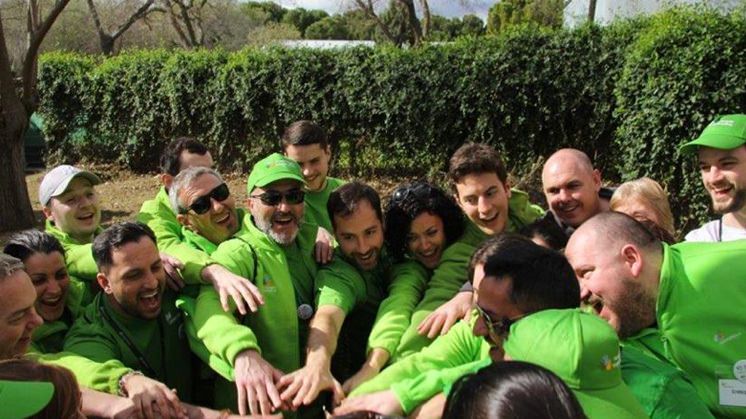 "What is the hardest moment? Coming back. Returning to a consumerist and, in many cases, superficial society". This is how Madrid-born Ana Morenas describes the impact of working as a volunteer at a Syrian refugee camp in Katsikas (Greece). "While you are there, you set material things aside and what you find most gratifying is dealing with the people. You share everything, live many different experiences... It is a very intense experience". She helped in the warehouse every morning and in the nursery school during the evenings.
Elena Sanz collaborated in providing assistance to Syrian refugees arriving to Spain. "They all show a great courage, positivity and strength that many of us would like to have, despite their situation", is what she also mentioned about an experience that she considers to be "more than just rewarding".
Cormac Lacey spent three weeks at a favela in São Paulo (Brazil) teaching computing to adolescents. "I saw hope in their eyes and what was most important for me was to instil in them that they could achieve any goal they wanted in life". He enjoyed an exceptional relationship with all other volunteers: "we shared a positive outlook on life and this is why the team was much more than just the sum of its components".
Hannia Caballero also found it hard to return to her day job in a Notary Public's office after working for the Darna orphanage in Morocco. "You create bonds with the children, with their carers and you see that your job is something punctual, when what they actually need is permanent help".
In a global world, solidarity has also become international and there is still much that needs to be done in different areas of the most disadvantaged countries, such as those related to children, equal opportunities, healthcare or humanitarian aid, among others.
International volunteering allows volunteers to travel, live and delve into other cultures, learn languages and grow as a person, seeing the day-to-day reality of these countries for themselves.
How can a volunteer collaborate?
There are many different ways. Usually, volunteers participate in the programmes of an NGO. There are many different possibilities, from the NGO paying for all expenses (travel, accommodation, food, etc.) to only paying for the insurance and the volunteer paying for all expenses, such as in the case of Hannia. Ana paid for her own ticket to travel to Greece. She contacted Aire NGO and the Olvidados association, which arranged a place where she could spend the night for five euros a night. She bought her own plane ticket and offered her help to ACNUR's coordinators when she arrived at Katsikas. Another way to collaborate is fundraising, through which you can help in the collection of funds, food, and even help in the recruitment of volunteers.
Elena and Cormac are two examples of what is becoming quite an important form of collaboration: corporate volunteering. Both have participated in the programmes of Iberdrola, in both local and punctual actions, as well as in international and long-term projects, such as the Involve project. The company promotes volunteering

External link, opens in new window. and provides everything a volunteer needs: training, travel expenses, accommodation, etc. Many employees repeat the experience every year.
Iberdrola and its International Corporate Volunteering Programme
According to the Corporate Volunteering Observatory
External link, opens in new window., 87% of the Ibero-American companies and 67% of the Spanish companies offer volunteering programmes. More than half of the employees of 7.3% of these companies participate in volunteering programmes, with less than 10% being the usual participation figures.
Likewise, according to The Big Tent, a report prepared by the International Association for the Promotion of Volunteering

External link, opens in new window., 73% of companies state that they would hire candidates with volunteering experience before those without volunteering experience and 58% state that volunteering experience can be more valuable than that acquired in paid jobs. This is also what employees think: over 90% consider that volunteering improves leadership skills and the capacity to solve problems and take decisions.
Millions of volunteers
Determining the number of volunteers is not easy, mainly due to the extent of its definition. The Spanish Volunteering Platform

External link, opens in new window. estimates that there were 3.1 million volunteers in 2015. Out of the total, approximately 262,000 work as volunteers abroad. Most are men: 54% of the total and two-thirds in the case of international volunteers.
PERCENTAGE OF THE POPULATION WORKING AS VOLUNTEERS FOR AN NGO
Data by age group (October 2015)
Souce: The Spanish population and its involvement with NGOs. PVE, 2015
There are between 92 and 94 million volunteers in the European Union [PDF] External link, opens in new window. (23% of the population), who either work as regular or occasional volunteers, while the Department of Labour of the US estimates that volunteers represent 25.4% of the total population.
The EU is strongly promoting youth volunteering with the European Voluntary Service

External link, opens in new window.. The programme is already two decades old and 100,000 volunteers aged 17 to 30 have participated in it. Its projects last from two weeks to a full year and they cover all expenses.