Green steel: a material ready for industrial decarbonisation and widening the horizons of electrification
The steel industry is responsible for 8 % of the CO2 emissions caused by mankind worldwide. For this reason urgent action is needed to initiate a decarbonisation process which also has the potential to be a massive economic opportunity. Iberdrola is committed to creating a more sustainable world and is already working on projects designed to minimise its impact with major players in the steel sector.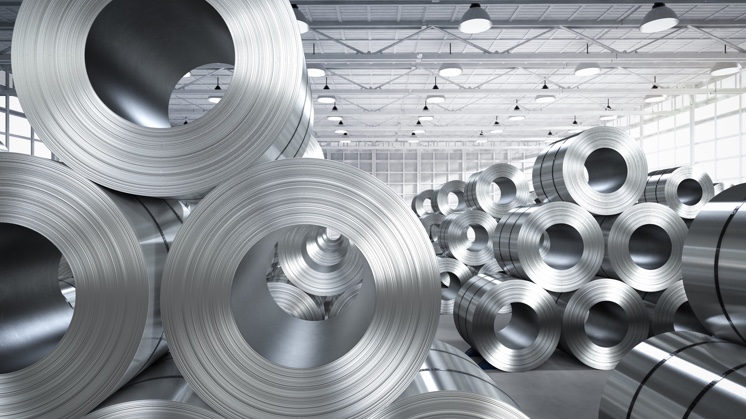 Decarbonising the steel industry will benefit the planet by reducing its emissions.
Steel is one of the most commonly used materials in the world. With more than two million tonnes of this iron alloy manufactured every year, it is one of the main materials required to manufacture cars, buildings and everyday goods like cutlery and tools, among others. What's more, more than six million people are directly employed in its manufacture.
It is important to remember that this is one of the most polluting and energy-hungry industries on the planet. Steel is manufactured in blast furnaces that use fossil fuels - coal, oil and natural gas - to reach the high temperatures required to trigger the essential chemical reactions. This process accounts for approximately 8 % of all the CO2 emissions produced by humankind worldwide.
Steel can be infinitely recycled without losing any of its properties in a fully electric process that gives off few emissions. This is one solution for reducing its environmental impact in the throes of the fight against climate change. In fact, recycling already covers 26 % of global demand and work is underway to increase that percentage. In Spain, more than 85% of steel is recycled, which puts the country in eighth place in the continent. The Netherlands ranks first with 97.3 %, while others such as Italy are still below 75 %.
Decarbonising steel
The pressing need for climate action is mobilising the whole of society, including, of course, the entire steel value chain. Major players in the industry are announcing commitments to decarbonisation: producers like ArcelorMittal and Tata Steel, consumers such as truck manufacturer Scania, and even financial groups. Iberdrola also has an active role in this effort as the leading company in decarbonising the economy, taking part in forums and exploring ways of collaborating with a number of actors in the value chain.
The first measures for reducing emissions from steel entail making more efficient use of this material and increasing recycling rates, but this alone is not enough. Future forecasts show it will be necessary to cover at least half of the demand for steel from iron ore, so it is essential we develop new technologies that are less harmful to the environment.
Two of the most promising processes revolve around renewable electricity. In Europe, there are already several projects — Hybrit and H2 Greensteel, for example — that aim to replace fossil fuels with green hydrogen, while in the United States, Boston Metal, a company that emerged from the Massachusetts Institute of Technology (MIT), is developing direct electrolysis from iron ore, a process similar to that currently used for aluminium. In both cases, the electricity used would be from renewable sources, ensuring sustainability and no emissions during the process.​​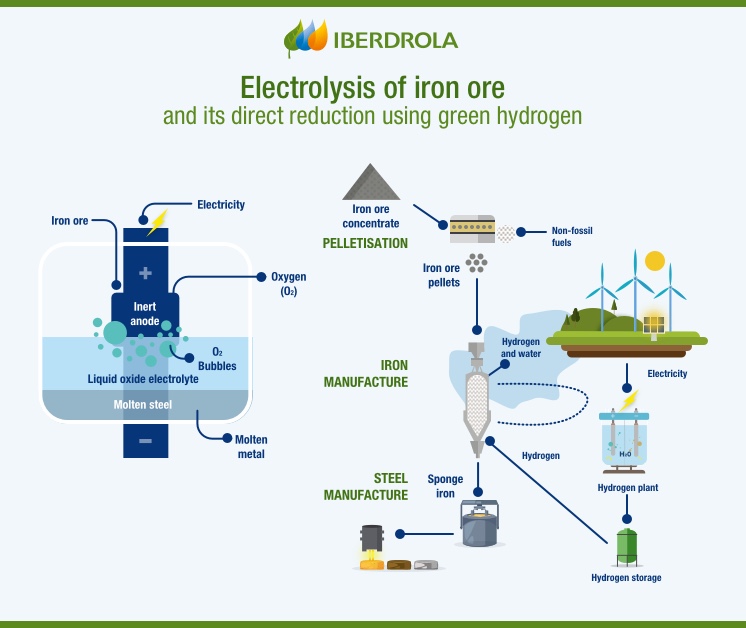 Electrolysis of iron ore and its direct reduction using green hydrogen.
SEE INFOGRAPHIC: Electrolysis of iron ore and its direct reduction using green hydrogen [PDF] External link, opens in new window.
The first commercial plants based on these new carbon-neutral technologies are expected to be available from year 2030, at which date a large part of the European blast furnaces should start to be refurbished.
Iberdrola and green steel
Iberdrola is working on both lines and is analysing potential projects with industrial partners in different geographic areas. The group is also having conversations with start-up Boston Metal, in the Iberdrola professorship with MIT, and with the Scania spin-off, Hydrogen Green Steel (H2GS), through our participation in the CEO Alliance.
The decarbonisation of the sector is an excellent opportunity for growth for Iberdrola, which could mean an additional demand of around ~5.000 TWh/year, the equivalent of twice Europe's current electricity generation, as well as 40 million tonnes of green hydrogen, or the installation of more than 300 MW of electrolysers. That is why the company is working with Cummins to install an electrolyser plant in Spain to speed up the implantation of the entire hydrogen value chain.
Iberdrola also maintains its commitment to sustainable steel through its participation in the international SteelZero initiative, led by Climate Group in collaboration with Responsible Steel. The group has set an ambitious target of using 50 % low-emission steel by 2030, with the goal of reaching zero emissions by 2050.
With this project, SteelZero sends a strong demand signal to shift global markets and policies towards responsible steel production and sourcing. The companies that have joined this alliance ensure that the materials used in the production of renewable energy or automotive infrastructure are in line with a carbon-free world.
In short, it is possible to decarbonise steel making, because there are already some very promising alternatives through direct electrification or green hydrogen. In the future, thanks to the expected cost reductions in renewable energy and green hydrogen driven by Iberdrola, green steel could become more competitive, benefitting all consumers.