SUSTAINABLE EVENT MANAGEMENT
We are pioneers in sustainable event management
#General Shareholders' Meeting #events #results presentation
In 2016, Iberdrola was the first IBEX 35 company -and the first electricity company among the ten largest in the world- to obtain ISO 20121 certification to accredit the sustainable management of our General Shareholders' Meeting. Four years later, we were once again pioneers among IBEX 35 companies in extending the scope of our most important corporate events for shareholders and the financial community under the same management system: Results Presentations, Capital Markets & ESG Day and the General Shareholders' Meeting.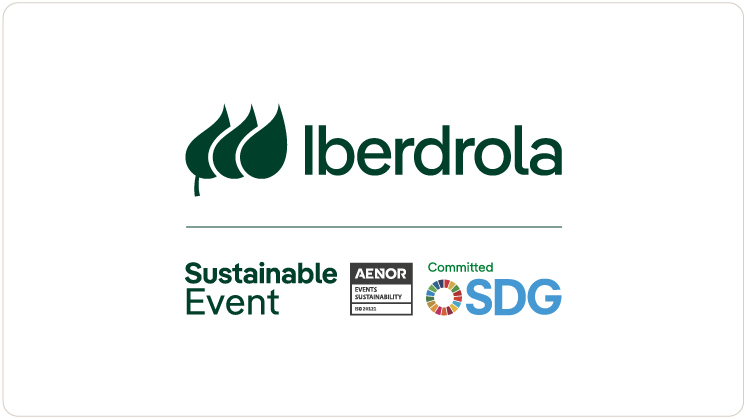 Iberdrola certifies its Results Presentations, General Shareholders' Meeting and Capital Markets & ESG Day as sustainable events.
The Spanish Association for Standardisation and Certification (AENOR) has awarded ISO 20121:2013 Sustainable Events certification [PDF] External link, opens in new window. for Iberdrola's General Shareholders' Meeting, Results Presentations and Capital Markets & ESG Day. Iberdrola is now the first company to gain AENOR certification for these corporate events under the same management system.
This acknowledgement proves that every aspect of Iberdrola's events is conceived to generate the greatest positive impact in all three areas of sustainability: financial, social and environmental. Using its carefully designed sustainable management system, the company strives to ensure that all corporate events generate financial, social and environmental benefits for the community. This includes preferentially hiring people at risk of exclusion, supporting local suppliers, minimising the environmental impact of the event and a great many more measures.
Having achieved this certification is thanks to Iberdrola's Sustainable Management Policy, which establishes that the group's events must strictly comply with all applicable requirements — especially in terms of health and safety, noise, waste, privacy and personal data protection standards — as well as promoting accessibility, inclusion and non-discrimination in their planning and execution.
Another step forward for Iberdrola in the fulfilment if the United Nations Sustainable Development Goals (SDGs). A path that began in 2016, the year in which Iberdrola was a pioneer in adopting the ISO 20121 standard and implementing it at the General Shareholders' Meeting.
Iberdrola sustainable events certificate.
WHAT IS STANDARD ISO 20121?
All events of any kind have an environmental, economic and social impact on the communities in which they are held. On the positive side, the most notable impact of an event is its contribution to the local economy. However, the downside is the high energy and water consumption that this type of events involve, as well as the vast quantities of waste generated by the organisation and attendees.
To tackle this problem, on 15 June 2012 — with the London Olympic Games just around the corner — the world's largest international standards body, the International Organization for Standardization (ISO), issued ISO 20121:2012: Event sustainability management systems. This voluntary standard was created to help events organisers to improve the sustainability of their events across all stages: design, planning, execution, implementation, review and follow-up activities after the sustainable event.
The purpose of this standard is not to certify the event itself, but the management system of the company that organises the event in order to ensure that it is carried out according to sustainability criteria. When awarding the certification, ISO verifies that a company's event management system is efficient and has been designed in accordance with the ISO 20121 standard.
The Spanish member of ISO, and therefore the body responsible for awarding sustainable event certification in Spain, is AENOR, which is also in charge of issuing and disseminating UNE standards (the Spanish equivalent of ISO 20121:2012 being UNE-ISO 20121:2013).
BENEFITS OF ISO 20121 CERTIFICATION
The benefits inherent in ISO 20121 certification include:
Helps reduce the carbon footprint of the event.
Reduces event costs by optimising the consumption of resources.
Improves corporate reputation.
Commitment to the environment motivates employees and attracts and retains talent.
Improves control over the value chain.
Contributes to the local economy.
HOW DO WE MAKE OUR EVENTS MORE SUSTAINABLE?
We work on the three pillars of sustainability: social, economic and environmental. To this end, we set ourselves guidelines and objectives to ensure that the impacts of our events are as beneficial as possible year after year. Within these objectives, we propose accessibility, environmental, awareness-raising and participation actions, and support for the local community.
Trabajamos en los tres ejes de la sostenibilidad: social, económica y ambiental. Para ello nos marcamos directrices y nos ponemos objetivos para conseguir año tras año, que los impactos de nuestros eventos sean lo más beneficiosos posibles. Dentro de estos objetivos, planteamos acciones de accesibilidad, ambientales, de sensibilización y participación y de ayuda a la comunidad local.
Improving accessibility
Multi language
Live broadcast
Promoting remote participation
And, furthermore, in the case of the Board:
100% accessible location
Sign language, subtitling and audio description
Minimising environmental impact
Green purchasing criteria
Reuse of materials
Segregation and re-evaluation of waste
Emissions offset project
Raising awareness of sustainability issue
Traction to main suppliers
Analysis and communication of the environmental impact of events
Awareness-raising for suppliers and event participants
Communication campaigns aimed at employees
Supporting the local community
Promoting young people's entry into the labour market
Encouraging equal recruitment of staff
If you have any doubts, queries or suggestions about our sustainable event management activities, please contact us at sustainable.events@iberdrola.com