Is shopping for loose products the solution to reducing our use of plastics?
Shopping for loose produce has become popular again to reduce food wastage and help to halt the avalanche of plastic packaging which is damaging our planet. This way of shopping, which was commonplace until only a few decades ago, enables us to buy foodstuffs and other household products by weight and without packaging, and has become a mainstay of the global zero-waste movement.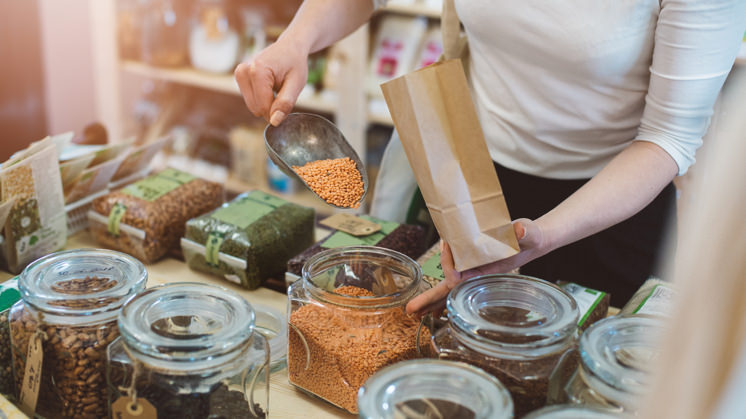 Consumers go shopping with their own containers and reusable bags and buy only what they need.
Supermarkets are packed with throw-away packaging, and so our our mountains and oceans. We are accustomed to seeing polystyrene trays, PET bottles, tetrabriks and plastic packaging littering the landscape: It is estimated that there are currently about 140 million tonnes of plastic waste in the world's oceans, seas and rivers, according to a scientific study published in 2022 by the OECD.
Most of this waste originates on dry land-base sources, such as plastic objects that reach the sea from landfills, via the water currents that flow through landfills. According to Greenpeace, 80 % of the waste that ends up in the oceans comes from land, while the remaining 20 % comes from maritime activity.
Plastic-free living
This situation has triggered the birth of initiatives like Zero Waste, an international movement that encourages responsible consumption and reuse to reduce household waste as far as possible. The initiative was born in the personal blog written by Bea Johnson, a native of France, who focuses on reducing plastic waste through everyday habits such as using glass jars and cloth bags, and buying loose products.
Another successful initiative is Food in the nude. It started in New Zealand, and aims to stop the practice of selling fresh produce packaged in plastic in supermarkets. Food producers signed a declaration committing to making all packaging and labelling 100% reusable, recyclable or compostable by 2025. According to the NZ Herald newspaper, sales of some vegetables soared by up to 300% in shops that abandoned plastic packaging.
A couple of cucumbers, four tomatoes or an onion wrapped in plastic on a PVC tray. Customers' dislike of this type of packaging has led to a boom in a type of consumption that consists of buying food and domestic products without packaging. Unlike packaged goods, which oblige us to buy a quantity established by the manufacturer, buying loose products is more flexible and leaves us free to decide how much we want to buy. Consumers take their own containers and reusable bags with them when they go shopping and only buy what they need, either by weight or by unit.
Loose products: What to buy and where
Many of the items on our shopping lists can be bought without packaging. In fact, more and more stores are offering their customers this choice. Let's take a look at what can be bought, and where:

Fruit and vegetables
Local greengrocers and markets tend to sell them by weight. This practice is also commonplace in many supermarkets.

Cereals, pasta and pulses
These are usually sold packaged in supermarkets. To buy them loose, you'll need to visit shops that sell organic products or try a neighbourhood store.
Meat, fish and sausages
These are easy to find loose, both in neighbourhood stores — butchers, fishmongers and delicatessens — and supermarkets and markets.
Bread and baked goods
Local neighbourhood bakeries and cake shops sell these products loose. More and more supermarkets are doing so, too.

Oil, beer, wine and milk
There are plenty of oil mills, wine producers, farms, fairs, markets and specialised stores that sell products by the litre.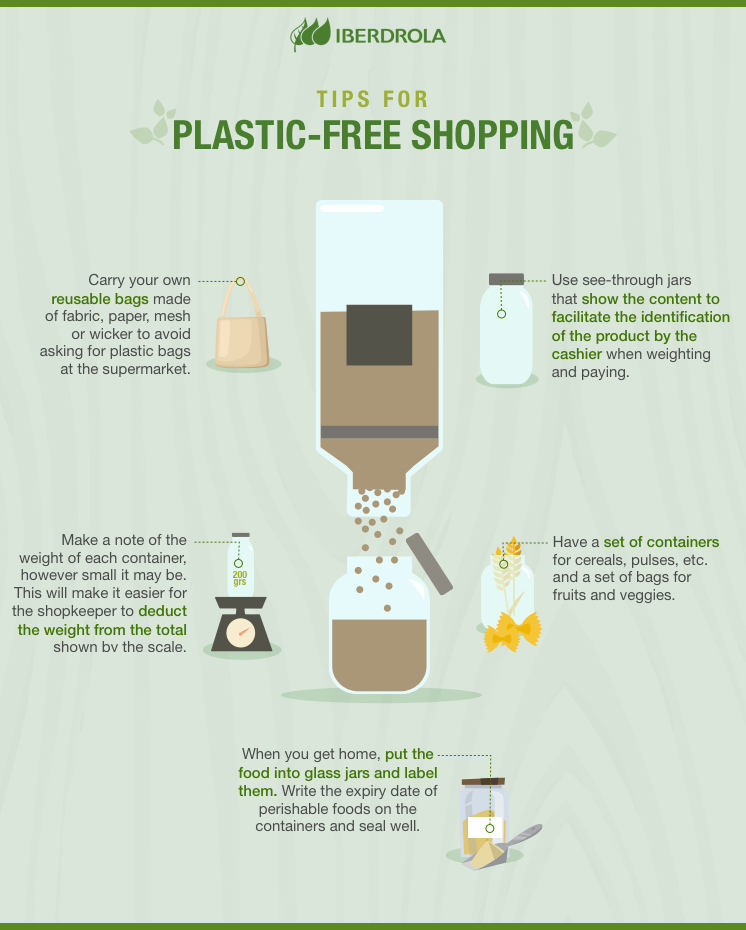 Tips for plastic-free shopping.
The advantages of buying loose products
Buying loose products is a way of shopping responsibly and the practice is on the rise because of its huge benefits, not only for us but for our environment:
You only buy what you need. Not only will you save money, you'll eat fresher food and waste less because you won't buy too much and it won't have time to spoil.
You will reduce the number of single-use plastics and containers that end up in landfills or contaminating natural areas. According to the World Bank, each person generates 0.74 kg of solid waste every day.
You will eat a healthier diet, because loose products are more natural and have fewer harmful additives.
You will select higher-quality food. For example, trays of fruit and vegetables are indivisible and don't allow you to discard pieces in bad condition.
You'll be encouraging local trade and farming. The most common loose foods come from nearby farms and fields, making it easier to find out where they originate.
You'll save money (if you know where to shop). Some places that sell food loose are more expensive, but at least you are not paying for packaging or buying unnecessary amounts.
How do microplastics affect us?
Learn about the world's first plastic-free village