Green or sustainable buildings
The 'green' buildings are leading the way to more sustainable and efficient urban planning
Sustainable buildings minimise energy and water consumption and are a key part of sustainable urban development that seeks to combat climate change. From large skyscrapers to novel museums, below we review some of the green buildings that pave the way to more responsible urban planning.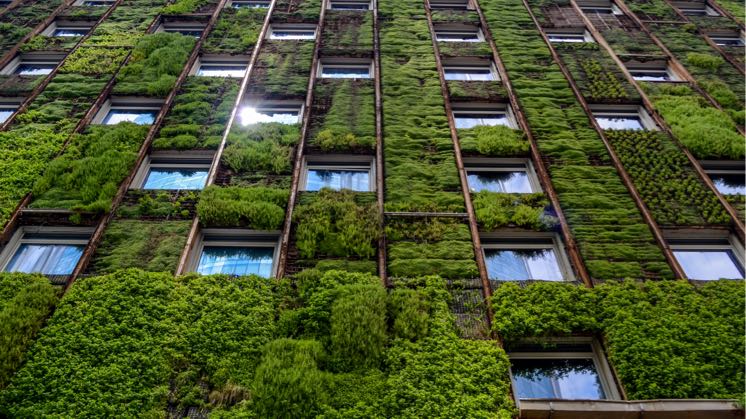 Green or sustainable buildings stand out due to their high energy efficiency.
According to data from the United Nations (UN), in 2050 around 68% of humanity will live in cities. These represent only 3% of the planet's surface, but consume 78% of energy and produce 60% of greenhouse gas emissions. For this reason, in 2016 the UN itself improved the New Urban Agenda to advise countries on their urbanisation processes and make cities more habitable, inclusive, healthy, resilient and sustainable.
Iberdrola is a member of the Madrid World Capital of Construction, Engineering and Architecture Association (MWCC). This entity promotes these sectors both in the capital and throughout Spain, consolidating the international leadership of Spanish companies and making Madrid and Spain visible as a world reference centre in the urban solutions sector.
What is a green building and its importance in sustainable urban planning
As opposed to the commuter towns that were the result of the Industrial Revolution and the developmentalism of the 20th century, the new trends in urban planning include the construction of eco-neighbourhoods which are urban projects that aim to reduce the impact on the environment and change the living habits of citizens to make them more responsible for their surroundings. The construction of buildings and other infrastructures using sustainable technologies and materials is key to this type of initiative.
A green or sustainable building is a building that, because of its construction and features, can maintain or improve the quality of life of the environment in which it is located. To do this, it is essential to achieve a high level of efficiency: reducing the consumption of energy, water and other resources minimises pollution. The LEED certificate (Leadership in Energy and Environmental Design) is the internationally accepted official recognition that establishes whether a building deserves to be considered sustainable.
Characteristics of green buildings
To evaluate a building's sustainability, LEED certification establishes a points system based on various sections, which we will review below, related to design and construction:
Location and transport
Do not build in environmentally sensitive locations and provide public transport to reduce private car use.
Sustainable sites
Protect and maintain the natural habitat, reduce pollution and the use of natural resources and facilitate interaction with nature.
Efficient use of water
Minimise the use of water during construction and provide mechanisms to reduce the building's water footprint.
Energy and atmosphere
Reduce energy consumption, use renewable energy and increase energy efficiency to reduce pollution.
Materials and resources
Incorporate recycling systems, use sustainable materials and save as many resources as possible during construction.
Indoor environmental quality
Address the quality of the space for its occupants, such as air cleanliness, thermal control and noise pollution.
Design innovation
Implement innovative sustainability strategies during its construction.
Regional priority
Achieve improvements for the place where it is located in terms of the environment, social equity and public health.
Ten sustainable buildings that amaze the world
Iberdrola Tower, Bilbao, Spain
Iberdrola Tower, Bilbao, Spain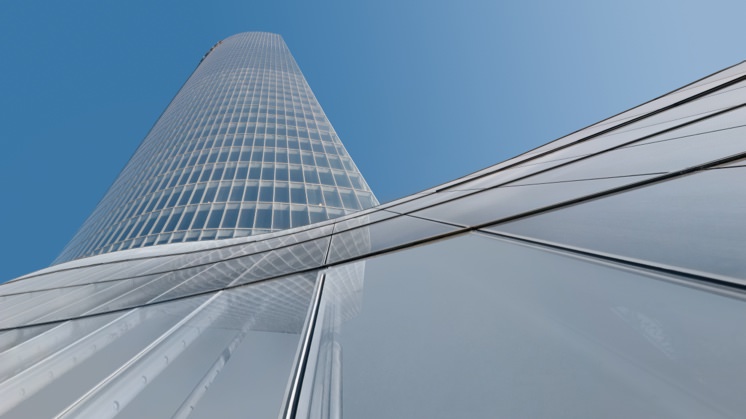 Iberdrola Tower, Bilbao, Spain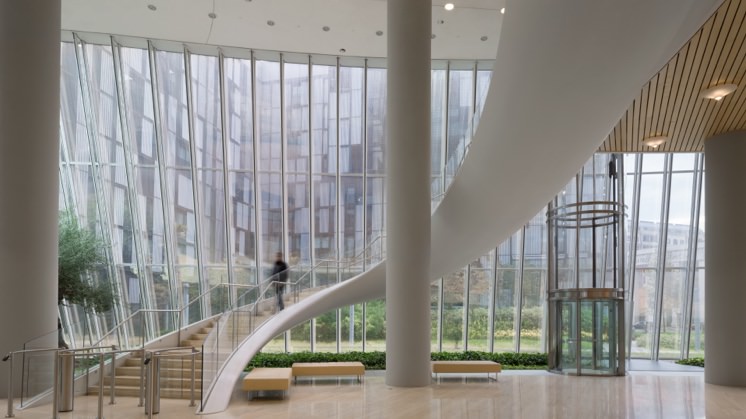 Iberdrola Tower, Bilbao, Spain
Iberdrola Tower, Bilbao, Spain
Iberdrola Tower, Bilbao, Spain
Designed by the architect César Pelli, the Iberdrola Tower houses the group's headquarters and because of its characteristics represents the zero mile of renewable energy. Its imposing 165-metre-high glass structure is a financial and business icon in Bilbao and a benchmark in sustainable design and energy efficiency. It has an energy recovery ring that reduces its carbon footprint.
The building was conceived as an engine for the creation of value for the company's employees, its environment and its customers. The internal layout of the headquarters encourages teamwork, knowledge transfer and organisational learning in an ideal, environmentally friendly space that favours operational efficiency.
 
Virtual visit to Iberdrola Tower

External link, opens in new window.
Visit the Iberdrola Tower website

External link, opens in new window.
Beitou Public Library, Taipei, Taiwan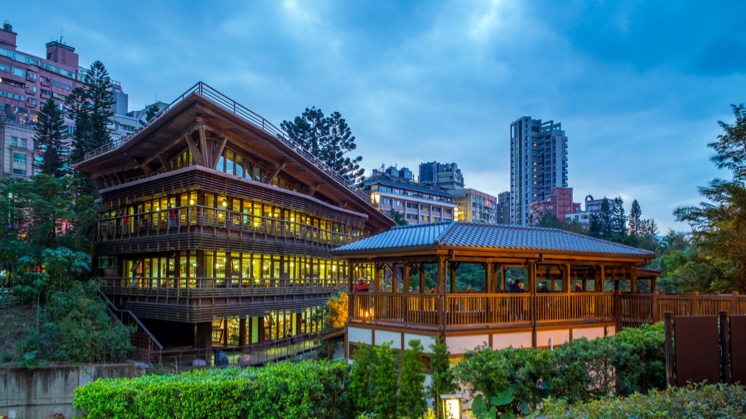 Beitou Public Library, Taipei, Taiwan.
Taiwan's first green library is in Taipei's Beitou Park. It is a two-storey building designed to reduce water and electricity consumption thanks to its large windows. The roof is partially covered with photovoltaic cells to generate energy and also collects rainwater for use in the toilets.
California Academy of Sciences, San Francisco, USA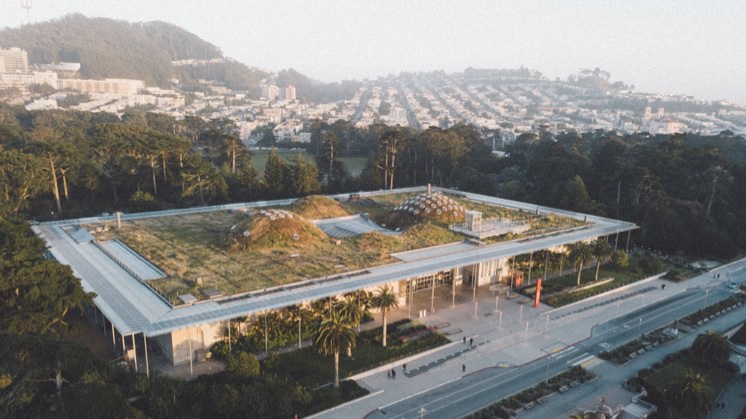 California Academy of Sciences, San Francisco, USA.
This research institute and natural history museum was completely reconstructed in 2008, according to a design by Renzo Piano. The new building recycles rainwater, uses photovoltaic panels, makes the most of natural lighting and has a one-hectare green roof containing millions of plants native to California.
World Trade Center, Manama, Bahrain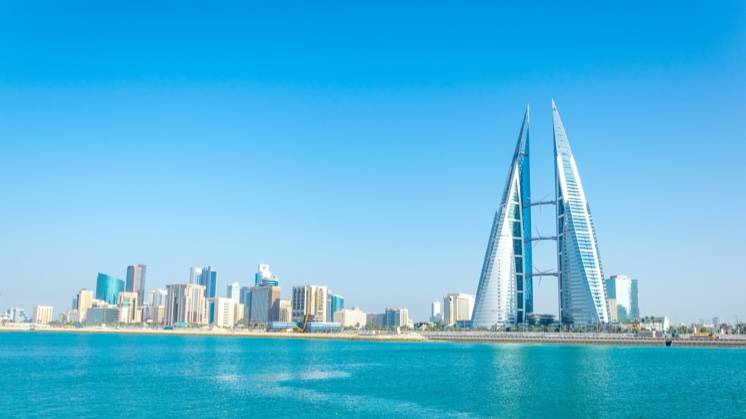 World Trade Center, Manama, Bahrain
This complex of two 240-metre high twin towers is located in the city of Manama, capital of Bahrain, and is the first skyscraper in the world to integrate wind turbines into its design. Together they cover 15% of the towers' energetic consumption. Both buildings, which are shaped like sails to direct the wind, are linked by three bridges and each has a 29-metre diameter turbine.
Pixel Building, Melbourne, Australia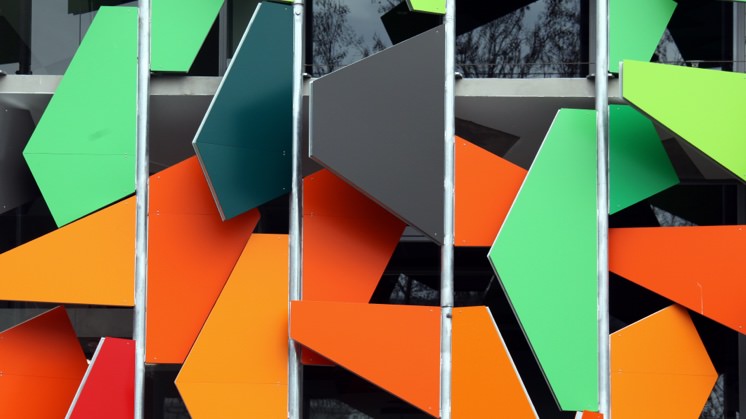 Pixel Building, Melbourne, Australia.
Australia's first carbon-neutral office building. Emerging as a prototype office of the future, it has a green roof with solar panels to produce its own energy and it stores all the water it needs. Its unusual multicoloured façade makes it possible to take advantage of ventilation and natural lighting to minimise energy consumption.
Museum of Tomorrow, Rio de Janeiro, Brazil
Museum of Tomorrow, Rio de Janeiro, Brazil.
This science museum, designed by Spanish architect Santiago Calatrava and built next to Pier Maua, opened in 2015. The sustainability solutions include mobile solar panels, systems for the reuse of rainwater and an air conditioning system that uses water channelled from the Guanabara Bay.
Turning Torso, Malmö, Suecia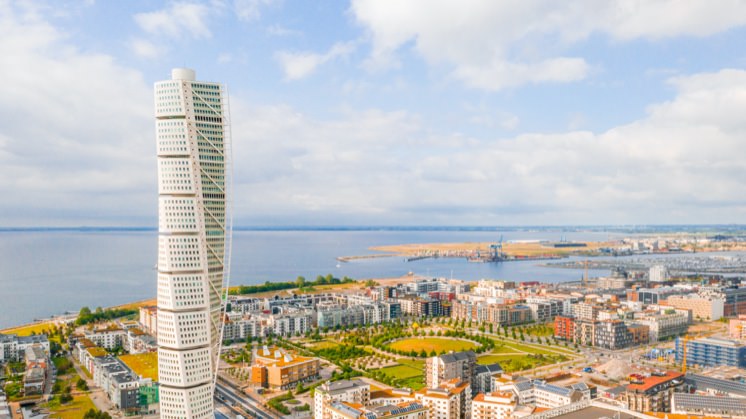 Turning Torso, Malmö, Suecia.
Another project by Santiago Calatrava, this one inspired by a human torso in movement. It is located on the Swedish side of the Öresund strait and its 190 metres make it the highest skyscraper in Scandinavia. It is powered by renewable energy. Each apartment manages its heating and water consumption and the kitchens recycle organic waste to produce biogas.
Parkroyal Collection, Singapur, Singapur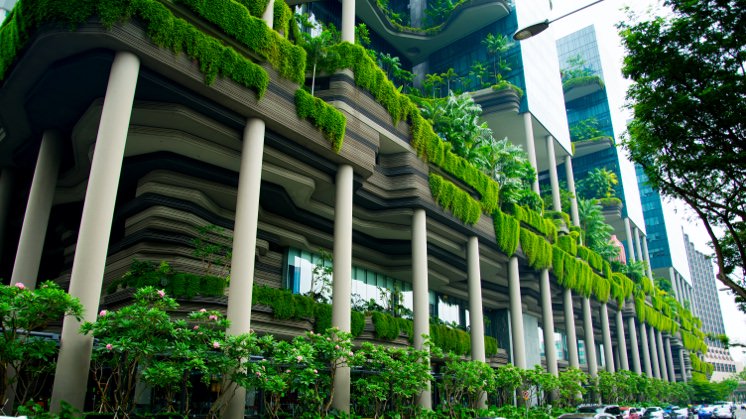 Parkroyal Collection, Singapur, Singapur.
Located in the centre of Singapore, this luxury hotel has 15,000 m2 of garden terraces, called sky gardens, to the delight of its visitors. The gardens are designed to be self-sufficient and consume minimal energy through the use of solar cells, motion sensors and rainwater collection for subsequent recycling.
Shanghai Tower, Shanghai, China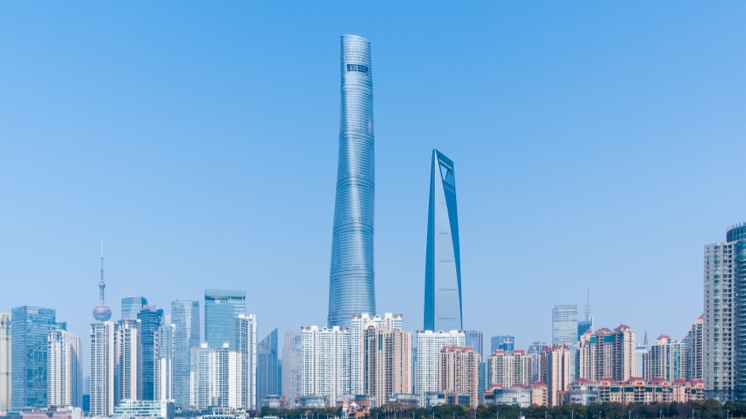 Shanghai Tower, Shanghai, China.
It's hard to believe that the world's second tallest building, a 632-metre high skyscraper in the Pudong financial district, is a sustainable construction. However, it is designed to collect rainwater and recycle some of its waste water for internal use. The design of the façade minimises wind loads which reduced the amount of material needed for its construction.
Reforma Tower, Mexico City, Mexico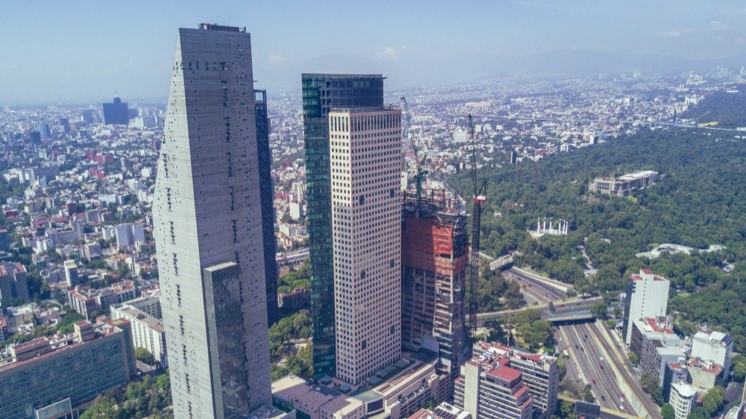 Reforma Tower, Mexico City, Mexico.
This building, located on Paseo de la Reforma in the Mexican capital, is the third tallest skyscraper in the country at 246 metres high. It uses solar and wind energy and the water is recycled and is also used to generate electricity. The air conditioning system is controlled by artificial intelligence through sensors distributed throughout the building that optimise energy use.