Sustainable infrastructure
Sustainable infrastructure, a must in the fight against climate change
The world will have to invest $90 trillion in sustainable infrastructure by 2030, according to estimates by The New Climate Economy. These investments are crucial not only to renew old equipment in developed countries and bring them in sync with the fight against climate change, but also to bolster green economic growth in emerging markets and developing countries.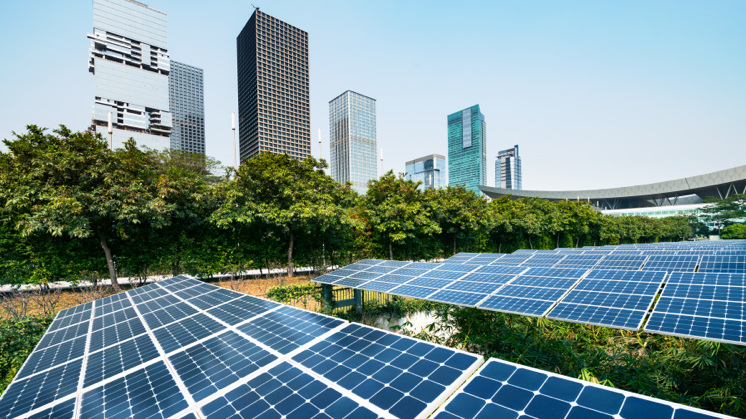 Sustainable infrastructure braces cities against climate change.
Around 9000 years ago, the city of Jerico in the West Bank became the most densely populated on the planet with just 2000 inhabitants. The figure was impressive in those days, but seems insignificant compared to the immense megalopoli we have today such as Tokyo (Japan), Delhi (India) or Shanghai (China). According to the latest population survey conducted by the United Nations (UN), it all suggests that in 2030 we will have more cities and mega cities than ever, housing 60 % of humankind.
Cities and climate change
As cities grow, many of their inhabitants gain opportunities, prosperity and well-being, but that growth also significantly upsets the social, economic and environmental balance. As an example, the UN has highlighted that 70% of all greenhouse gas emissions (GHG) come from urban areas, most of which are poorly designed, lacking in public transport and consume vast amounts of energy.
But there is room in this world for a different type of cities that are more compact, sustainable and resilient to the effects of climate change. These new burgs envisioned by the UN in its Sustainable Development Goals (SDG 9) base economic growth and citizen well-being on sectors such as innovation, research, sustainable infrastructure and a more inclusive and environmentally friendly industry.
What is sustainable infrastructure
The concept of sustainable infrastructure refers to equipment and systems that are designed to meet the population's essential service needs — including roads, bridges, telephone pylons, hydroelectric power stations, etc. — based on all-round sustainable principles. This means the infrastructure is environmentally friendly from end to end, and that includes economic, financial, social and institutional factors.
With urban areas growing exponentially, especially in emerging countries, sustainable infrastructure is showing its worth as a more efficient, productive and environmentally friendly option. Furthermore, according to the World Bank, these facilities prove more profitable as they make for more reliable services and greater resilience to extreme weather events, as well as lessening the impact of natural threats to people and the economy.
The four sides to sustainable infrastructure.
SEE INFOGRAPHIC: The four sides to sustainable infrastructure [PDF] External link, opens in new window.
Advantages of sustainable infrastructure
Replacing old urban infrastructure for new modern and sustainable elements will make cities more inhabitable and inclusive. This would require a multi-trillion dollar investment worldwide over the next decade. But if we do things right, it would also see us on the road to economic growth. Here is a summary of the main advantages of sustainable infrastructure:
Reducing our environmental and carbon footprint
Better urban planning with more sustainable infrastructure would relieve the planet of 3.7 gigatons of CO2 per year over the next 15 years, according to The New Climate Economy.
Fostering renewables
Decarbonising the economy and developing a de-centralised and digitised electric grid could mean access to electricity for the billion people who currently go without.
Creating green employment
In the renewables energy sector, we could see a rise from today's 2.3 million green jobs to 20 million by 2030.
Driving green economic growth
Building sustainable infrastructure represents a key pillar in the new economy based on climate and sustainability action.
Evening out inequalities
Present-day infrastructure is not prepared to cover even the most basic needs of emerging countries, such as access to running water, sanitation, transport networks, etc., whereas the sustainable alternative could.
The importance of sustainable urban development
In the future, every city's growth should heed the recommendations of the New Urban Agenda (NUA). This strategic document drawn up by the UN promotes sustainable urban development and defines its parameters, advising cities to undertake their transformation through planning, development, governance and administration based on innovations in design, legislation and economic and urban policies.
Sustainable urban development also encourages the decarbonisation of the economy and a gradual energy transition towards a model based on renewable sources, which should be completed by 2050 if the Paris Agreement is to be met. By that time, sustainable cities will have saved the planet $17 trillion, as projected by the Global Commission on the Economy and Climate of The New Climate Economy (NCE).