SPANISH NATIONAL WOMEN'S HANDBALL TEAM
We are supporting the 'Guerreras', Spain's top women's handball players
The agreement reached between Iberdrola and the Spanish Royal Handball Federation at the end of 2016 makes the company the sponsor of the national women's handball team.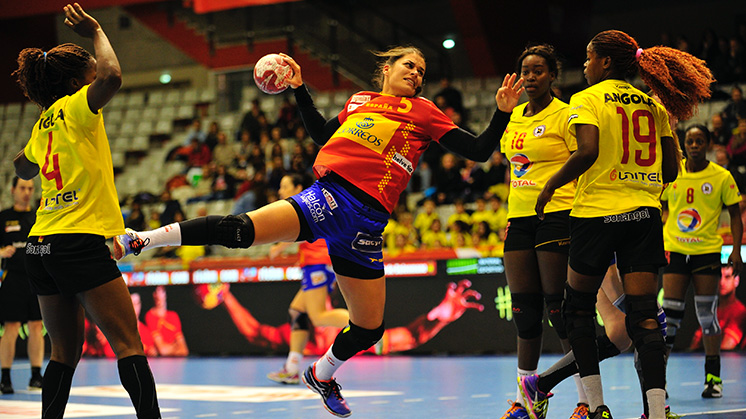 Action from a national team match against Angola.
With almost 35,000 federated players, women's handball is one of the top 10 most popular sports among women. Iberdrola's sponsorship of the Spanish national team consolidates it in the international elite.
'THE GUERRERAS'
The Spanish women's handball team
External link, opens in new window. are nicknamed the Guerreras, or Warriors. Their successes as a team include: European runners-up in Macedonia 2008 and Croatia-Hungary 2014, third place in the 2011 Brazil World Cup, a historical bronze medal in the London 2012 Summer Olympics and runners-up at the 2019 Japan World Cup, which qualifies them for the Tokyo 2020 Olympics.
SPAIN, HOME OF THE 2021 WOMEN'S HANDBALL WORLD CHAMPIONSHIP
The rise of Spanish women's handball and its consolidation in the international elite has encouraged the IHF (International Handball Federation) Council to award the organisation of the 2021 Women's Handball World Championship to the bid presented by the Spanish Royal Handball Federation.
This is the first time that Spain is to organise an international women's event of this nature. The Spanish bid, presented under the slogan #SheLovesHandball, distributes the championship across six official venues: Castellón, Tarragona, Lleida, Granollers, Barcelona and Badalona.
The 25th Women's Handball World Championship will take place from 2 to 19 December 2021. The sports centres chosen to host the tournament are the Barris Nord in Lleida, the Palacio de los Deportes in Tarragona, the Pabellón Ciudad de Castellón in Castellón, the Palacio de los Deportes in Granollers (where the semi-finals and the bronze medal match will be planned) and the Pabellón Olímpico in Badalona, with a capacity for 12,500 spectators, and which will be the stage for the final. All of these venues have a capacity of more than 5,000 spectators.
 
A dream come true for women's handball