FAMOUS FEMALE ATHLETES IN HISTORY
The great women who made history in the world of sport
Sport, originally the exclusive domain of men, has changed throughout history thanks to the milestones reached by women. Some were victims of discrimination, but their fight and their achievements set a precedent and they became an inspiration for many others. Interest in women's sport has grown in recent decades, but there is still much to be done before true equality is reached.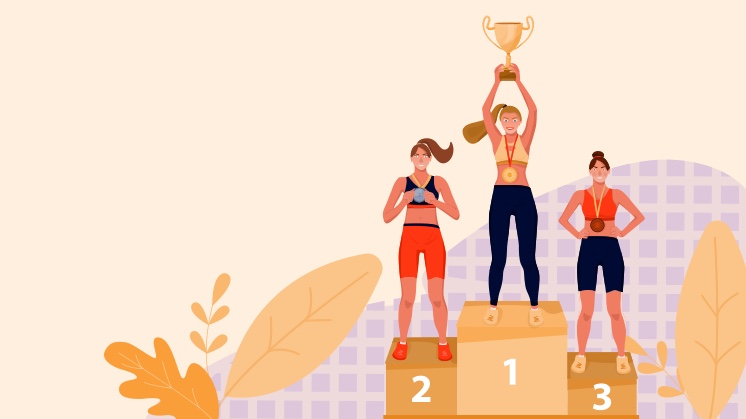 The presence and interest of women in sport have not stopped growing in recent decades.
Competitive sport is centuries old, indeed the Olympic Games started way back in ancient Greece when the physical prowess of the participants was admired. But the popularity of sport as an event for the masses did not happen until the latter half of the 21st century. At that time it was an eminently male environment: from football and rugby to tennis, gymnastics and athletics. Led by a few tenacious pioneers, women little by little broke down the barriers, reaching milestones and eliminating discrimination to achieve something that today is quite normal: a group of girls playing handball, a mother shooting at a basketball hoop alongside her son, or tennis lovers glued to the screen to see Serena Williams winning another final.
Iberdrola's support for women's sport
WOMEN'S IN SPORTS HISTORY
Many women broke moulds to achieve equality or just to be allowed to play a sport. The name of Kathrine Switzer, to give one example, is inscribed in gold lettering in the history of sport precisely for that reason: in 1967 she fought tooth and nail to overcome the prohibition that prevented women from competing in the marathon. She and many others set a precedent just by competing. Others entered the history books for achieving excellence, like Larisa Latýnina with her 18 Olympic medals.
In recent decades, more and more women have been practising sport regularly and also more are doing it at the highest level. The successes at the top are a reflection of work on the ground: more and more young girls are competing at club level — the number of girls grows around 30 % annually, whilst for boys it is 7 % —. This is reflected in the amount of women who reach the elite and become mentors, arousing the interest of others, as shown in the following infographic: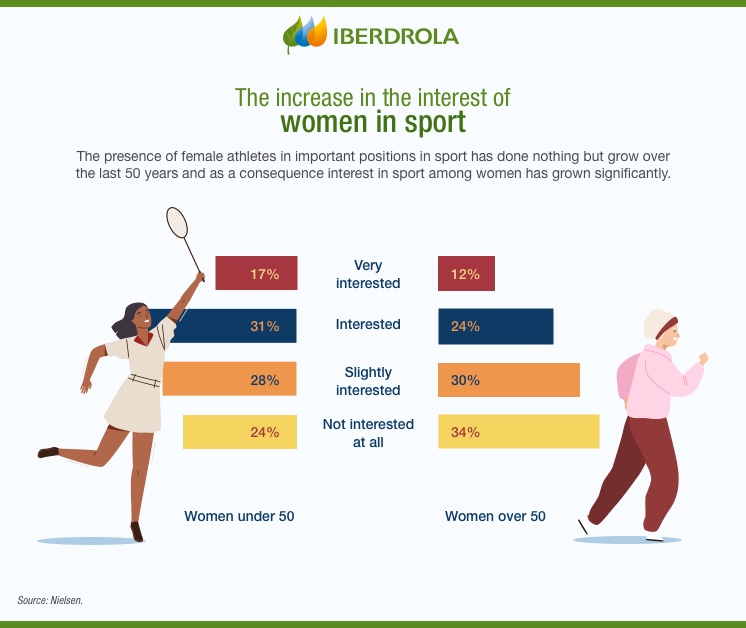 The increase in the interest of women in sport.
SEE INFOGRAPHIC: The increase in the interest of women in sport [PDF] External link, opens in new window.
IMPORTANT WOMEN IN SPORTS HISTORY
We are now going to look at eight sportswomen who made sporting history, and who did it not just through their impeccable careers, but by being pioneers and breaking the glass ceiling, serving as an inspiration and paving the way for other women to follow in their footsteps.
Serena Williams
Serena Williams rose to fame very quickly together with her sister Venus and has stayed at the top of her sport for over two decades. She has won four Olympic golds and a total of 39 Grand Slam titles: 23 of them in singles (an Open Era record for both women and men), 14 in women's doubles (with her sister Venus) and 2 in mixed doubles.
Nadia Comaneci
The name of Nadia Comaneci will always be allied to the word perfection. At the age of 14 and a half at the 1976 Games in Montreal she achieved a score of 10 (the first in history) in her asymmetric bars exercise. Talent, balance, flexibility, concentration, strength and a lot of training made the Romanian gymnast a legend. During her career she won a total of nine Olympic medals and retired from competition in 1981, at only 20 years of age.
Nadia Comaneci
I don't run away from challenges, I run towards them because the only way to escape fear is to overcome it and trample it beneath your feet
Edurne Pasaban
There may be no other woman in sport to devour records like Edurne Pasaban. The girl from Guipúzcoa climbed Mont Blanc at 16, and at 28 had already conquered Everest, her first eight-thousander. But her name was engraved in the mountaineering record book when on 17 May 2010 she reached the summit of Shisha Pangma (8,027 metres above sea level) and became the first woman to complete the feat of climbing the 14 eight-thousanders.
Alice Coachman
The story of women in sport could not be fully understood without someone who is virtually unknown to the general public: Alice Coachman. In 1900, the tennis player Charlotte Cooper became the first female Olympic champion, but 48 years went by before a black woman won a gold medal for the first time. The American won it in the high jump at the 1948 London Games, where she cleared the bar at 1.68 m. Back in her homeland of Albany a tribute was prepared for her, but the auditorium was segregated; the mayor, who was white, refused to shake her hand, and she had to leave the ceremony of which she was the star through a side door.
Alice Coachman
I've always believed that I could do whatever I set my mind to do. I encourage women to work harder and fight harder
Yelena Isinbayeva
Yelena Isinbayeva also has a place in the category of legendary sportswomen. The pole vaulter, two-times Olympic champion and eight times world champion, was named Female Athlete of the Year on three occasions. We could go on listing her accolades, but her superiority for a decade in that discipline went beyond records: she was not just the first woman to clear five metres, but she also broke her own world record on 28 occasions, in the open air and indoors, something that we will probably never see again.
Marta Vieira da Silva
In Brazil, Marta Vieira da Silva is just known as Marta. In the same way as Edson Arantes do Nascimento is simply called Pelé or Ronaldo Luís Nazário de Lima is called Ronaldo. Marta has had a long and successful career: at club level she has won virtually everything and with her team she has scored 111 goals in 131 matches, which are amazing figures. In addition, she is the only footballer to win the FIFA prize for the best female player in the world five times running, to which she added a sixth eight years later.
Marta Vieira da Silva
Believe in yourself and trust yourself. Because if you don't believe in yourself no one else will
Jutta Kleinschmidt
Jutta Kleinschmidt is part of the history of motor racing. This car fanatic joined the world of motoring as a BMW mechanic and started her rally career as a motorbike rider in Dakar in 1988. After moving to four wheels, first as a co-pilot, she won her first stage in 1997; the first woman to do so. In the 2001 Dakar, she achieved the final triumph in the car category, something not achieved by any other woman before or since.
Ellen MacArthur
One of the few disciplines comparable to the Dakar as regards endurance is single-handed sailing. In 2005, Ellen MacArthur decided to go one step further and sail round the world. And not only did she circumnavigate the globe alone, she also did it faster than anyone had done before: 71 days, 14 hours, 18 minutes and 33 seconds (1 day and 8 and a half hours faster than the Frenchman Francis Joyon). After her retirement she dedicated herself to protecting the oceans through the MacArthur Foundation.
Ellen MacArthur
You don't fear for your life in the middle of a storm, you can't really afford to