'Future Is In You': creating role models for women in sport
Effort, dedication, confidence, perseverance. Our sportswomen compete both in and away from sports to gain visibility and equality and are an example to be followed by thousands of young girls. This is why Iberdrola has launched the initiative Future Is in You, in which the ambassadors of the Women's Universe program, which is sponsored by the National Sports Council and promoted by Iberdrola, share a one-day training session with a younger sportswoman from that discipline. Will you join us?
Women's Universe ambassadors are training with a young sportswoman.
Throughout the day, the girls learn useful techniques for their discipline, are given tips and discover the path that they must follow to get to the top in the world of sport. And they are helped by the elite sportswomen they most admire, who inspire them every day to face up to all the hard work.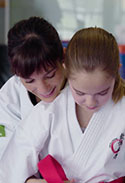 Sandra Sánchez and Noa Mateos
Noa Mateos is just a child, but she is highly focused: "Karate is my destiny." She dreams of being a professional athlete and, to get there, she plans to follow in the footsteps of her idol: Sandra Sánchez.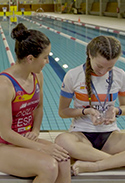 Miriam Casillas and Carmen Tamames
Triathlete Miriam Casillas participated in the Rio Games and has qualified for Tokyo. At the age of 12, Carmen Tamames also dreams of travelling the world competing in this sport.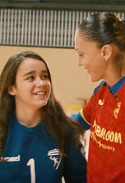 Silvia Navarro and Alba López
Silvia Navarro has made a living playing handball since she was 16 years old. Alba López has been playing since she was seven. They are both goalies. But Silvia has managed to make handball her profession, something to which Alba aspires.
EMPOWERING WOMEN THROUGH SPORT
Iberdrola is the main sponsor of women's sports, supporting 16 sports federations (gymnastics, triathlon, rugby, canoeing, badminton, soccer, handball, volleyball, hockey, table tennis, athletics, karate, boxing, surfing, ice sports and fencing). These sports were chosen for their extraordinary achievements, the high level of participation and the existence of programmes promoting grass-roots sports.
Thanks to its partnership with the National Sports Council (Consejo Superior de Deportes - CSD), through its Women's Universe program, in July 2016 Iberdrola became the first company to make a comprehensive commitment to promoting the participation of women in sports as a way to bring about equal opportunities, a commitment that forms part of the group's values and is in line with United Nations Sustainable Development Goal number 5. By promoting women's sports, Iberdrola is empowering women, helping to create new role models for society and encouraging healthy habits from an early age.
Today, the company lends its name to 22 top-tier national sports leagues and another 35 competitions. The program has also helped the number of women registered in these 16 disciplines to grow by 39 %, to 334,322 in 2019.