Green corridors, how to take care of the environment in cities?
Cities are increasingly committed to sustainability, and urban green corridors play an important role in this process. Briefly, this refers to a strip with a significant presence of vegetation that links outstanding natural areas of the city. In addition, they bring numerous advantages: increasing and protecting biodiversity, mitigating the heat island effect, reducing air and noise pollution, etc.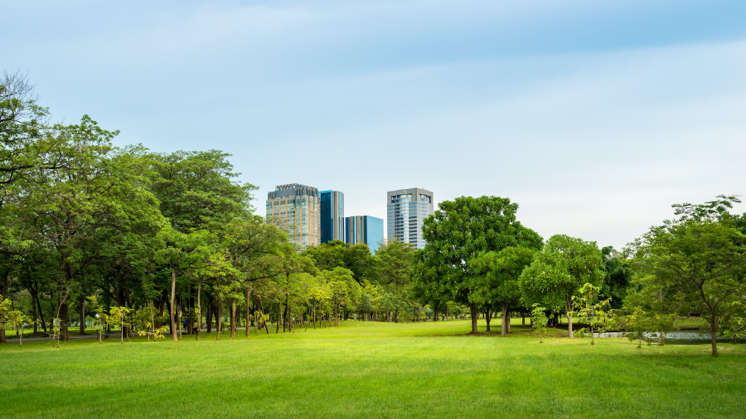 Green corridors have proven useful in reducing air pollution in cities.
According to UN data, 55 % of the world's population now lives in cities. In three decades, by 2050, this percentage will be 68 %, that is, around 6.6 billion people will live in urban environments, many of them megacities, with a consequent increase in air pollution, one of the main causes of climate change.
Given such evidence, making cities increasingly more efficient, but also more liveable and sustainable, is key for the planet. It is no coincidence that the development sustainable cities is one of the Sustainable Development Goals promoted by the UN, specifically SDG 11. In this context, green corridors — also called ecological corridors —, along with other sustainable infrastructure, have much to contribute.
What is a green corridor and what is it for
According to Jack Ahern, one of the pioneers of the international green corridor movement, they are planned or unplanned linear landscape elements that allow multiple ecological, social, cultural and other uses compatible with sustainable land use. Ahern's work raises the possibility that components of the natural landscape, such as natural watercourses or disused railway tracks, among others, could be transformed into corridors through restoration or construction processes.
Whatever the starting point, the objective of a green corridor is always to link important natural areas in a city by means of a strip or corridor characterised by rich vegetation. In this way, a kind of skeleton is created, capable of creating greener and healthier cities. Within this framework, recreational areas, cultural spaces, sports facilities and urban gardens can be developed.
Characteristics of a green corridor
When developing a green corridor it is essential to take into account factors such as the availability of space, the characteristics of the urban environment itself and even accessibility for people. Although there are probably no two in the world alike, most of them have similar characteristics:
They are multipurpose and multifunctional, that is to say, environmental, sports, cultural, recreational, aesthetic, etc. uses can be combined in the same space.
They are oriented towards sustainable development, while both protecting biodiversity and promoting socio-economic aspects.
Given their linear configuration, they favour movement, flow and exchange, in addition to connecting landscape elements of different scales.
They represent a different spatial strategy, aligned with the New Urban Agenda proposed by the UN as long agoa as 2016.
SEE INFOGRAPHIC: A smart green corridor [PDF] External link, opens in new window.
Benefits of green corridors
If we focus on the environment, their most important benefits include:
Increased

biodiversity

by having more green areas in the urban environment.
Promotion of

non-polluting mobility:

bicycles or scooters, for example.
Reduced

air pollution

and noise pollution in the city.
Helping prevent

heat islands

from forming, effectively lowering the temperature.
Contributing to a better

storm water

management, i.e. rainwater.
One of the most important aspects of green corridors is that, in addition to the environmental benefits already mentioned, they also generate social, cultural and economic benefits. For example: they improve people's quality of life by promoting physical activity and mental relaxation, they boost the cultural scene with open-air auditoriums or buildings dedicated to exhibitions and, in many cases, they are a tourist attraction that has a positive impact on the city's economy.
Examples of green corridors
Below, we travel the world to visit some of the most innovative green corridors:
Manhattan Waterfront Greenway (New York)
It is a 51.4-kilometre-long corridor around the island of Manhattan. Filled with flowers, trees, shrubs, walking paths and bicycle lanes, according to the city's mayor, Bill de Blasio, it has greatly improved the quality of life for New Yorkers. It currently has three distinct parts: Hudson River, East River and Harlem River.
Cuernavaca Railway Linear Park (Mexico City)
This corridor combines practical and aesthetic aspects along 4.5 kilometres of a disused historic railway line. It occupies more than 17,000 m2 and contributes, according to city authorities, to promoting the essential balance between economic and social development, and between heritage preservation and transformational potential, in addition to promoting sustainability.
Manhattan Waterfront Greenway (New York).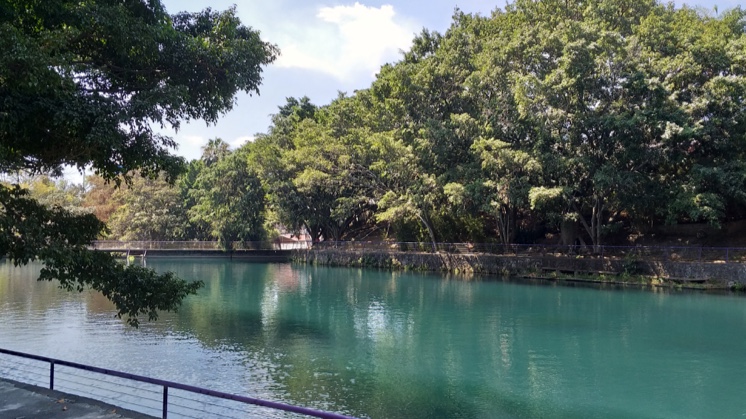 Cuernavaca Railway Linear Park (Mexico City).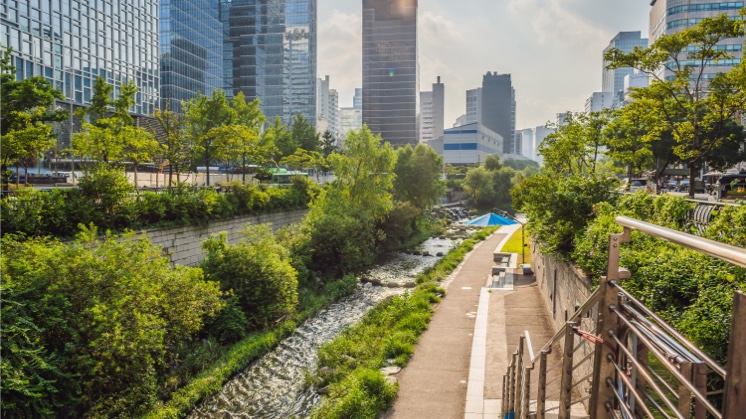 Madrid Río (Madrid)
It is a long corridor as a result of the underground routing of the M-30 (ring road) as it passes through the area of the Manzanares River. It stretches for several kilometres, from El Pardo to Getafe, and by the end of its construction in 2011, 33,623 trees had been planted. In addition, it served to add a lung like the Casa de Campo to the city centre and improve the biodiversity of the area.
Cheonggyecheon (Seoul)
A motorway overpass above a water canal in one of the most central areas of the South Korean capital was demolished because of the enormous amount of emissions and noise it generated. In its place, a huge linear park covering more than 400 hectares was built, which, among other benefits, managed to lower the average temperature in the area by 3.6 ºC.