We have made environmental, social and governance (ESG) factors intrinsic to our socially responsible management
#corporate social responsibility #social action
Iberdrola carries out its activities in order to create sustainable value for all Stakeholders: we call it our social dividend. That's why we include in our strategy the three internationally accepted areas for measuring impact and sustainability in investments: environmental, social and governance (ESG) factors, as a substantial contribution to sustainable development.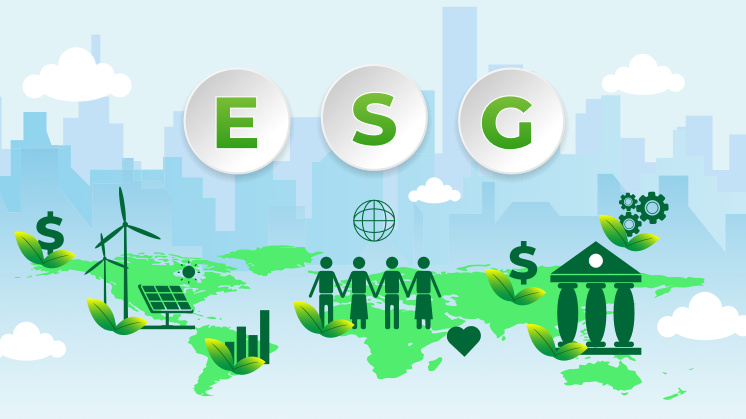 Iberdrola makes ESG factors part of its strategy to contribute to sustainable development.
For the last two decades, ESG factors have been an integral part of the Iberdrola strategy, to the extent that it has now become an established leader in ESG + F, supporting environmental, social and governance aspects over financial strength.
Its pioneering commitment to renewable energies and grids has enabled it to anticipate the current energy transition and to be a pioneer in climate action. The group has set itself the target of achieving carbon neutrality in Europe in 2030 and globally by 2050. To achieve this, it has amended its By-Laws to make the Board of Directors responsible for approving, overseeing and regularly reporting on a climate action plan for achieving those targets. Te company is also sponsoring the planting of 20 million trees by 2030 to protect and restore biodiversity and ecosystems.
Iberdrola is a driving force for social transformation and has committed to recruit 20,000 new employees in the 2020-2025 period to help to support 500,000 jobs around the world. It also intends to maintain and even increase the number of training hours per employee, currently more than 50 per year, four times the European average. In 2025, its investments in R&D reached 400 million euros per annum and it has tripled its cybersecurity efforts.
The company has also redesigned its corporate governance and sustainability system around ESG criteria, establishing its position at the forefront of best international corporate governance practices. The group also encourages sustainability in the supply chain, incentivising its suppliers to adopt the best policies and practices in matters of sustainable management.
HOW DOES IBERDROLA APPLY ESG CRITERIA?
The real and effective implementation of the sustainable development strategy is intended to be — combined with the Governance and Sustainability System — a key factor that enables Iberdrola to stand out from its competitors, sharing its achievements with its Stakeholders. This commitment to sustainable development materialises in its commitment to ESG factors, which are part of the company's daily operations and which are put into practice in the following areas:
Environmental
This focuses on Iberdrola's fight against climate change and the protection of biodiversity. The company has made some outstanding achievements in terms of reducing greenhouse gas emissions (GGE) — allowing it to lead the energy transition for more than 20 years — and in the conservation and promotion of biodiversity in ecosystems. The group is also committed to innovation, sustainable mobility and the efficient use of water.
Social
Iberdrola puts people at the centre of its strategy. The company helps to improve quality of life, assists vulnerable people, creates jobs and invests in ensuring universal access to energy, which generates a sustainable social and inclusive dividend. Its commitment to diversity, employee training, assistance for vulnerable groups and respect for human rights strengthens its links with society.
Corporate governance
The Governance and Sustainability System of Iberdrola, which has been one of the most advanced companies in this area for years, encompasses shareholders' rights, the structure of governing bodies, corporate polities, the Compliance System, climate governance, cybersecurity, and fostering sustainably social practices in the supply chain.
'ENERGY TO THRIVE', THE IBERDROLA ROADMAP TO ESG
The group has put a set of projects, activities and ESG matters in motion, which are contained in its Energy to Thrive plan through which it will implement more than 350 measures. With this plan, Iberdrola will reinforce its leadership in the energy transition, promoting innovation and helping to create new quality employment, improving the quality of life throughout the population. The group will also continue to apply best practice in its governance, whilst encouraging a sustainable financial market.
External link, opens in new window.The objectives of the Energy to Thrive plan cover all ESG aspects and demonstrate a sustainable and positive contribution to the Sustainable Development Goals (SDG) of the United Nations Agenda 2030, particularly SDG 13 (climate action) and SDG 7 (affordable and clean energy), which represent important business opportunities due to the growing electrification of the economy.
Focused on numerous, wide-ranging lines of work, its more than 350 measures are organised around seven priority themes, summarised in around thirty measurable objectives in accordance with international sustainability standards and ESG criteria: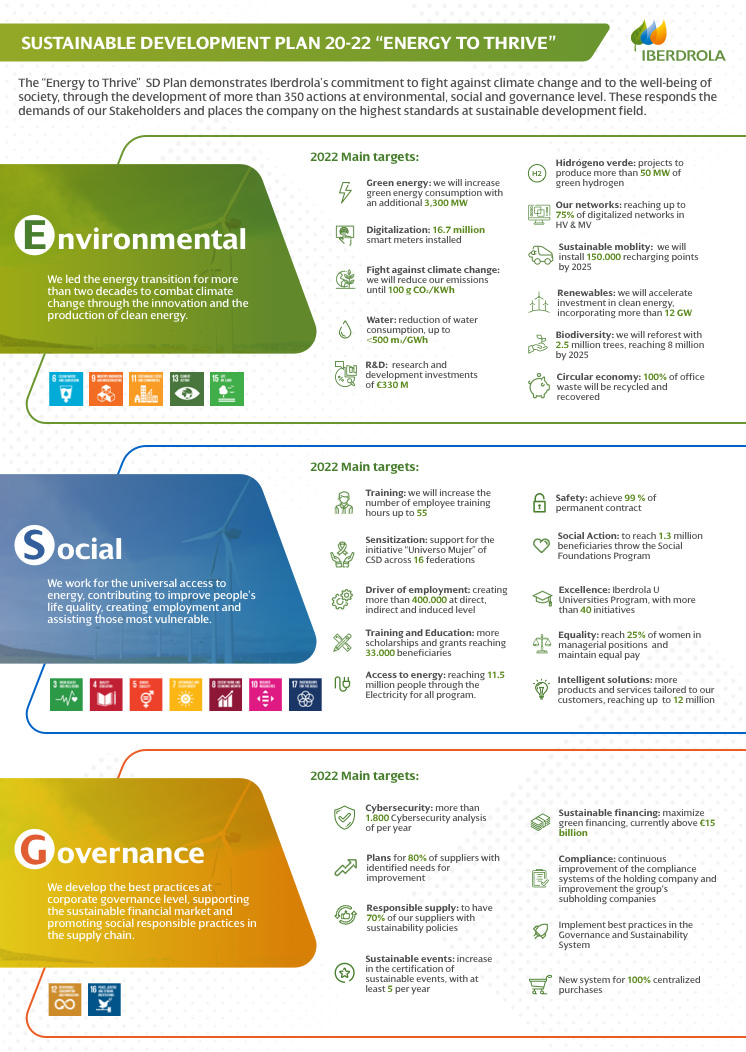 Sustainable Development Plan 2020-2022 'Energy to Thrive'.
SEE INFOGRAPHIC: Sustainable Development Plan 2020-2022 'Energy to Thrive' [PDF] External link, opens in new window.
Additionally, Iberdrola makes an enormous contribution to the development of the communities in which it operates, in the areas of biodiversity, innovation, training, transparency, solidarity, human rights, education, art, culture, etc. The Energy to Thrive plan meets the need to address all these challenges and the demand of society.
All the initiatives featured in this Sustainable Development Plan 2020-2022 are integrated into the group's businesses and corporate areas and position the company at the forefront of a new ESG management paradigm, according to which companies assume a more active role in the construction of a more equitable world.
WE DRIVE ESG CRITERA AMONG OUR SUPPLIERS
Iberdrola has decided to extend these ESG criteria to its more than 22,000 suppliers worldwide, from which it makes purchases worth 20 billion euros every year. At the close of the Nine months 2021, 70 % of its suppliers already meet the ESG criteria and the group has set itself the goal of expanding this figure to at least 75 % by 2025.
To achieve this, it has created a model validated by a third party and has launched a digital platform — developed by the Spanish scale-up GoSupply — in which suppliers can self-evaluate their performance in terms of sustainable development, based on parameters such as having a human rights policy, a code of conduct, health and safety standards (SDG 3) and a global environmental sustainability strategy that includes plans related to (SDG 6), energy (SDG 7) and biodiversity (SDG 14 and SDG 15). Those obtaining a low score get support from Iberdrola to detect areas for improvement and the possibility to implement an individualised action plan with policies, commitments and specific actions.
MEMBERS OF THE SPANISH BUSINESS COUNCIL FOR SUSTAINABLE DEVELOPMENT
Iberdrola's commitment to the ESG principles has led to it joining the Spanish Business Council for Sustainable Development

External link, opens in new window., representing Spain on the World Business Council for Sustainable Development (WBCSD). The body, which is made up of 25 large companies, is intended to be a meeting place where senior executives from companies generate a consensual strategic response to ramp up ambitions and strengthen action in light of significant ESG challenges.
At the inaugural session in February 2021, the Council issued a joint declaration setting out the commitments assumed by members with regard to the climate emergency, good corporate governance and social inequality, to inspire and accelerate business action for sustainable development. In the declaration, the signatory companies propose:
Setting themselves the target of achieving zero net greenhouse gas emissions (GGE) within this decade, if possible, and at the latest by 2050, and that they should have a science-based plan that aims to achieve this.
Establishing ambitious long and short term environmental goals that will help to restore nature and biodiversity by 2050.
Including support for the UN Guiding Principles on Business and Human Rights, by implementing a policy that respects human rights and a due diligence process.
Advocating for inclusion, equality, diversity and eliminating discrimination in all its forms.
Holding themselves to the highest standards of corporate governance and transparency by disseminating information relating to sustainability [PDF] External link, opens in new window., and aligning their business risk management with environmental, social and governance risks.
In April, the Council presented this statement to King Felipe VI, who received its members in audience.