'Future is in you': Training with Silvia Navarro
"You have to look at yourself in the mirror and tell yourself you can do it"
Sport Women Gender equality Interviews
Silvia Navarro has made a living playing handball since she was 16 years old. Alba López has been playing since she was seven. They are both goalies. But Silvia has managed to make handball her profession, something to which Alba aspires. Pushing your limits, willpower, concentration, effort and teamwork are the keys.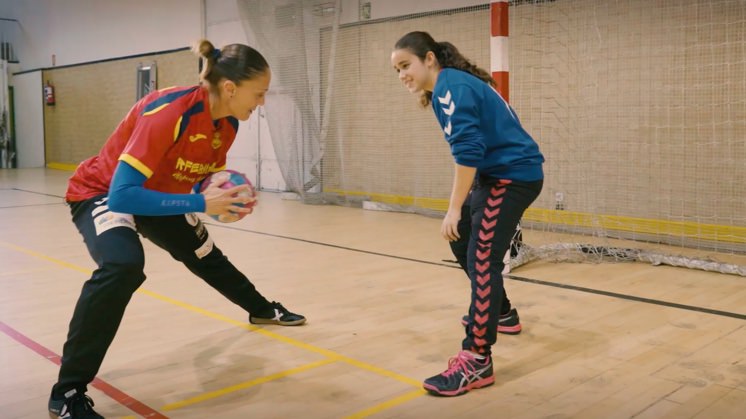 Silvia Navarro and Alba López during the training day with 'Future Is In You'.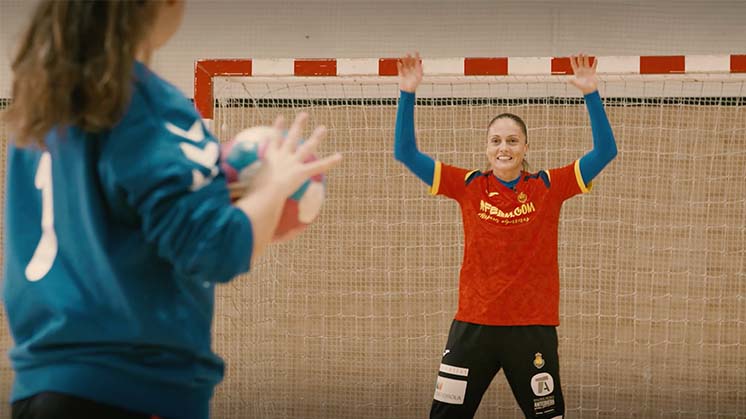 Silvia Navarro and Alba López during the training day with 'Future Is In You'.
Silvia Navarro and Alba López during the training day with 'Future Is In You'.
Iberdrola got the pair together so that the youngster could learn all the tricks from a professional, the current goalkeeper with the Rocasa Gran Canaria ACE in the División de Honor and an international with the senior Spanish team. A busy day, organised as part of the Future Is In You initiative during which Silvia and Alba trained together and shared their dreams and experiences. Would you like to meet them?
A passion and a dream since childhood
Silvia Navarro started playing professional handball when she was just 16 years old. "I've played football, tennis, basketball, but one day handball came into my life and I loved it right from the start." She made her debut in the Spanish team in October 1988 when she was just 19 years old, and since then she has won four medals: a bronze in the World Championship in Brazil (2011) and at the Olympic Games in London (2012), a silver at the Europeans in Hungary and Croatia (2014) and at the World Championships in Japan (2019).
"What I find most exciting is that I been able to make a living doing this since I was very young," says Silvia, "like Alba."
Alba López has been playing handball for seven years, two as a goalkeeper. Like Silvia, she was done other sports — football, in this case —, but since she found handball she has not strayed: "I prefer handball to football," she says.
She decided to be a goalkeeper because she believes that "you can contribute a lot to your team by stopping goals as well as playing and scoring them." Silvia understands and shares her passion: "You don't want to come out of there, do you?," jokes the veteran.
Pushing your limits, an essential value
Silvia stresses the importance of values like pushing your limits, willpower, concentration, hard work and teamwork to reach the highest echelons of professional sport. That's why she advises Alba to work hard and have faith in herself: "You have to look in the mirror and tell yourself you can do it."
The international player talks about everything that sport in general and handball in particular have given her. "My best friends are involved in handball". And she stresses the importance of sport in progressing towards gender equality: "It doesn't matter whether you're a girl or a boy, you want the same or even more." In her opinion, "women's sport is where it is today thanks to the visibility we get from companies like Iberdrola."
"Silvia has taught me plenty because she has tons of tricks and she knows a whole lot. It has been a great experience to meet her," explains the girl. "One of my goals is to become like one of my idols. I've got a lot of work to do, but I'll get there in the end."
Silvia has no doubt about it: "I am sure you're going to be a great player, I'm certain."
'Future is in you': Creating role models for women in sport
Future Is In You is an Iberdrola initiative that enables young female athletes to share a training day with one of their idols. This enables the company to reinforce its objective of creating female role models in society and empowering women through sport, as well as encouraging healthy habits from an early age.
Iberdrola is the main sponsor of women's sport in Spain. Through the Women's Universe program from the National Sports Council (CSD), the company supports 16 sport's federations (gymnastics, triathlon, rugby, canoeing, badminton, football, hockey, volleyball, table tennis, athletics, karate, boxing, surfing, ice sports and fencing) and lends its name to 22 leagues — all at the top level — and over 35 other competitions.