Interview with Hyperion and Sensohive
Meet the winners of the Startup Challenge for the optimisation of electricity transport facilities
The companies Hyperion and Sensohive were chosen as winners of the Transmission Construction Automation Startup Challenge, with which Iberdrola sought solutions to optimise the construction of electricity transport facilities, improving the efficiency and productivity of the different processes. In order to learn a little more about them, while delving deeper into their projects and finding out what their challenges and aspirations are, we spoke to the people in charge.
Innovation, entrepreneurship, efficiency, environmental commitment and state-of-the-art technology. These are just some of the terms that describe the winners of this challenge promoted by Iberdrola. The energy group, which believes that collaboration is key to making this planet a safer and more sustainable place, selected Hyperion

and Sensohive

due to their innovative proposals. Their projects exemplify the path that Iberdrola wants to follow in order to, among other things, find innovative solutions to improve its operations and minimise its environmental impact.
Henry Unterreiner, co-founder of Hyperion
We are very aligned with Iberdrola's approach to sustainability
Henry Unterreiner, co-founder of Hyperion, and Thomas Juhl, partner at Sensohive, explain their projects in detail, the reasons behind their actions, as well as their own challenges and aspirations.
HYPERION: SUSTAINABILITY AND ENVIRONMENTAL COMMITMENT
Unterreiner describes the Finnish company's raison d'être thus: "We have developed a 3D printed reinforced concrete solution for the construction industry." On this basis, they proposed to apply their technology to the construction of Iberdrola's transport grid for the Startup Challenge, with the aim of optimising the construction of "the energy infrastructure of the future."
Hyperion's 3D printed reinforced concrete solution is "faster, cheaper and more sustainable than traditional concrete construction methods." For Unterreiner, Hyperion's mission is "to make concrete more sustainable." How? Here are the details:
Reducing the use of cement thanks to its "recycled 3D printing mix."
Optimising the structures they print to "use only 50 % of the material that is usually needed."
Eliminating the need for formwork, which "involves a large volume of waste."
In short, the co-founder of the Finnish company says Hyperion wants to be "the agent of change towards a more automated and sustainable construction industry." Unterreiner underlines the commitment to the planet through business collaboration: "We are grateful for this unique opportunity to bring automation to the construction of future energy infrastructure which is greener."
3D printing of reinforced concrete.
SENSOHIVE: PRODUCTIVITY AND EFFICIENCY
Sensohive partner Thomas Juhl focuses on the company's goal of "making it easier for companies to collect, analyse and use data and its documentation in a simple but efficient way," always through "the automation of transmission and construction."
What does this mean exactly? As Juhl explains, the Danish company, through the Maturix

External link, opens in new window. solution, "measures, controls and therefore optimises all assets involving concrete." This allows the average process time to be reduced by 30 to 50 %.
Maturix: concrete monitoring in real time
It's inconceivable to think what Sensohive means without talking about Maturix, a real-time concrete monitoring solution. How does it work? Juhl tells us that Sensohive uses "an IoT network for long-range wireless data transmission. The Maturix transmitter sends the data continuously through antennas or gateways to the cloud, which allows data to be accessed from anywhere, without the need to be close to the sensor for data collection."
In general, what they do is combine combine "IoT technology for real-time wireless data, easy-to-use software, durable and reusable hardware and low-cost industry-standard probes." Juhl summarises it by outlining the main advantages of using this solution:
Real-time data.
Access from anywhere with low monitoring costs.
Live measurements of the concrete curing process with data on temperature, maturity and strength development.
Discover how Maturix works.
WHY WITH IBERDROLA?
Like many of the good things that happen in life, not everything happens by chance. When Hyperion learned of the great opportunity offered by this competition, they saw that their technology was a good fit for the project, as well as being "very aligned with Iberdrola's approach to sustainability," as Unterreiner states, as they share "the same vision of making the construction industry less damaging to the environment."
Unterreiner says that, for the Finnish company, the Iberdrola Startup Challenges are key events for startups like his "to get in touch with large innovative companies." These opportunities act as catalysts to bring their "solution to large-scale applications."
Thomas Juhl, partner of Sensohive
We believed that, if we won the competition, we could have a big impact
Juhl says that Sensohive believed that, if they won the challenge, they could have a big impact and "achieve greater efficiency and productivity." He says they were convinced that "Maturix was a very good fit" with Iberdrola's proposal. In addition, it is not the first time that they have been involved in "a close cooperation" with a large company, whatever the sector, with "great success for all parties."
BUSINESS AND TECHNOLOGICAL ORIGIN
Hyperion was founded in Finland in 2019, according to Unterreiner, as a "response to the challenge of making the construction industry more efficient and sustainable." ." Indeed, with the increasing pressure on infrastructure in this sector, there is a demand to build better with fewer resources and, as a team of experts in the construction industry, they want to "be part of the solution."
The Finnish company is made up of a multidisciplinary team of passionate makers and handymen from four different continents with nine different nationalities. Each of them has "experience in the construction industry and brings their own skills to the team: business, architecture, automation, mechanical engineering and structural design," which has allowed them to "create a solution to make concrete more efficient and sustainable."
Unterreiner notes that it has taken "many iterations to develop their current technology" and that they are currently striving to "continuously improve and innovate" for future projects and technologies they are developing.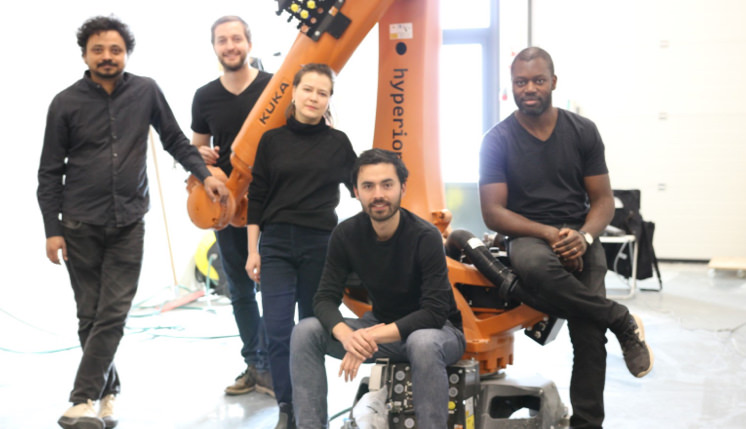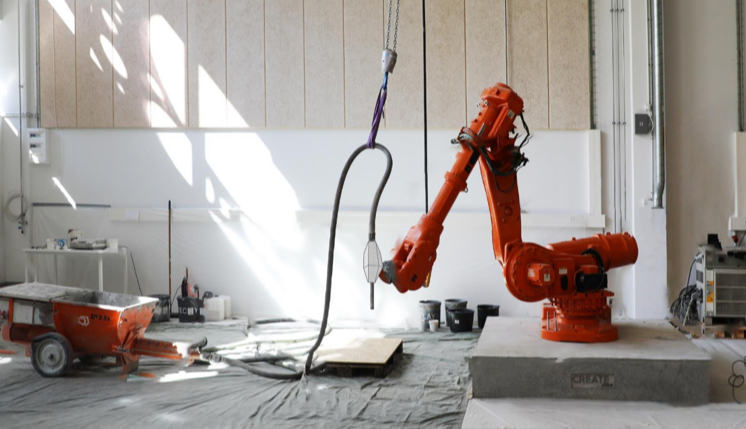 Hyperion 3D printing system.
Sensohive was founded in 2014. Casper Harlev, Tobias Ejersbo and Tim Larsen, who are still with the company, started out with an interest in wireless technology. In fact, the first series with temperature and humidity sensors is still used in greenhouses and in cold chain control for supermarkets and restaurants in the Nordic countries.
At Sensohive, they have grown from a small founding team of three engineers to a "team of 15 people, with more plans to hire this year." Juhl tells us that they are a "great combination from various fields and with different backgrounds, levels of experience and nationalities." But they are all pursuing the mission of "increasing efficiency with wireless solutions" and aiming for "big projects."
Although they have pivoted quite a bit in the industry, Juhl says they continue to be driven by "innovation and the goal of simplifying the collection, analysis, documentation and use of real-time data in ways that are valuable to B2B."
After developing sensors for other markets, they identified "one sector where innovation and digitalisation are still insufficient construction." Together with Danish construction companies, they developed the aforementioned Maturix and learned "how temperature monitoring within a concrete structure allows the maturity and strength of the concrete to be calculated."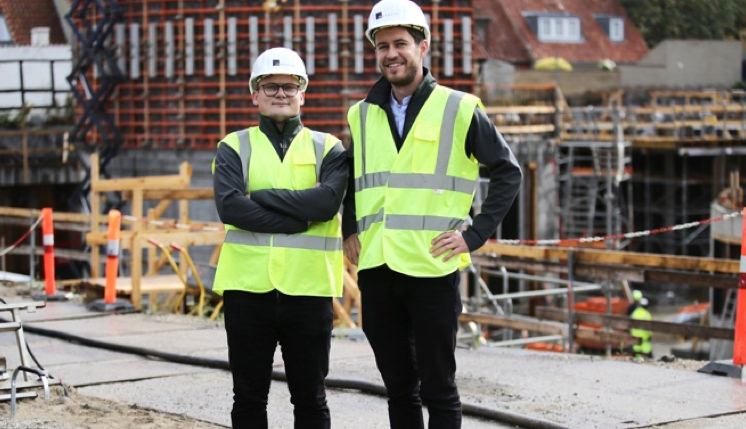 Casper Harlev and Tobias Ejersbo, two of the founders of Sensohive.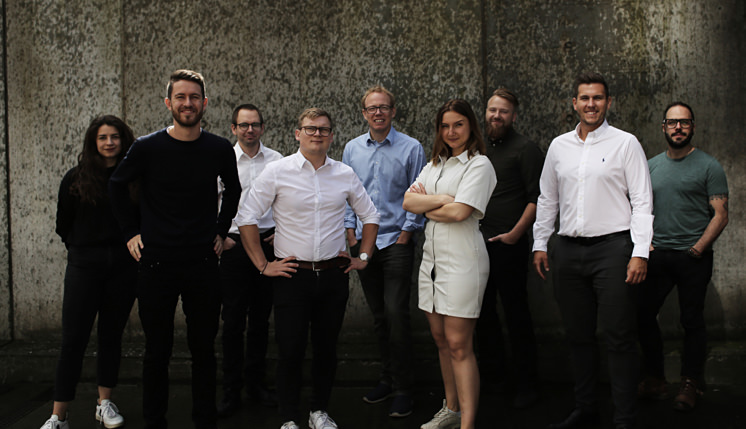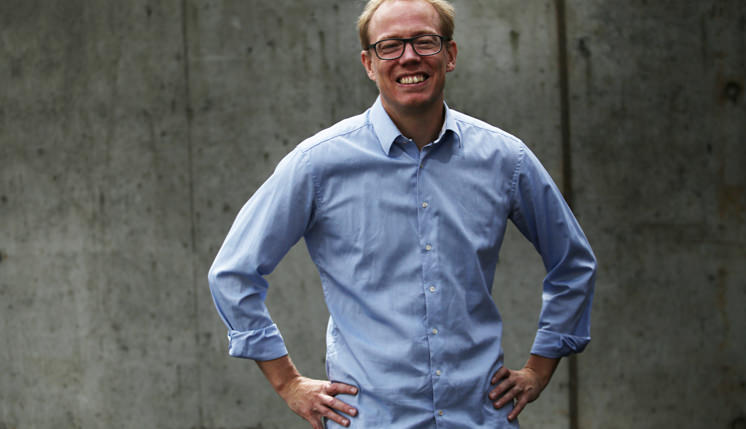 Thomas Juhl, partner at Sensohive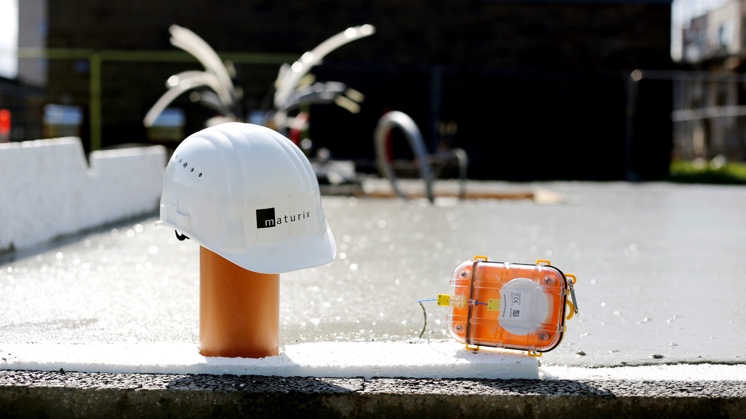 Maturix, a real-time concrete monitoring solution.
UPCOMING CHALLENGES AND FUTURE PROJECTS
To address the global warming challenge we face, Unterreiner believes it will take more than reducing the use of concrete through optimised 3D printed geometries. They must also "adopt the principles of the circular economy", which is reflected in their mix of recycled 3D concrete.
Together with its materials industry partner, Unterreiner explains that Hyperion is "constantly exploring the potential use of recycled by-products from other industries (fly ash, GGBS, etc.) and, in collaboration with Iberdrola hopes to "also explore the potential of incorporating carbon fibre from decommissioned wind turbine blades" to reinforce its 3D prints.
Juhl believes that, in recent years, "there has been a great demand for data collection, documentation and optimisation." Moreover, although "innovation and digitalisation in the construction sector are still in their infancy, the market has enormous potential."
The Sensohive partner tells us that they are currently working on expanding their product portfolio with a "new series of transmitters and other concrete monitoring solutions." They have "very interesting" projects planned and are "working hard to increase efficiency in the works."