'FUTURE IS IN YOU': TRAINING WITH SANDRA SÁNCHEZ
"She is an example of hard work and perseverance"
Women Gender equality Sport Interviews
Noa Mateos is just a child, but she is highly focused: "Karate is my destiny." She dreams of being a professional athlete and, to get there, she plans to follow in the footsteps of her idol: Sandra Sánchez. The karateka, who struggled to make her way in the elite sports world, is this youngster's role model when it comes to hard work and perseverance. These values have made her the best karateka in the history of kata.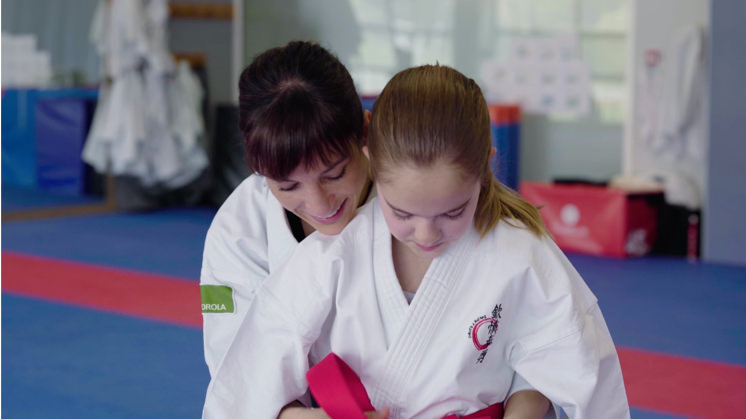 Sandra and Noa shared experiences, dreams, tricks and tips.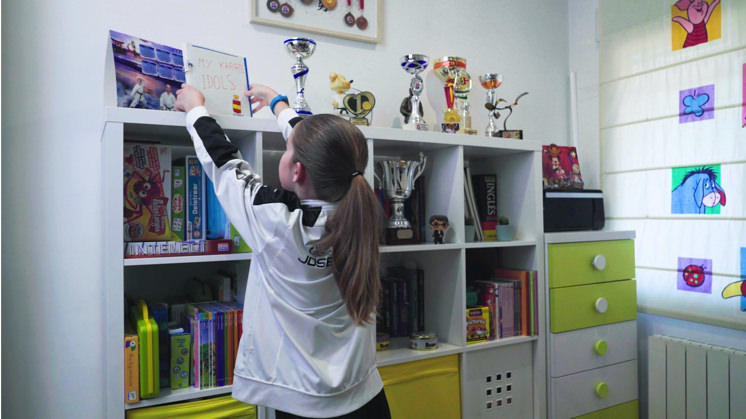 Noa Mateos has been doing karate since she was four years old and wants to follow in the footsteps of her idol: Sandra Sánchez.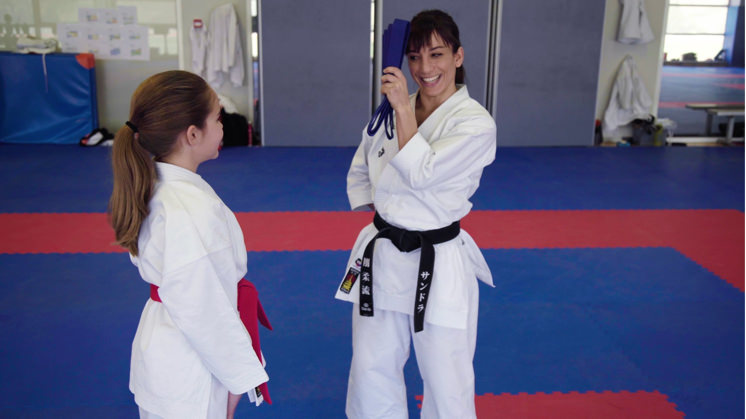 At the end of the day's training, Sandra gave Noa a signed belt.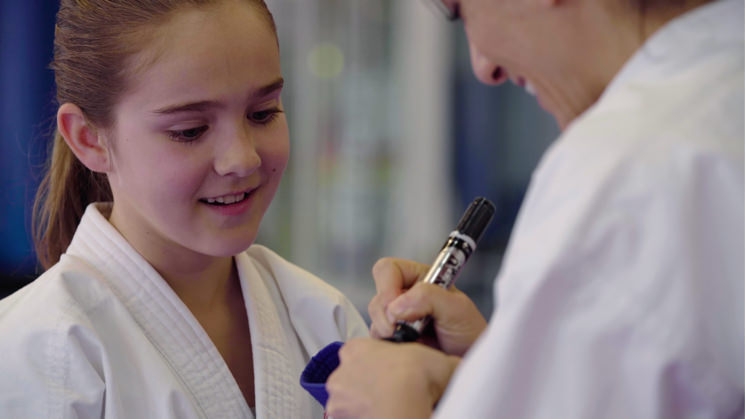 At the end of the day's training, Sandra gave Noa a signed belt.
Iberdrola, through its Future Is In You initiative, gave Noa the opportunity to meet Sandra. The veteran shared a day of training with the newcomer and gave her some tips and tricks to improve her katas. She also passed on all her excitement and passion for karate, a sport that is not only her way of life but what has made her who she is today.
A STORY OF PERSISTENCE AND DETERMINATION
Sandra Sánchez started doing karate when she was four years old. Her parents decided that her brother should do karate while she would do ballet, but Sandra insisted until they signed up both the children. When she was 18, another great opportunity came her way: she was accepted at the High Performance Centre just after kata had been included in the institution. But it didn't last long: just a month later, her mother was diagnosed with cancer and Sandra returned home to be with her.
Because of this, the karateka was excluded from the official route for budding elite athletes, which excluded her from the Spanish Karate Federation. However, she continued to train and compete, and soon was signed up by a team in Dubai. It was with them and her trainer, Jesús del Moral, that she took first place in the World Karate League in 2015 — making history as the first Spanish karateka to do so in kata — and won her first two European championships (2015 and 2016).
With this success under her belt, the Spanish team looked at her again and Sandra returned to the coveted High Performance Centre in Madrid. She then went on to win her first world title in 2018 and, that same year, she was recognised by the World Karate Federation as the best karateka of all time in the women's kata category, after being leader of the ranking for three consecutive years. She also won another three European titles (2017, 2018 and 2019). "I remember, I don't know whether with affection or nerves, the first European Championship [with the Spanish team], because it took me years to be selected for the national team," said Sandra, who could almost not believe this first victory with her native country.
Without a doubt, this story of hard work and determination has earned her the admiration of Noa and many other young girls who want to be like her. "They respect me and appreciate the work I have done. This makes you happy; you know that you're reaching these people," explained the veteran, who is still surprised at the excitement with which they approach her and follow her successes.
THE WILL TO LEARN AND A LOT OF EXCITEMENT
Noa Mateos gets up early to train. She wants to be a professional karateka. "It's my destiny," she says, with conviction. She has been doing this sport since the age of four and, despite her tender age, she is not afraid of competitions. "I just focus on myself and on what I can do."
She met Sandra Sánchez at a training session that she attended with her father. "I was only five years old, and I said: Who is that, daddy? And he said: It's Sandra Sánchez. She's a very good girl, you'll see." Since then, Sandra has been her inspiration, because she sees her as an "example of hard work and perseverance."
According to Noa, training with Sandra has been "a privilege, a unique opportunity in my life." And she wanted to use the occasion to ask the veteran about the secret to her success. "Above all, loads and loads and loads of enthusiasm," answered the karateka. "I always want to go on learning. But if you really work and train every day to achieve it, I'm sure you'll get there some day."
And for good luck, Sandra gave her a special gift: a signed blue belt — the next belt that Noa will go for. "I hope it'll give you lots of energy, lots of strength and motivation for your exam. Because, remember: you can do anything you set out to do." "I hope to be like her someday," said Noa.
NEW GENERATIONS ARE FORCING AHEAD
The veteran praised the self-confidence of future generations of female athletes: "You hear Noa speak and you think: how things have changed. You can see they're ready to conquer the world, to fight for what they want, and not let anyone set limits on what they can do." When Sandra started doing karate, there were only a few women doing it, but now more and more are winning on the tatamis. In fact, approximately 50 % of the members of the karate club where Noa trains are women.
Sandra thanked Iberdrola for its role in supporting women's sport: "It helps to create role models, like mirrors they can see themselves in." "People should know that it isn't only men who do karate, women do too, and there are some very good women," said Noa, who believes that sport can help to sweep away gender stereotypes.
'FUTURE IS IN YOU': CREATING ROLE MODELS FOR WOMEN IN SPORT
Future Is In You is an initiative by Iberdrola that allows young sportswomen to spend a day training with one of their idols. In this way, the company reinforces its goal of creating female role models in society and promoting the empowerment of women through sport, as well as encouraging healthy habits from an early age.
Iberdrola is the main driver of women's sport in Spain. Through the Women's Universe program from the National Sports Council, the company supports 16 sports federations (gymnastics, triathlon, rugby, canoeing, badminton, football, hockey, volleyball, table tennis, athletics, karate, boxing, surfing, ice sports and fencing), lending its name to 22 leagues, all at the top level, and it also provides backing to another 35 competitions.