Iberdrola's energy reaches the tatamis of women's karate
Iberdrola and the Royal Spanish Karate Federation have signed a collaboration agreement that involves, among other things, the sponsorship of the first Iberdrola Karate League.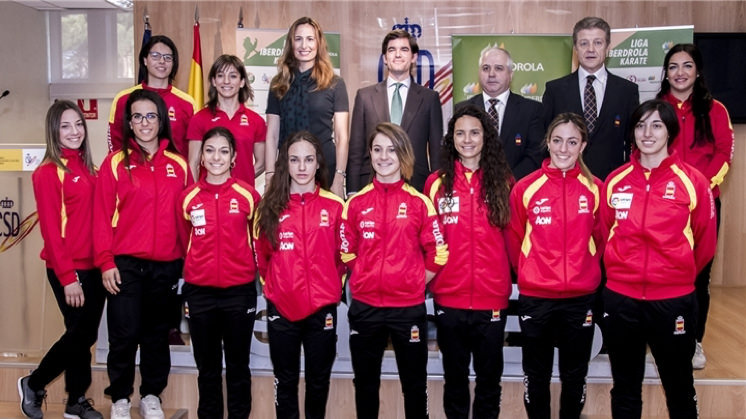 Presentation of the sponsorship agreement between Iberdrola and the Royal Spanish Karate Federation.
The presentation of the agreement took place at the Sports Council (CSD) and was attended by Jaime Gonzalez Castaño, director general of sports with the CSD, Antonio Moreno Marqueño, president of the Royal Spanish Karate Federation (RFEK), José María de Dios, technical director with the federation and representatives from Iberdrola. In their speeches they highlighted the importance of women's sport in society where, thanks to the private sector and public institutions, all women can enjoy sport and be specifically trained in the various sports specialities at the highest level.
IBERDROLA GRANTS SCHOLARSHIPS TO PROMOTE WOMEN'S KARATE
Thanks to the agreement signed, in addition to sponsoring the Iberdrola Karate League, the company will give "ten scholarships to promote and enhance the role of women in the field of sport. We are obliged to support and promote initiatives such as the lberdrola scholarships for their proven effectiveness in maintaining our sporting model", a representative of CSD stated.
Sandra Sánchez, world champion in the kata category in 2018 and Ambassador on the Iberdrola Women's Universe Program, has highlighted the importance of these grants to the sportswomen attending the event. In addition to the contributions received for their training and travel to international competitions, thanks to these scholarships, the karatekas achievements are contributing to the history of women's sport in Spain. "These scholarships are intended for you, to help you to be the benchmark in female Karate in Spain", explained the representatives from Iberdrola.
The athletes who received scholarships include the world champions at Tenerife 2017, Lidia Rodríguez Encabo and Nadia Gómez Morales, as well as other great international champions, such as Marina Cáceres Quiñonero, María Torres García, Marta García Lozano, Nidia García Moya, María Espinosa, Raquel Roy Rubio, Naiara Moreno Monfort and Carlota Fernández Osorio.

Interview with Sandra Sánchez