PARK CITY WIND OFFSHORE WIND FARM
We will transform an underused port in Connecticut into a new wind farm
The state of Connecticut will have a new offshore wind farm now that Iberdrola has been awarded the Park City Wind project. The 804 MW wind farm will supply 14 percent of the state's electricity and avoid emitting more than 25 million tonnes of carbon.
Park City Wind offshore wind farm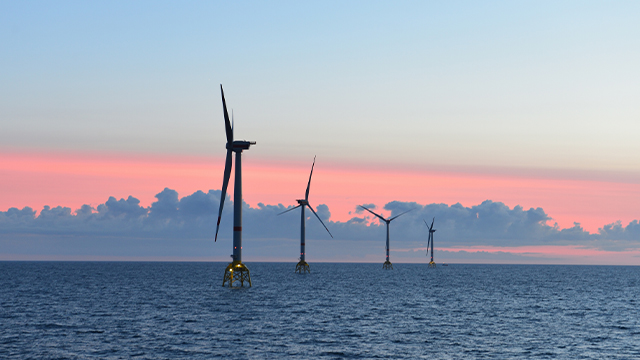 Location
Connecticut (USA)


Distance
37 km off the coast of Massachusetts

Total installed capacity
804 MW

Investment
More than 1.3 billion euros

Beneficiaries
400,000 homes

Commissioning date
End of 2022
Wikinger offshore wind farm (Germany).

Iberdrola is taking part in a new project to build a wind farm off the coast of Massachusetts (USA), in addition to Vineyard Wind 1. The farm is called Park City Wind, taking its name from the town of Bridgeport, which is known colloquially as The Park City.
With an investment of more than 1.338 billion euros, Park City Wind

External link, opens in new window. will have an installed capacity of 804 MW, supplying approximately 14 % of Connecticut's electricity — equivalent to the energy used by 400,000 homes — and will prevent the emission of more than 25 million tons of carbon by the state.
The farm will be 37 kilometres off the coast of Massachusetts, south of Martha's Vineyard and Nantucket and right where there are the strongest winds on the east coast, although its silhouette will not be visible from anywhere on the coast of Connecticut.
PROJECT BENEFITS
Park City Wind will completely change the area around Bridgeport, as an operations and maintenance centre will be installed there for the next 25 years.
It will create thousands of jobs and generate more than 890 million dollars (some 740 million euros) in investment and opportunities for economic development.
It will invest in technical training to ensure a long-term labour force, which can serve both Park City Wind and future offshore wind projects on the east coast.
It will invest in affordable housing.
A commitment has also been made to integrate existing businesses in Connecticut into the offshore wind power industry.
The project will be carried out through Vineyard Wind, a company in which AVANGRID* — Iberdrola's US subsidiary — holds a 50 % stake and the fund Copenhagen Infrastructure Partners (CIP).
RESOLUTIONS
The company has reached a long-term power sales agreement (PPA) for the farm with the electricity distribution companies Eversource Energy and United Illuminating — an AVANGRID* distribution subsidiary —, under which they will purchase power from the farm for 20 years.
It has also partnered with Marmon Utility LLC (Kerite) making it its preferred cable supplier for at least 50 % of the project and, which will make Kerite the first US Tier 1 Supplier in offshore wind.
OTHER PROJECTS IN THE UNITED STATES
Through AVANGRID*, Iberdrola now has 1,900 MW of renewables in the USA and 1,400 more in its portfolio. Once the merger with PNM Resources is finalised, it will be the United States' number three renewables operator.
AVANGRID* is also consolidating its position as the leading clean energy company in New England, where it forms part of some of the major projects, including Kitty Hawk (2,500 MW), New England Clean Energy Connect (NECEC), with 1,200 MW, and Vineyard Wind 1 (800 MW), which will become the country's number one large scale offshore wind farm.
In addition, AVANGRID* has an early-stage offshore wind project under development off the coast of North Carolina and Virginia, and the company recently expressed interest in exploring floating offshore wind technology off the coast of California.
* AVANGRID, Inc. is 81,50 % owned by Iberdrola, S. A.