C40: cities join forces to fight climate change
The world's cities, which are on track to house 68% of the world's population by 2050 according to the United Nations, are crucial in the fight against climate change. That is why many have banded together, calling themselves C40, to reduce carbon emissions in the atmosphere and adapt to a phenomenon that will condition the future of the planet. The following explains some of their strategies.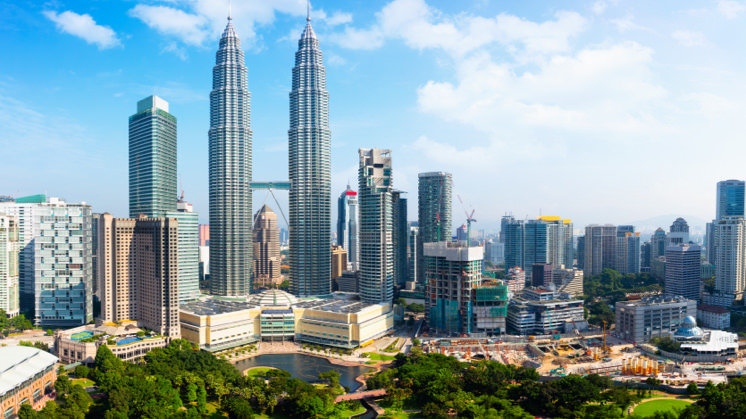 Kuala Lumpur (Malaysia) is a climate smart city and a member of the C40 network.
Despite the fact that only 3% of the total surface of the planet is occupied by cities, they are home to more than half of the world's population. What's more, 70% of greenhouse gas emissions (GGE) are produced by cities. One reason for this is that cities are badly designed, lack efficient public transport and consume exorbitant amounts of energy.
According to the United Nations, since 2016, 90% of city dwellers are forced to breath air that does not meet the standards set by the World Health Organisation. The SDG 11 wants to turn this situation around by creating more sustainable communities, and among their goals is ensuring sustainable urban development and sustainable mobility to safeguard the world's natural heritage.
So, if cities are a part of the problem, they should also be part of the solution. In fact, UN-Habitat assures us that well-governed and well-planned cities can help with global challenges such as poverty and climate change. This is an opinion shared by the C40 Cities Climate Leadership Group, a set of cities that share a common goal: fighting climate change.
WHAT IS THE C40 NETWORK
The C40 network is a set of major cities around the world that have committed to fighting climate change. It also supports their development and economies in ways that are respectful to the environment and the well-being of society The main goal is to reduce greenhouse gas emissions.
The alliance connects mayors and professionals to take climate action together, involving other levels of government, private sector and the community. It is a matter of collaborating efficiently, sharing knowledge and fostering significant, measurable actions to mitigate the effects of climate change.
HISTORY OF THE C40 NETWORK
In 2005, the then mayor of London, Ken Livingstone, invited 20 of his colleagues to form a working group to deal with the question of climate change after this was ignored at a G-20 meeting. This eventually developed into the so-called C40. One year later, the Clinton Climate Initiative association encouraged its expansion, with contributions through infrastructures and economic assistance. With the support of energy efficiency as a banner, cities stood up as the main bastion against climate change.
In 2008, then led by David Miller, mayor of Toronto, the group had grown and said that "while nations talk, cities act". A total of 40 large cities signed the pact, which was officially named C40. Michael Bloomberg, the mayor of New York and Eduardo Paes, of Rio de Janeiro, succeeded in professionalising the organisation and attracting more cities over subsequent years. From 2016 to 2019, Anne Hidalgo, mayor of Paris, focused on complying with and overseeing compliance with the Paris Agreement. The organisation is now led by Eric Garcetti, the mayor of Los Angeles.
The Steering Committee is the governing body responsible for strategy. Membership rotates and it is made up of 17 mayors elected from among the membership in each region. It is responsible for providing governance to member cities, the current objective of which is to comply with the most stringent Paris Accord targets at a local level. Together, they represent more than 700 million citizens accounting for a quarter of the global economy.
THE C40 NETWORK'S WORK AREAS
As well as fighting climate change and encouraging the world to reduce carbon emissions, the C40 network works to improve the health and well being of the people of the world and offer economic opportunities. They are doing this through different initiatives and work areas:
Climate change and water management
Here, they identify and compile data about climate threats and impacts on infrastructures and communities. They are also working to get a better understanding of urban heat islands, offering tools for creating green roofs and pavements, among other projects. They also share good practices on water management.
Energy
They provide guidance to improve energy efficiency in buildings and to develop local energy systems. The Local Energy Network serves as a platform to promote, for example, the local use of low emission local heating and cooling systems.
Economic development
Seeks to drive a green economy. It helps cities to finance the development of sustainable infrastructures and to manage green bonds, climate funds and the other available climate financing mechanisms.
Solid waste management
This helps cities to manage waste effectively: these networks focus on improving collection and recycling. They are committed to reducing the waste produced per capita in 2013 by at least 15 % with respect to 2015.
Sustainable mobility
The objective is to reduce emissions from transport by transforming urban mobility by using cleaner, more efficient transport. It supports the fast bus network in cities and encourages broad adoption of low-emission electric vehicles.
Urban development and food
This advocates for the development of highly connected and compact cities. They are interested in improving urban planning, reducing the number of kilometres travelled per vehicle and supporting low carbon emissions building. In addition, the Food Systems Network is working to improve food security and promote sustainable food, facilitating local low carbon food production.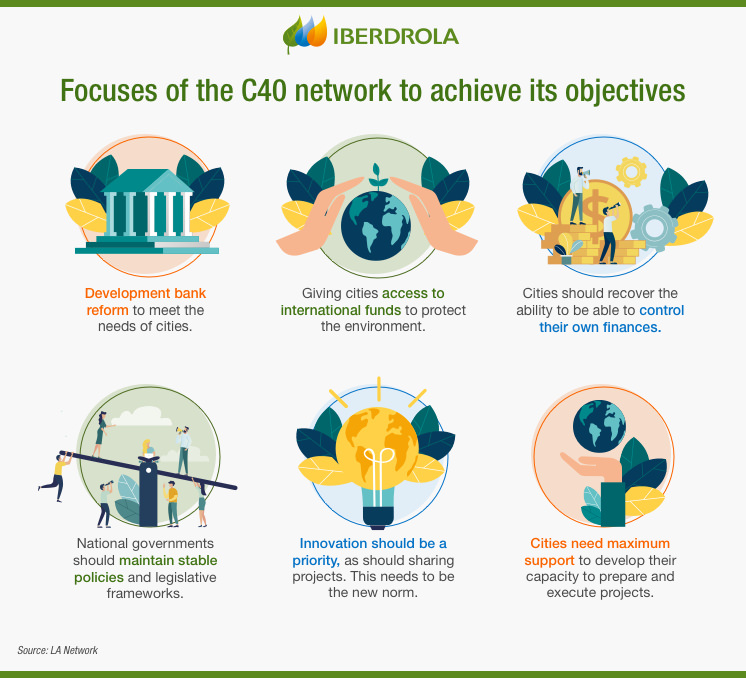 Focuses of the C40 network to achieve its objectives.
COMMITMENTS OF THE C40 NETWORK
At the last C40 summit, political leaders, scientists, entrepreneurs and activists made five commitments:
Support the Green Recovery. The cities, among other commitments, agreed to work together to ensure that the global temperature does not rise more than 1.5 ºC above pre-industrial levels by the end of the century.
Encourage sustainable eating. Fourteen cities, among them Oslo, Barcelona and Lima, agreed to apply policies that promote a

healthy diet.

Improve air quality. A third of the cities represented signed a pact by which they recognised that

"breathing pure air"

is a human right. The objective is to prevent 40,000 annual deaths caused by air pollution every year.
Encourage more sustainable building. Scandinavian cities like Oslo, Stockholm and Copenhagen agreed to

stop using fossil fuels

in construction.
Involve young people. The network agreed to create a global initiative to encourage cooperation between mayors and young

leaders of climate movements.
WHICH CITIES FORM PART OF THE C40 NETWORK. TYPES
To become a member of the C40 network, cities need to draft an ambitious climate policy and comply with strict participation regulations. They must also carry out a GGE inventory that complies with the Global Protocol for Community (GPC). Currently, around 97 cities on five continents are members of the C40, among them Melbourne, Istanbul, Madrid, Rio de Janeiro and San Francisco.
Discover the cities in the C40 network

External link, opens in new window.
The cities in the C40 network are divided into three categories:
Megacities. Large cities of more than 10 million people. They can be a single urban nucleus or a conurbation. Tokyo, Delhi and New York are examples of these.
Innovator cities. These are cities which, although not megacities, are clear leaders at an environmental level and therefore receive international recognition.
Observer cities. This category includes the new cities that want to join the C40. They stay in this category for about a year before being classified as innovators or megacities.