FUTURE OF MOBILITY
How can urban mobility adapt to today's world and helps to save the planet?
The unstoppable growth of big cities is a daily challenge for sustainable mobility. Thanks to the digital revolution, tools like big data and concepts like car sharing have become vital components in creating smart cities with high-performance mobility systems. Let's take a look at some of the key aspects in the future of mobility, the trends that will revolutionise the way we move, and the impact that the coronavirus pandemic will have on all of this.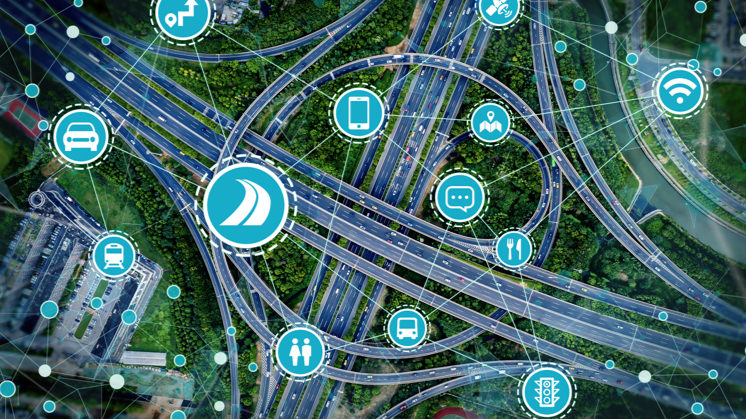 The unstoppable growth of big cities is a daily challenge for sustainable transport.
According to the European Environment Agency (EEA), cities occupy just 2 % of Earth's surface. However, according to the United Nations (UN), 56 % of the world's population in 2019 lived in cities. There are now more than 500 cities with over a million inhabitants — five of these have populations in excess of 20 million (Tokyo, Delhi, Shanghai, São Paulo and Mexico City) and they account for 70 % of the world's energy use —. By 2100, it is expected that the number of megacities will continue growing, headed by Lagos, Nigeria, with 88 million inhabitants, and Kinshasa, DR Congo, with 83 million.
The unstoppable growth of big cities, a trend that coronavirus crisis does not look set to stop, is a big challenge in terms of urban mobility and raises the question: can it adapt to this new reality while protecting the health of the planet? The experts say the answer is yes. But to do this, we need to create smart cities which, thanks to macrotools like big data, tirelessly compile and analyse huge quantities of data generated by vehicles, pedestrians, traffic lights and other aspects of city traffic to make it run more efficiently.
COVID-19 pandemic also is influencing urban mobility. The lockdown and the surge in people working from home have reduced the number of trips we take, whether by road or walking, which was one of the objectives to track on the new mobility map. Some people therefore prefer to see this crisis — which no one knows how long will last — as a means of accelerating the changes that were on the way. Although 35 % of respondents in a recent survey of 11,200 consumers from 11 countries, published by Capgemini in April 2020, said they were thinking about buying their own vehicle, the scenarios the experts have put forward continue to focus on pedestrians and promoting the use of personal mobility vehicles. Among other reasons this is because they think that in the long term, problems like climate change will end up having a bigger impact than COVID-19.
KEYS AND CHALLENGES FOR FUTURE MOBILITY
Traffic jams delay people and deliveries, increase stress, and cause so much air pollution they are considered one of the main causes of premature death in big cities. For this and other reasons, there is a consensus that the way a city manages urban mobility has a direct impact on its prosperity. In a recent research about smart urban mobility trends, designed to anticipate the needs of the cities of the future, Deloitte consultant identified three key features for an efficient mobility system:
Performance and resilience
Cities must maintain roads and other infrastructure, offering integrated mobility options to minimise congestion, travel times and pollution.
Vision and leadership
A high-performing mobility system doesn't happen by accident. Urban mobility requires a healthy dose of innovation and investment, as well as good coordination among stakeholders.
Service and inclusion
Urban mobility needs to be accessible to the whole population. Cities must guarantee that public transport runs frequently and on time, and offer affordable options and user-friendly ways to access the full range of transport options.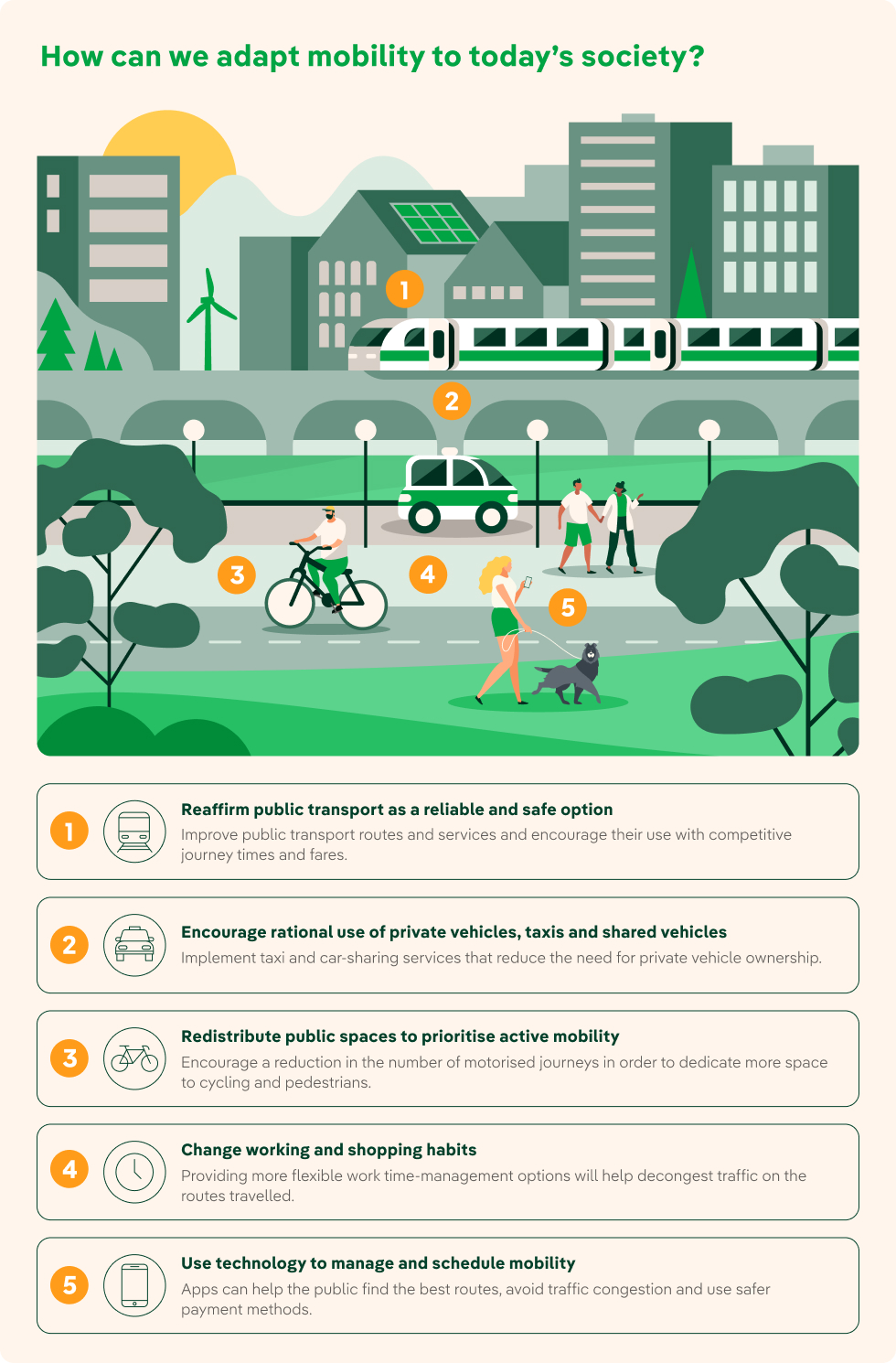 How can we adapt mobility to the reality of life after COVID-19?
URBAN MOBILITY TRENDS
Ushered in by the digital revolution and in response to the threat of climate change, trends have emerged that are revolutionising the urban transport sector. We take a look at some of them below:
Sustainable mobility
Since they don't use fossil fuels, electric vehicles represent the mobility of the future, with sales continuing to grow. A key factor in this boom is innovation in terms of batteries, which are becoming cheaper and more efficient, with more autonomy.
Shared mobility
It is estimated that 40 % of city centre traffic is caused by looking for somewhere to park. By sharing a car, rather than each person using their own, we can help reduce traffic and cut emissions. If the coronavirus crisis continues, it could threaten the viability of this trend, whether due to fear of infection or because new disinfection protocols will add extra costs.
Self-driving vehicles
These are vehicles that use artificial intelligence (AI) to get around without any input from the driver. Self-driving cars can pick a user up and take them to their destination, always following the best available route. Among other advantages, they reduce traffic and free up parking spaces, thus improving air quality.
Connected mobility
Thanks to the Internet of Things (IoT), all traffic components — vehicles, traffic lights, signs, and so on — can now communicate with each other. What's more, with the roll-out of 5G, cars will be able to receive information on available parking spaces or hazards outside of the driver's field of vision, while traffic lights will be able to self-regulate depending on the amount of traffic and the presence of pedestrians, among other advantages.
It is important to note that, as underlined by the McKinsey Center for Future Mobility

External link, opens in new window., these trends must not be addressed individually, instead, cities need to adopt an integrated approach. This approach, which aims to reduce private car use by combining new mobility trends with public transport, is known as Mobility as a Service (MaaS).
NEW MOBILITY CONCEPTS
Recent mobility trends have created a whole new set of terms that go beyond the now very familiar "car-sharing". Let's take a look at some of them:
Last mile.

Used to describe the part of a journey just before the final destination is reached, e.g. after getting off the bus or metro. Currently,

micromobility

— public bikes, electric scooters, etc. — is the ideal last-mile solution, but these services must be adapted after coronavirus crisis.

Ride sharing, ride pooling

and

ride hailing.

These terms all refer to different forms of

car sharing.

Ride sharing

is when individuals share a car,

ride hailing

is when users book a car trip using an app, and

ride pooling

is when several passengers share a professional driver. Since the appearance of COVID-19, these methods of car sharing must involve very strict rules for users.

Charging.

Electric vehicle charging services are designed to make life easier for

plug-in cars,

by telling them where their nearest charging point is and providing easy payment options.
Flat rates for mobility. Users pay a

fixed monthly fee

to use a vehicle, with the option of changing to a new model during the contract period, thus making it a reasonable alternative to car ownership.