CHOOSING THE BEST AIR CONDITIONING
Which air conditioner is right for your home?
Choosing the best system and type of installation will allow you to achieve the perfect temperature inside your home with the highest possible energy efficiency.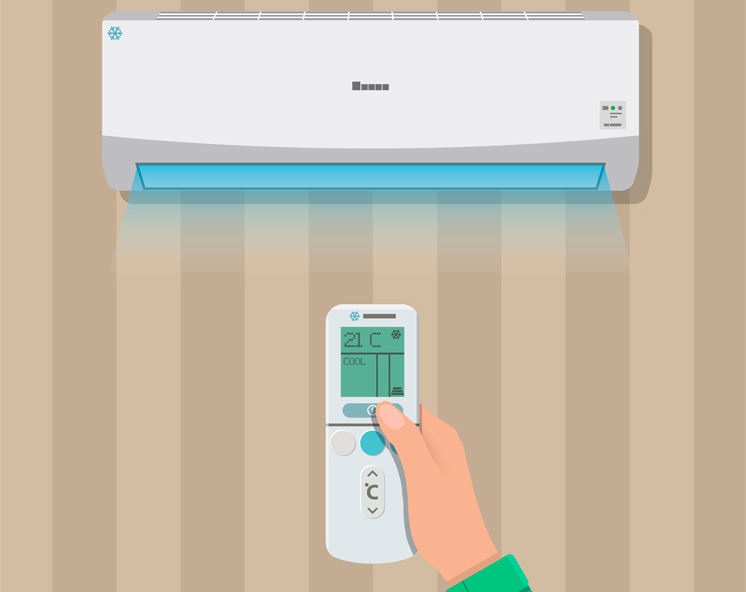 When choosing an air conditioning system, we should have into account the use we want to give it.
There are hundreds of models available in the market but, how to choose a good air conditioning? It is easy to choose the best system, simply follow the next recommendations:
TYPES OF AIR CONDITIONERS
In this case, there are three main options:
Air-conditioning system based on water evaporation: it is cheap and has a low consumption —approximately 150 W— but it is not very effective in cooling a room: 4 to 6 degrees.
Portable air-conditioning system: they can be taken anywhere but they are not very powerful. They use a tube to drive hot air out of the home through a window.
Fixed air-conditioning system (wall-mounted, split type): the most powerful and efficient system, it is made up of two units: a compressor, installed outside, and an interior cassette, mounted on the wall of the room.
DO YOU WANT TO AIR-CONDITION A ROOM?
Do you want to air-condition several rooms or the whole house? Depending on your preferences, you can choose one or another air-condition system:
If an air duct network has been installed in your house, install a conduit system.
If not, you can choose to install various wall-mounted split units or a multi split unit.
WHAT POWER IS NEEDED?
Simply check the technical datasheet of the unit which will indicate the surface area in m2 that it can cool.
To calculate the power needed in frigories — unit of measurement of cold — measure the length, width and height of the room and multiply these three figures. The result is the cubic metres of volume that must be cooled. Now multiply this number by 50 to obtain the frigories. Finally, multiply the frigories by 1.163 to calculate the power capacity requirement in watts.
A SIMPLE EXAMPLE

6x4 metre room, with a 2.5 metre height:
6 x 4 x 2.5 = 60 m3 / 60 x 50 = 3,000 frigories
3,000 x 1.163 = 3,489 W
TIPS FOR CHOOSING A GOOD AIR CONDITIONER
- Choose a unit with a higher power capacity than that required, according to these calculations: you will notice how effective it is on very hot days or when you have guests at home.
- Check the energy label and choose a unit in category A, i.e., the most efficient units. These units are slightly more expensive but the savings in the consumption of energy they achieve throughout their working life makes it worthwhile. Bear in mind that an air-conditioning system can account for up to 10% of a home's total energy consumption.
Energy Efficiency
IS IT VERY NOISY?
Again, check the energy label. Acceptable noise levels range from 20 to 25 dB.
WHO CAN INSTALL THESE SYSTEMS?
A specialised technician must install the air-conditioning system. Bear in mind that this is quite a complex procedure. Don't forget to ask about the installation price before purchasing the unit.
BASIC TIPS TO MAKE SURE YOUR AIR-CONDITIONING SYSTEM IS IN PERFECT ORDER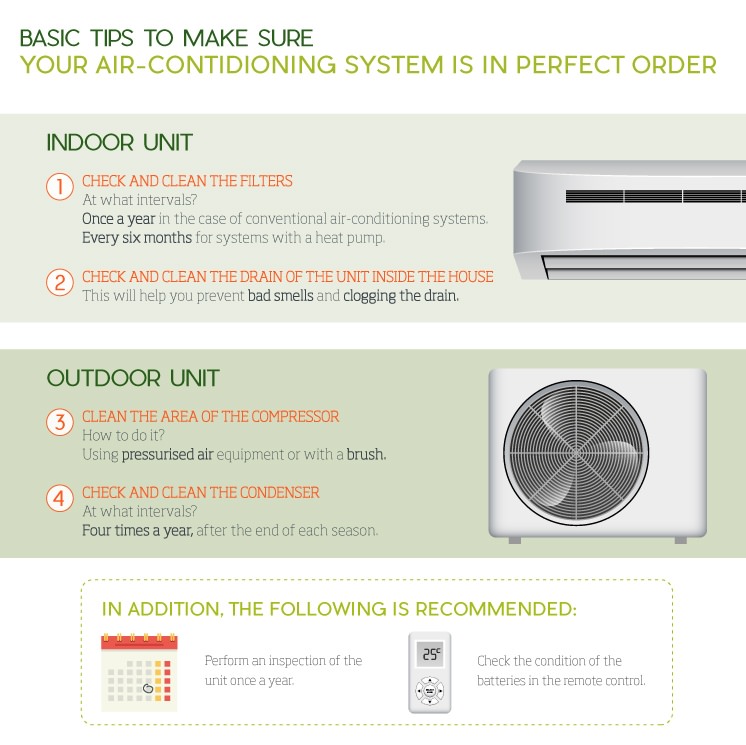 Basic tips to make sure your air-contidioning system is in perfect order.