Startup challenge: EV Fleet Assessment Tool
Meet the winners of the Start-up Challenge for electric vehicle Fleet Planning
Iberdrola selects the web tools of the Spanish company SwitchFleet and the US subsidiary of Hitachi Energy as winners of the Start-up Challenge for Electric Vehicle Fleet Planning. A challenge launched in January 2021 by AVANGRID* - Iberdrola's subsidiary in the United States - through the PERSEO International Start-up Programme, as part of its commitment to the electrification of the transport sector.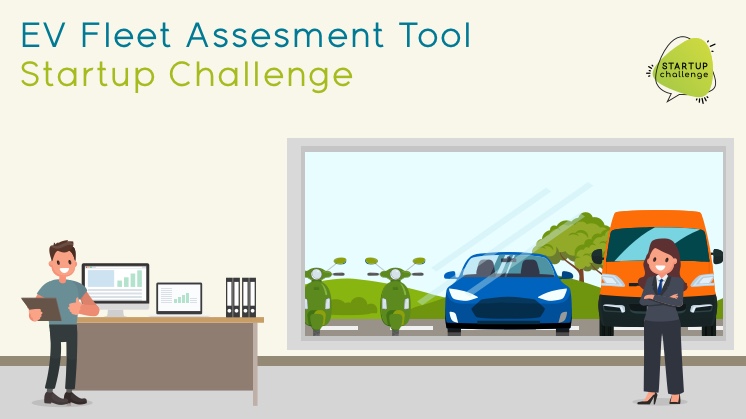 The winner will sign a collaboration agreement and be able to try out their project.
Iberdrola - through its PERSEO International Start-up Programme - has selected two solutions to develop a tool that can help fleet operators assess the feasibility, costs and benefits of using electric solutions in their fleets, and which is available to customers on the company's website.
Electric alternatives to medium and heavy-duty vehicles are expected to soon reach parity in acquisition costs with their internal combustion engine counterparts, and will also save on total cost of ownership. AVANGRID*, Iberdrola's US subsidiary, aims to facilitate this transition for its customers by providing knowledge and information on available electric infrastructure capacity, potential fleet upgrade costs and expected future electricity costs.
Of all the bids submitted to this challenge, analysed by experts from the Iberdrola and AVANGRID* group's Networks area based on criteria of scalability, robustness and ease of application and use, two proposals have been selected that focus on two different areas:
Light transport
The Spanish company SwitchFleet has developed a tool that will allow Iberdrola's Smart Mobility team to advise our customers on the transition to fleets of passenger cars and light vans, as well as the sizing of the corresponding charging infrastructure, both depending on the type of use of the vehicles by the customer.
Heavy transport
Hitachi Energy will develop in collaboration with Avangrid a tool to enable the sizing of road transport fleets (mainly buses and trucks) focusing on the replacement of the existing fleet and the analysis of the necessary recharging infrastructure.
The prize
The prize of this challenge consists of signing a collaboration and proof of concept agreement with PERSEO, Iberdrola's venture capital vehicle, or any other company in the group. This agent assumes the costs of these activities and provides the winner with the necessary technical support, as well as a real environment and data to test the solution, giving access to equipment, teams, infrastructures, high-tech sites and co-working areas.
If the assay or proof of concept is satisfactory, Iberdrola may offer the participant the opportunity to scale up the solution by means of commercial agreements.
Commitment to transport electrification
The fight against climate change is one of the biggest challenges humanity faces in the 21st century, which makes it essential to decarbonize our economy. AVANGRID*, Iberdrola's US subsidiary, is committed to leading the energy transition and therefore its targets are focused on electrifying the economy, innovation and technological advances and offering better consumer connectivity.
The states where Avangrid Networks operates, NY, ME, and CT, have all established goals to make a significant impact on climate change by reducing emissions. Transportation makes up a significant portion of emissions in these states — 37 % in NY, 38 % in ME and 53 % in ME —; therefore, its decarbonization, mainly through electrification, is an absolute necessity in order to achieve those emissions goals.
AVANGRID* is committed to electrification of the transportation sector as a key strategy for achieving long term climate goals and is actively supporting vehicle electrification through its EV Charger Make-Ready programmes, which have a goal of supporting over 13,000 new chargers by 2025. Additionally, AVANGRID* has a goal of converting 60 % of its own fleet, including 100 % of its light-duty fleet of vehicles to electric and other clean fuel alternatives by 2030.
TIMELINE
09/01/2021
Public launch of the challenge
10/14/2021
Deadline for receiving proposals
January 2022
Announcement of the winner